Parenting my child with food allergies
Every parent worries about feeding his or her children.  We worry about picky eaters and whether our children are getting the right nutrition; we worry about childhood obesity and adolescent eating disorders; and we worry about the pesticides, hormones and antibiotics in our food and their effects on growing bodies.  And then there are the parents, like me, who have children with food allergies.  We have a whole different set of worries.
Food allergies are one of the realities of twenty-first century parenting.  Chances are, you all know a child with a food allergy, most likely the ubiquitous peanut allergy.  The Food Allergy and Anaphylaxis Network reports that 3 million children in the United States have a diagnosed food allergy.  We all know from anecdotal experience that food allergies are on the rise; in fact, the incidence of peanut allergies in children doubled from 1997 to 2002.
My daughter has a peanut allergy, but for her, that is just the tip of the iceberg.  Zuzu is allergic to – are you ready? – wheat, dairy, egg, tree nuts, peanuts and sesame.  When Zuzu was very young, our allergist told us that she would outgrow most of these allergies by the time she was five.  She turned six in September.  Luckily, Zuzu's allergies do not appear to be life-threatening.  So far, her reactions have been limited to hives.  But, obviously, we still have to be careful: the next reaction could always be more serious.
So much has been written about food allergies and their prevalence both in print media and online.  I certainly do not wish to repeat what is already out there.  The only thing I can add to the discussion is what it is like, for me, to parent a child with multiple food allergies.  The answer is, it's hard, but it's not that hard.  For almost every difficulty that Zuzu's food allergy has created, we have been able to find what my husband calls "a work-around."
My husband and I have been dealing with our daughter's food allergies ever since she started eating solid food.  For us, it's just part of our life.  We travel; we eat in restaurants — but only restaurants that we feel confident can safely accommodate our needs — and we do everything in our power to make sure that our daughter is able to participate in any activity she chooses.  Zuzu goes on play dates and to summer camp; she attends birthday parties; she's in Daisy Scouts. She is very much a typical first grader.  She just brings her own snacks or treats to these activities.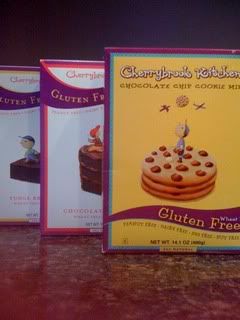 Happily, there are now so many substitute products available for people with food allergies.  We are able to buy wheat-free bread, dairy-free chocolate, gluten-free pretzels and a host of other products that help make Zuzu feel like a normal kid eating the same kinds of food as everyone else.  So, for example, when Zuzu goes to a birthday party — where she will certainly not be able to eat the requisite cake and ice cream — she always brings her own cupcake, one that I made using an allergen-free baking mix.  (Cherrybrook Kitchen is the name of the company that manufactures the mixes we use).  I frost and decorate the cupcake so that it seems appealing and Zuzu is content to eat her cupcake when everyone else is eating the birthday cake.
The cupcake example epitomizes how we approach managing Zuzu's allergies.  We just find a way for her to participate.  It may require a little extra work on our part, but by now, we are so used to it, it hardly even registers.  One thing that my husband and I believe very strongly is that managing Zuzu's allergies is our responsibility alone.  We have never asked anyone else to change what they are doing to accommodate our needs.  If Zuzu is attending an activity where a snack is provided, like Daisy Scouts, I never ask that the group snack be one that is safe for her; rather, she brings her own snack.  On occasion, a particularly thoughtful parent will make an effort to provide a snack that is safe for everyone, such as plain popcorn or fresh fruit, and I am always touched by those efforts.  But I would never expect it.  
I have heard that there is a backlash against the accommodations made for kids with food allergies in schools and daycares – like those "no-nut" policies that we are all familiar with — but we have never experienced it ourselves.  To the contrary, my husband and I have been amazed by how thoughtful and sensitive other parents and children have been to Zuzu's allergies.  Our friends have all learned to make dairy-free Rice Krispie treats for Zuzu to have on play dates.  Other parents have opted to have popsicles instead of ice cream at summer parties.  Some of Zuzu's friends have sworn off peanut butter sandwiches at lunch time so they can sit with her.  And there has been very little – not none, but very little — teasing.
The truth is, we spend so much time working around Zuzu's allergies, that we rarely stop to reflect on how we feel about them.  My husband, for one, chooses to concentrate on how lucky we are.  Zuzu is a happy, healthy girl who is always been off-the-charts tall for her age.  She is hardly undernourished.  And, the fact is, she is a great eater who counts tomatoes, salmon and roasted cauliflower among her favorite foods.  (She also likes hot dogs, French fries and candy so don't think we are those parents.)  My feelings are more complicated, in part, I think, because I love to cook and bake.  It makes me sad to think that my daughter has only ever had an ersatz allergen-free cupcake; that she's never eaten my homemade banana bread or tasted a slice of gooey cheese pizza.  But, as problems go, these are not so big.  The truth is, she hardly even knows what she is missing.  And last summer, I hit upon a kitchen activity that Zuzu and I could do together: canning.  She and I had great fun making yummy (and allergen-free) jams and pickles with the bounty from our local farmers' market and Zuzu just about burst with pride when we gave our creations away to friends and family at holiday time.  (Read more about our canning adventures here and here.)
Obviously, the part for which there is no "work-around" are those times when Zuzu herself feels sad about her allergies and just wishes she could eat the pizza "fun lunch" at school like everyone else.  Those times are hard, no question.  But the fact is, every parent faces times like that.  One of Zuzu's best friends is the shortest kid in their class, and she comes home crying because the kids tease her about being short.  My husband and I are hardly alone in wishing we could make things easier for our beloved daughter.  But the truth is, as much as we would like to protect our children from disappointment and heartache, those things are just a part of growing up and being British. 
Maybe one day, we will get lucky and the doctors will tell us that Zuzu has finally outgrown her allergies, or at least some of her allergies.  (C'mon, wheat!) But until then, we will just continue to work around them because there's nothing else to be done.