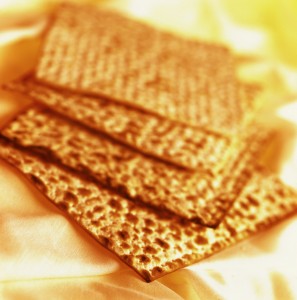 I hosted my first Passover Seder when I was in law school – before I was even officially Jewish.  (But that's a story for another time.)  I had grown up attending my grandparents' Seders, which were long on delicious food, but short on religion, so I did not know all the customs that a more observant Jew would take for granted.  For the first Seder I prepared myself, I served Julia Child's Gigot à la Moutarde (leg of lamb) as the main course, not knowing that lamb is not usually served for Passover meal because it is too similar to the Paschal sacrifice in the Passover story.  What a faux pas! Luckily, none of my guests were Jewish either, so no one complained.  To the contrary, I think my Lutheran roommate was very happy to have what amounted to another Easter dinner.
Since I began dating the man who is now my husband, I have not had many opportunities to host my own Seder because we usually travel to my husband's parents' house for Passover.  For my in-laws, Passover is the biggest holiday of the year: the one they expect their sons, and their sons' significant others, to come home for.  So, for most of the past ten years, I have made the trip to upstate New York and taken part in my in-laws' heavily scripted yet not overly serious Seder.  My in-laws' Seder does right by the Passover story and the holiday's important traditions.  But the food is not as good as I remember my grandmother's Passover meal being.  And as someone who loves to cook, I have longed to try my hand at the traditional dishes.  So, in the past few years, as my in-laws have graciously shuffled the date of their Seder to accommodate work schedules and school schedules and grandchildren, I have had a few opportunities to host my own Seder.  I have even perfected my technique for making the best matzo ball soup.
This year, we ended up traveling to my in-laws' the weekend before Passover started because no one could take time off in the middle of the week.  And so it is that we are in our own home for Passover.  I happily seized the opportunity to host a Seder on the second night of Passover.  Unfortunately, Passover falls during Spring Break this year, so many of our friends are out of town, and other friends have family obligations during this important holiday.  But, by concentrating on non-Jewish friends, I was able to rustle up two guests – including my Lutheran law school roommate who was at that Seder with the leg of lamb – and I am ready to cook up a storm.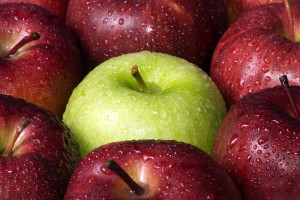 In addition to my matzo ball soup, which you can read more about here, I will be making my mother-in-law's charoset.  For those of you unfamiliar with the elements of the Passover Seder, charoset is a sweet spread made with fruit – apples in the Eastern European tradition, dried fruit in the Sephardic tradition – nuts, and wine that symbolizes the mortar that the Jewish slaves used to build the pyramids in Egypt.  My mother-in-law is a lovely person with many talents and an impressive career in academic computing.  But she would be the first to tell you:  a gourmet cook, she is not.  She is, however, justly proud of her charoset.  We love to eat it on matzo with slices of fresh horseradish, which is known as a Hillel sandwich after the ancient Rabbi who combined these three elements of the Seder plate.  This year, my mother-in-law made it with cashews instead of walnuts and almonds because my brother-in-law has developed an intolerance to those nuts.  We all agreed that we liked the original version better.  And, for those of you who remember that my daughter has a nut allergy and wonder what I do for her, I usually make Zuzu a nut-free version with apples and raisins.  One of these years, I might try a nut-free recipe that I saw online that uses pumpkin seeds. 
Carrie's Charoset Recipe
Makes one quart
3 oz. slivered almonds
6 oz. black walnut pieces
3 firm apples (not Red Delicious), peeled, cored and sliced
Honey
Kosher wine
I start by toasting the nuts in a dry skillet to deepen their flavor.  Then chop the nuts into small pieces.  Place the apple slices into your food processor and pulse into the pieces are finely chopped, but stop before they turn into mush.  Combine nut pieces and apples. Add honey and kosher wine to taste.  Combine. Chill. Best if made at least 12 hours in advance.
 A careful reader might notice that I have not mentioned gefilte fish, which is a traditional Passover starter.  Indeed, my grandmother made her own gefilte fish from scratch — which is quite labor-intensive — and I am told that it was delicious.  I just don't like gefilte fish, and my picky husband won't eat any fish, so I have abandoned that particular tradition.
For my main course, I studiously avoid any religious controversies and serve the traditional brisket.  My husband loves my brisket recipe and I only make it twice a year: Rosh Hashanah and Passover.  The key to brisket, in my view, is to make it the day before you plan to serve it and to refrigerate the meat and the sauce separately.  This has several advantages.  One, the brisket is far easier to slice when it is cold; two, the fat in the sauce congeals, which allows you to remove it so that the sauce is not greasy; and three, you have one less thing to do on the day of your Seder. 
Emily's Brisket Recipe
Adapted from the Washington Post Food section
Serves 6-8
Several TBs. vegetable oil
1 whole beef brisket (approximately 4 lbs.)
1 large yellow onion, minced
2 cloves garlic, minced
3 TBs. ketchup (I use Heinz)
3 ½ cups beef stock or broth
1 ½ cups fruity red wine, like Zinfandel or Pinot Noir
Salt and pepper to taste
Preheat the oven to 325 degrees.  Heat the vegetable oil in an oven-proof Dutch oven or casserole dish over medium-high heat.  Add the brisket and brown on all sides, approximately 5 minutes per side.  Season with salt and pepper.  Set aside.
Add the minced onions and garlic to the Dutch oven and cook, stirring occasionally, until lightly browned, about 10 minutes.  Add a few tablespoons of the wine or beef broth and deglaze the pan by loosening the browned bits on the bottom with a wooden spoon.  Add the rest of the liquids and the ketchup and combine well.  Return the meat to the casserole, cover and place in the pre-heated oven for 2 ½ to 3 hours, turning the meat once every hour.
As I mentioned above, refrigerate the sauce and meat separately.  Once the meat is cold, slice it against the grain into thin slices.  Trim the visible fat and discard.  To reheat, place the slices of brisket in a Pyrex baking dish, pour the de-greased sauce over the meat, cover with foil, and place the dish in a 375 degree oven for 45 minutes to an hour.
I do not usually serve a potato kugel or matzo farfel side dish with the brisket at my Seder for the simple reason that, after starting with the matzo ball soup, we are usually not that hungry by the main course.  It would just be too much heavy food.  Instead, I prefer to serve a nice green vegetable, like asparagus with a little lemon butter or sautéed spinach. 
As for dessert, there are a million recipes for Passover cakes, often made with almond flour or matzo cake meal.  Macaroons are also a traditional Passover dessert because they do not contain leaven.  I tend to skip this whole genre of dessert, in part because my daughter would be allergic to any of these, but also because I think most Passover desserts do not taste very good.  My in-laws usually just put out dried fruits, mixed nuts and some really terrible Passover candy that they buy because it is a fundraiser for my kids' preschool.  This year, my plan is to serve the really terrible Passover candy – which does have the advantage of being dairy-free, so at least my daughter can eat it – and some different flavors of sorbet.  I think the sorbet will be a nice, light end to what can be a rather heavy meal. 
Now I just need to come up with six more dinners that don't contain leaven.  Matzo pizza, anyone?