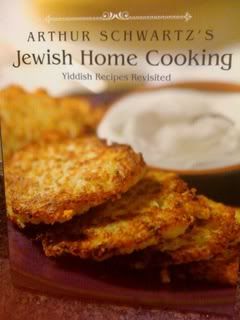 When I was researching the guest post on matzo ball soup that I did for my friend Kate's food blog Savour-Fare, I came across the book Jewish Home Cooking: Yiddish Recipes Revisited by the food writer Arthur Schwartz, who is known as "the Food Maven."  Originally, I checked this book out of the library, but I quickly realized that I would need to buy my own copy.  I am not usually a person who reads cookbooks cover-to-cover, but with this book, I did just that.  Not only is Jewish Home Cooking full of mouth-watering, easy-to-follow, traditional Askhenazi recipes, it also has terrific anecdotes about Schwartz's family;  explanations of religious traditions and kosher laws; reminiscences about a New York City — full of Romanian steakhouses, Jewish delis and candy stores selling egg creams — that has all but disappeared; and essays on fascinating topics, such as "why do Jews like Chinese food so much?"  Many of Schwartz's memories of his grandparents reminded me of my own Jewish grandparents.  His statement that it was the Jewish women who looked like they never lifted a finger who were really the best cooks perfectly described my grandmother, Hortense Zeltner, who always had a perfect manicure and was a fantastic cook.  Schwartz's image of the customer at the store counter always demanding that the lox be sliced thinner?  My grandpa Al.
My parents visited us this past weekend.  I showed Jewish Home Cooking to my father because it contains a very favorable description of Russ & Daughters, the great Lower East Side "appetizing store."  My father went to college with Mark Federman, the third-generation owner of Russ & Daughters, and actually before that, when my dad was growing up, his parents used to patronize the store regularly.  Over the course of the weekend, a few of the anecdotes in Jewish Home Cooking inspired my dad, in turn, to tell us stories about his maternal grandmother, Grandma Molly, who was known for her kreplach (a triangular meat dumpling served in soup usually at the High Holidays); his paternal step-grandmother, Grandma Bessie, who was famous for her blintzes; buying smoked fish and bagels on Saturday night with his parents for the next day's breakfast; the merits of sable versus whitefish; and what makes a good egg cream. 
I also plan to send my in-laws a copy of Jewish Home Cooking, in part because Schwartz makes several references to my mother-in-law's old neighborhood: Brooklyn's Brighton Beach, immortalized as the home of Neil Simon and now known as Little Odessa because of the number of Ukrainian immigrants.  As long as I've known my husband, he's talked about getting knishes at Mrs. Stahl's knish stand when he visited his grandparents.  Apparently, when he was in college in New York City, he periodically took the D Train all the way out to Brighton Beach to visit his grandmother and brought back knishes from Mrs. Stahl's for half his dorm.  Sure enough, Jewish Home Cooking contains a four-page discussion of potato knishes, and refers to Mrs Stahl's as "[t]he last of the Brighton Beach knisheries."  (Page 92)
While I prefer my matzo ball recipe to both of the recipes in Jewish Home Cooking and I would never stray from my mother-in-law's charoset recipe for my Seder, I was intrigued by some of Schwartz's Passover recipes.  Tonight, for dinner, I made his recipe for cottage cheese chremslach — chremslach is a word for a pancake made with matzo meal — which can be eaten as either a sweet or a savory pancake.  We opted for sweet and I served the pancakes with butter, powdered sugar and some homemade blueberry-Key lime preserves because, frankly, that was the jar that was open.  It was delicious!  I would make these pancakes not just during Passover, but any time of year.  The  protein that the cottage cheese adds makes them substantial enough for dinner.
Cottage Cheese Chremslach
Adapted from Jewish Home Cooking by Arthur Schwartz
Makes 18 small pancakes
4 eggs
1 cup 4-percent cottage cheese
¾ cup milk (may need to add more)
1 tsp salt
1 TB sugar (if serving as a sweet pancake)
1 cup matzo meal
Oil, or oil and butter, for frying
In a bowl, beat together the eggs, cottage cheese, milk, salt and sugar if using. Stir in the matzo meal. Set aside for at least 10 minutes. ( If the batter sits for longer, it will get thicker and you may need to add more milk.)
In a 10 or 12 inch non-stick skillet or griddle, over medium heat, heat enough oil to cover the bottom by 1/8 inch. When the oil is hot enough that a little bit of batter, pour a scant ¼ cup of the batter onto the skillet or griddle.  If the batter seems too thick, add a little more milk.  Fry the first side until golden brown.  Carefully flip the pancakes.  Cook until the second side is also golden brown.  Drain on paper towels and serve warm. 
The pancakes are delicious served with butter, powdered sugar and your favorite jam, applesauce or other fruit preserves.