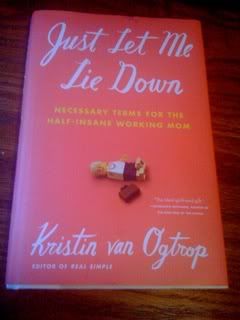 Is ambivalence the default state of mind for a twenty-first century mother?  Work.  Stay at home.  Either way, you will second-guess your decision on a daily basis and feel the judgmental eyes of others on you at every turn. 
If you work outside the home, you worry about the time you are not spending with your children and bemoan the fact that your weekends are a blur of errands and activities.  You are perpetually exhausted.  You don't have time to exercise or keep up with friends.  A sick kid, conflicting business trips, or a flaky babysitter can send your entire world into a tailspin.  But, at least you are not wasting your education!  You are a professional.  You have something to say when people ask you what you do at cocktail parties.  You are earning money, saving for retirement and doing your feminist foremothers proud. 
If do not work outside the home, you feel bad about all that stuff.  You worry that you are wasting your education.  You feel like you are letting down those pioneering professional woman who came before you.  You are embarrassed about your lack of a job at cocktail parties.  (I am not sure the last time I even went to a cocktail party, but plainly, I live in fear of them.)   You haven't saved anything for retirement in years.  You miss dressing up in nice clothes and meeting people for lunch and feeling like a professional.  But hey! At least you get to spend plenty of time with your kids while they are little.  It's not a huge crisis every time your kid gets sick.  You can volunteer in your kids' classes, attend school holiday parties, squeeze in a workout, and maybe even grab coffee with a friend while your youngest is at preschool.  You take care of the endless errands during the week so that weekends can be relaxed family time. 
(Of course, these feelings of ambivalence, as crippling as they are, are actually a luxury reserved for a small subset of educated, affluent women who are able to choose whether or not to work outside the home when their children are young.  So let me first be grateful that I get to grapple with this dilemma every day.)
I have been a working mom and now I am a stay-at-home mom.  While I actually quite enjoy my daily life taking my preschooler to the library, attending my first grader's class parties, and volunteering in my community, I spend at least a few minutes – sometimes more — every single day pining for my previous life as an appellate lawyer.  And every time I hear about a former colleague or classmate who has achieved some impressive career milestone, the green-eyed monster rears its ugly head.   
And so it was with some trepidation that I opened Kristin van Ogtrop's new book, Just Let Me Lie Down: Necessary Terms for the Half Insane Working Mother.  Kristin is exactly the sort of woman who gives me hives.  Thin, pretty, the editor of Real Simple magazine – a publication which I love – still married to her husband and mom to three boys.  How bad was this book going to make me feel about my own life? 
The answer is: actually (a word that Kristin hates), not that bad.  Kristin too is plagued by ambivalence – who isn't?  (Well, men aren't.  As Kristin wisely points out: "For many women in our culture, to work or not to work looks like a choice from the get-go, and so there is the constant wondering if your choice has been the right one.  The men I know were not raised to believe they had that choice." (p. 250)).  But the main thing I took away from this book is that Kristin's life is a whirlwind: a whirlwind of work, business trips, kid activities, pets and housework.  Sure, she is successful and has what anyone would consider A Cool Job.  But, she is tired, tired, tired and has no time to see her friends or exercise and she can't remember her son's teachers' names.  Hence, she is half-insane.  (It kind of makes you wonder why she thought writing a book would be a good thing to add on top of all this, but okay.)
My life is not a whirlwind.  This morning, while my son was at preschool, I exercised.  This afternoon, after I picked my son up, he and I had nothing special to do until it was time to get his sister from school.  We played trains and baked banana bread and went to the library.  Last weekend, this is what my family did: we had a friend from out-of-town over for lunch (I cooked); visited friends with a new baby (I made them dinner); my husband took my son to the zoo while my daughter was at Hebrew school (I had a meeting at the temple); my daughter had a soccer game, and then I got a manicure.  It was not stressful.  In fact, it was relaxing. 
Don't get me wrong:  I'm busy.  I have two kids to take care of and ten meals a day to prepare and endless laundry to do and I am on three different boards.  I'm just not so busy that I feel perpetually exhausted and overwhelmed.  My husband works very hard at his job, but he is also not exhausted and overwhelmed because I am at home taking care of all the non-work things.  Our lives have a nice rhythm and I value that.  Maybe that makes me lazy and maybe I am not very ambitious and maybe I am a disappointment to my professors and former bosses.  Or maybe, just maybe, it is enough — at least for now — that we are happy.  Being happy is nothing to sneeze at, right?  In fact, you could argue that it is something to be proud of.  If only I could stop second-guessing myself and enjoy it.
Edited to add: I was luck enough to participate on a conference call with Kristin this week, as part of the SV Moms Book Club, and as it turns out, in person Kristin is funny, warm, and gracious.  Damn her! 
This post was written as part of April's SV Moms Book Club.  You can read many other bloggers' takes on this book there.  I received a free copy of Just Let Me Lie Down by Kristin van Ogtrop from the publisher as part of this book club.  My reaction to the book is entirely my own.