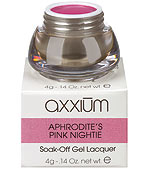 On several occasions recently, I have complimented a friend's brightly-colored nails and heard in response: "It's that new no-chip manicure!"  To which my response is: What new no-chip manicure? Why did no one tell me?
The truth is, I do not usually get manicures.  Pedicures, yes.  In the summer, I love a pedicure as much as the next girl.  In fact, my perfect afternoon may well be getting a pedicure while drinking a Frappucino and reading US Weekly.  (Did I say US Weekly? Clearly, I meant The New Yorker.  I don't read Us Weekly.  Or have a subscription to it.)  The difference between pedicures and manicures, for me, has always been that pedicures last.  Unless you have some horrible wipeout running after your kid who is learning to ride a bike – not that that has ever happened to me — a pedicure will last a good two to three weeks.  I don't mind spending $25 for a pedicure that will look good for several weeks.  That seems reasonable.
But I have never had a manicure that looked good for more than a few days.  I hate spending $12 or $15 for a manicure that chips after a day or two.  And when I do get manicures for special occasions, I always choose neutral colors because the inevitable chips are at least less noticeable.  So, needless to say, I was intrigued by the concept of a no-chip manicure.  After some investigating,  I learned that several nail salons in my area were offering what they called a "no-chip" manicure, which supposedly lasts several weeks with – wait for it – no chips.  It is more expensive than a traditional manicure, but, of course, it lasts longer.  At the same time, some of my friends who had had a few of these no-chip manicures complained that, while the treatment looks good, once it was removed, their nails were thinner and weaker.  One salon owner told me confidentially that she was reluctant to offer the service for this reason.
What is this no-chip manicure, you ask?  Let me explain.  The product is called Opi Axxium Soak-Off Gel Lacquer and it is actually layers of colored gel that the technician paints on, and then it is bonded to your nails with ultraviolet light.  And, when it's done, your nails are dry.  No waiting!  It takes about 45 minutes to an hour and then you are good to go.  Opi claims that the treatment will last for at least two weeks, perhaps longer.
I decided to try out the no-chip manicure at Team Blonde, a local jewelry boutique and spa near my home, that is a lot nicer than your typical hole-in-the-wall nail joint.  (In fact, I think you will find that only higher end salons are currently offering the Opi Axxium manicure.)  They charge $39 for a no-chip manicure.  My technician told me that her clients garden, do dishes, move furniture and their nails look great for a week or two with no chips.  She also told me that, since the salon started offering the no-chip manicure last fall, she was doing more of the no-chip manicures than regular manicures these days.  In fact, one of the owner's of Team Blonde was sporting her own no-chip manicure the day that I came in.
I liked the treatment very much.  The process is not much different than a traditional manicure.  The major difference is that, after the nail technician paints the gel on your nails, you stick your hands in a little plastic box which houses the ultraviolet light that bonds the gel to your nails.  Quite painless and easy.  It takes a little longer than a traditional manicure, but it is terrific not to worry about wet nails when you are done.  And it looks absolutely gorgeous.  I too was able to go about my normal life all week and my nails did not chip.  My nails actually felt harder than they do when they are bare.  One of my nails did start to peel after only eight days, which bothered me, considering the price of the treatment.  But the rest of my nails looked good for two weeks, after which point, they were all starting to peel a bit. And, of course, by that point, my nails had grown, exposing some bare nail at the bottom.
The owners of Team Blonde, when asked whether the Opi Axxium treatment weakened nails, conceded that it might, and said that they had been tinkering with the best way to remove the gel in order to minimize the damage.  They implored me not to peel off the gel myself, but rather to come in to the salon and they would remove it for me: no charge and no hard sell on scheduling another treatment.  I promised them I would but then, when all of my nails were starting to peel on a Sunday evening, I went ahead and peeled the gel off myself.  Whoops!  And, truth be told, it did seem to tear my nails up a bit.  In the week that followed, two of my nails tore completely off.  I realize that I may have only myself to blame, but a manicure that has to be professionally removed seems a bit unrealistic for those of us who have, say, jobs or small children or other barriers to just popping into a nail salon whenever the fancy strikes.
Will I get another no-chip manicure?  Definitely.  How's tomorrow for you?  Just kidding.  In truth, I would love to have one all the time.  As the owner of Team Blonde pointed out, if removing the treatment weakens your nails, you can always just get another no-chip manicure and your nails will be hardened by the gel.  But at $40 a pop, plus tip, that is just more money than I am willing to spend on my nails every few weeks.  Next time I have a special occasion, or want to treat myself, however, you can bet that a no-chip manicure will be on my list.
I did not receive any promotional considerations from either Opi or Team Blonde in connection with this post.  I paid for my no-chip manicure in full.