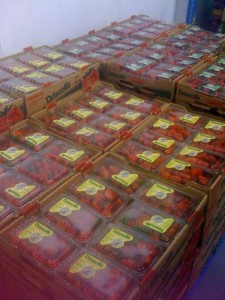 Save time or save money? That is typically the trade-off.  And typically people will prioritize whatever they have less of.  When I was growing up, my mother would pick convenience over price because she was a working mom who never had enough time.  So, she would pay a few dollars more for an item rather than make a trip to another store.  Now, I and many of my friends are stay-at-home-moms.  Stay-at-home moms are often more inclined to save money, even if it means spending a little extra time chasing down the best deals.  (Although, when this stay-at-home mom brings her three year old shopping with her, it means spending an extra $5 per trip for a toy or snack.)  And then there is the elusive third consideration: quality.  Everyone wants to get good value for their money.  And we all have things we are picky about. 
As any reader of this blog knows, I love to cook.  As a result, I am very picky about the food I buy, particularly the meat and the produce.  I insist on meat that is free from antibiotics and hormones.  I do not always insist on organic produce, although I prefer it, but I do always insist on fresh and delicious produce.  And, as the parent of a child with multiple food allergies, I buy a lot of unusual, "alternative" items: wheat-free bread and pasta, dairy and nut-free chocolate, and soy yogurt and ice cream.  As you might imagine, between buying Zuzu's special items, indulging my husband's Jerry Seinfeld-esque cereal obsession, finding the best produce and trying to save at least some money, I visit a lot of stores in a given week.  I often stop at Whole Foods, Trader Joe's, and Target as well as the big grocery stores.  That's a lot of time spent on grocery shopping.
For convenience, it is pretty hard to beat ordering your groceries online and having them delivered to your door.  No crowds, no parking lots, no lines.  That is exactly the service offered by Peapod, the online grocer.  Last Thursday, I had the opportunity to tour Peapod's Lake Zurich warehouse during an event for mom bloggers.  I will tell you candidly that I approached the tour as a skeptic.  I was not skeptical of Peapod's prices — although perhaps I should have been; rather, I was skeptical of the idea of ordering food without seeing it first.  In other words, I was skeptical about relinquishing the opportunity to choose my own food, especially my produce. 
Although, I came a skeptic, I left with every intention of trying Peapod's service.  What became clear to me over the course of the tour is that 1) there are people at Peapod who care about food as much as I do and 2) Peapod has some advantages over a traditional brick-and-mortar grocery store beyond simply the convenience of online shopping.  Our tour was lead by Peapod's "produce guru," Tony Stallone.  Tony wears his passion for good food on his sleeve.  He charmed me from the start and I picked up some invaluable produce tips from talking to him.  (Be sure to check out Tony's blog for some produce tips of your own.)  Tony remarked that for Peapod's service to work, the produce cannot simply be as good as the produce you would pick yourself; it has to be better.  If you pick a bad melon, you have no one to blame but yourself.  If Peapod sends you a bad melon, you're going to complain.  It's that simple.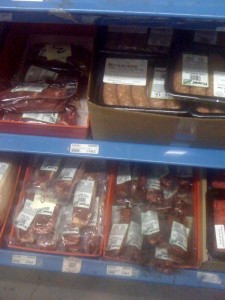 To that end, Tony explained that the warehouse has eight different temperature zones, including five for produce alone, in order to keep the food as fresh as possible.  The strawberries are not kept in the same room, or at the same temperature, as the red peppers.  The humidity, the ventilation, the lighting – it is all carefully controlled.  At a conventional grocery store, by contrast, all of the produce is kept at the same temperature: room temperature.  And that is often too warm.  At Peapod's warehouse, the room where the meat is stored – which I visited — is kept at 28 degrees.  The meat is then delivered still frozen to your door.  From a food safety standpoint, that is hard to beat. 
Another reason I had been skeptical of Peapod was that I was not convinced that they would carry the less common fruits and vegetables that I sometimes like to experiment with.  I wrote a post last week, for example, about ramps, a specialty crop that has a short season.  While we were touring the warehouse, I challenged Tony to show me some of his more unusual items.  Sure enough, there was a big bag of ramps.  And some morels.  Color me impressed.
In sum, I really enjoyed the tour.  I was definitely there as a food tourist.  Seeing huge rooms filled with an enormous variety of fresh produce, meat and cheese thrilled me to my foodie core.  I imagine my husband would have found the tour equally fascinating although he would have looked at it from an operations standpoint.  And, believe me, the folks at Peapod are running an incredibly sophisticated operation to ensure that the orders are packed quickly, but most of all, correctly.  And they are making a real effort to be as green as possible.  I just couldn't focus on that stuff when there were strawberries as far as the eye could see.
But the proof is in the pudding.  What happened when I went home and placed my first order with Peapod?  First, I must say that the convenience is wonderful.  Instead of spending my Sunday morning at the grocery store, I placed my order online on Saturday afternoon and on Sunday afternoon, a nice driver delivered it to my door.  (You can place an order up to 8 pm the night before for next-day delivery.)  I was also very happy with the quality of my order.  The watermelon for my son – he likes to eat watermelon slices, which he calls "big watermelon," as opposed to cut pieces of melon — was sweet and juicy and not at all grainy.  The grape tomatoes for Zuzu's lunch were pristine – and I have been seeing a lot of wrinkly grape tomatoes in the stores lately.  The ground beef was still frozen solid, as promised. 
I do have a few quibbles, however.  First, many of the prices are high, particularly for pantry items.  The produce prices are more competitive.  (I actually was scandalized that Peapod was charging $2.50 for a red pepper and then I went into Whole Foods and they were charging $4.99 a pound for red peppers.  You know how many red peppers are in a pound? That's right: two.)  One thing that bothered me about Peapod's prices: they charge a dollar more per pound to have your deli meat sliced thin, as opposed to sliced "regular."  Really?  They do know that at the grocery store it's the same price no matter how you want it sliced, right?  
Also, while Peapod has many features designed to make life easier for shoppers with dietary restrictions and food allergies – including the ability to sort by allergen – they did not have all of the alternative products that I buy for my allergic kid.  Their selection of dairy-free frozen desserts was very limited, as was their selection of wheat-free bread.  I do not blame them; these items are unusual  But, Peapod also did not have some of the regular items that were on my list, such as instant polenta.  So, at least for me, Peapod could not replace the grocery store entirely.
What's the bottom line?  I will tell you this: if I were working outside the home, and my evenings and weekends were my time to be with my family, I would absolutely use Peapod's service every week and not waste my precious family time on long trips to the grocery store.  It would be worth paying a bit more for the convenience.  Peapod would also be a wonderful option for people with a new baby, or for when you are coming home to a bare refrigerator after a trip.  As it is, I will probably still use Peapod, although not as regularly, to save me from having to make so many trips to so many different grocery stores.  And while I would have thought that produce would be the last thing I would want to order from Peapod, I now know that it may well be the first thing I want to order.
Do you want to try Peapod's service for yourself?  If so, enter the code "MOMBLOGGER" in the promotional box during checkout and you will receive $20 off your first order!
FTC disclosure: in conjunction with my tour of the Peapod warehouse, I received a goody bag containing some swag, such as fresh fruit, a mug and a tee-shirt.  Peapod also gave me a $50 gift card.  They did not ask me to write about my tour and the opinions expressed here are entirely my own.
Read about the tour from another blogger's perspective here: http://www.peanutbutterinmyhair.com/2010/05/fab-find-friday-second-chances-peapod.html