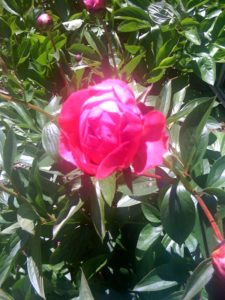 Saturday May 22 was the day I had waited for since last October: the re-opening of the Oak Park Farmers' Market! I leapt out of bed at the crack of dawn – okay, I eased out of bed at 8 am, but still, I was excited.  As I walked into the church parking lot that houses our market, and smelled the doughnuts frying and heard the bluegrass music playing, I felt a rush of joy.  Spring is really here! The long, cold, brutal Chicago winter is really over!  Picking up right where I had left off last fall, I stopped to chat with friends; cooed over babies grown much bigger; and marveled at all the beautiful flowers.  (I didn't need to buy any peonies, though. The peonies in my own yard are extraordinary.)
My expectations for the produce were low, however. I remembered May at the farmers' market from years past: northern Illinois does not have a warm climate, and the growing season is still very young here.  The real gems of the farmers' market — the cherries, the blueberries, the heirloom tomatoes – would not be coming for several more months.  I jokingly told my husband that I would be coming back with lettuce . . . and more lettuce.  What I found, in fact, in addition to all the lettuce, was asparagus, green onions, radishes and rhubarb.  I picked up two pounds of pencil-thin asparagus, some farm fresh eggs – I don't know why I am willing to pay $5 for a dozen eggs at the farmers' market when I won't pay more than $3 at the store – and two pounds of rosy pink rhubarb.  The asparagus were destined for Sunday dinner; the eggs were for the week's breakfasts and baking projects, but the rhubarb was for canning.  I had already made batches of strawberry-rhubarb jam and orange-rhubarb jam this spring using grocery store rhubarb, so I wanted to try something different.  I flipped through my favorite canning cookbook and found a recipe for rhubarb conserve.  I happened to have all the ingredients, so I was sold.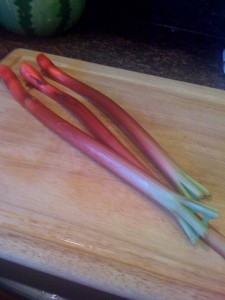 A conserve, for those of you who don't know, is a soft spread made with fresh fruit, dried fruit and nuts.  They are delicious on bread, like a jam, but also make wonderful accompaniments to cheese trays and even sandwiches.  This conserve combines rhubarb – a lot of rhubarb — with citrus fruits, raisins, sugar, and walnuts and is flavored with a little nutmeg.  It's sweet but also tart if you get a bite of citrus and has an interesting texture.  I've never made a conserve before because they feature nuts, and my daughter, who is frequently my canning sous-chef, is allergic to nuts.  But she was occupied with visiting grandparents, so I did not feel guilty going ahead and making the rhubarb conserve without her.  Allergies aside, I suspect I will be giving away most of these jars.  It definitely seems like the highest and best use of this conserve would be on an hors d'oeuvres or cheese tray and I just don't put out a cheese tray that often in my daily life.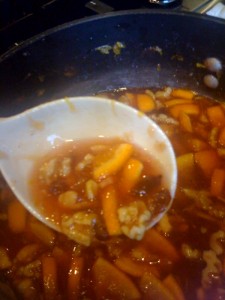 I will be doing a lot more canning this spring and summer with all the wonderful fruits and vegetables I find at the Oak Park Farmers' Market.  This was just the beginning.  But what a good beginning it was! 
Because I am so happy that spring is really here, I am going to give one reader a jar of the rhubarb conserve. To enter, leave a comment here telling me what you are looking forward to this summer.  (While you are at it, feel free to subscribe to my RSS feed, email updates or follow me on Twitter!)  Entries must be received by midnight CDT on Wednesday, May 26, which happens to be my eighth wedding anniversary.  I will randomly select a winner and announce it on Thursday the 27th. Good luck!