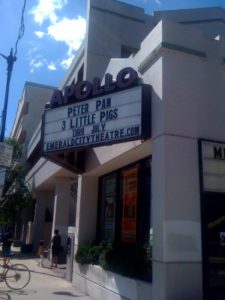 For children who are used to TiVo-ed television shows, DVD players in cars, and watching movies on their parents' iPhones, there's something particularly captivating about live theater.  The lights go down; the audience is silent; and a performance that cannot be paused for a snack or potty break begins.  Of course, most plays are not intended for children.  They are too long, too confusing or too mature – see my discussion of the repeated use of the f-bomb in "Billy Elliot" for an example of the latter.  That's where children's theater comes in. 
Children's theaters design productions specifically for young audiences.  The performances are short, lively – with audience participation encouraged – and deal with familiar stories or themes.  Attending a good children's theater can be the first step to creating an enthusiastic, engaged arts lover.  In Chicago, we are fortunate to have the Emerald City Theatre, a top-notch children's theater that develops exciting, original productions for kids and families.  Ten of thousands of people see Emerald City productions in its north side theater every year, and Emerald City reaches even more kids by taking its shows on the road, including free or discounted performances for organizations serving low-income families. 
Recently, my husband and I took our two kids to see Emerald City's production of "Peter Pan."  Zuzu is a theater-going veteran, including two previous Emerald City productions, but this was J.R.'s first play, and for good reason.  J.R. is one of those boys who doesn't stop moving.  Frankly, we have difficulty getting him to sit still long enough to eat.  A recent attempt to take J.R. to his first movie was not what you might call a success.  So, although "Peter Pan" was billed for ages three and up, the expectations for our three year old's behavior were low. 
I am pleased to report that J.R. made it through the entire 60-minute performance with only minor squirming.  He was actually glued to his seat for the first 30 minutes, which may be a new record.  He laughed at the physical comedy and held his breath during the sword fights.  He started to lose it a bit towards the end, but it never got so bad that we had to take him outside – a possibility for which we are always prepared.  While he clearly did not understand the whole story, our post-show discussion revealed that he had a handle on who each of the major characters were.  Perhaps not surprisingly, the ticking crocodile was his runaway favorite.  Also not surprisingly, our Zuzu was utterly riveted the whole time, laughing uproariously at Captain Hook and Mr. Smee's antics and shouting out many helpful suggestions to the characters.
Is the Emerald City production of "Peter Pan" on par with Brian Dennehy doing Eugene O'Neill at the Goodman? Not quite.  The acting can be a bit hammy and production values are not particularly high.  But then again, the ticket prices are low, which for a family outing is key.  More importantly, the show is sweet; it is funny and it is readily accessible to young children.  This is exactly what you need from a children's theater.  The goal here is to convince kids that they enjoy going to the theater, that plays are fun.  So that when those kids grow up, they will be the kind of people who voluntarily go see the latest revival of "The Iceman Cometh." 
Would any of my local readers like to see "Peter Pan" for themselves? Emerald City Theatre has generously offered to give a Family 4-pack of tickets to a lucky "West of the Loop" reader.  To enter, simply leave a comment to this post describing a favorite theater-going experience with or without your kids by midnight on Wednesday June 23.  I will select a winner at random.  "Peter Pan" is running through July 22 so there is still plenty of time to see it, whether you win the tickets or not!
Emerald City Theatre's production of "Peter Pan" is running through July 22 at the Apollo Theater at 2540 N. Lincoln Ave. on Chicago's north side. The show lasts approximately 60 minutes.  There are performances on Tuesday through Thursday, as well as Saturday and Sunday. Children are invited to meet the actors following the weekend shows.  Go to www.emeraldcitytheatre.com for more information. 
Full disclosure time: I was given four complimentary tickets to "Peter Pan's Ice Cream Adventure" a special production of the play followed by an ice cream treat and a chance to meet the actors. I was not asked to write about the play and all opinions expressed in this review are my own.