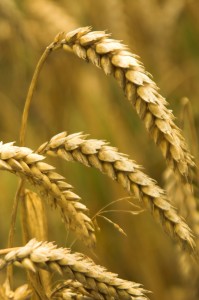 On my weekly Whole Foods trip today, I found myself putting many of my usual items in my cart, and then reconsidering, and putting them back on the shelf. The wheat-free animal crackers, the brown rice pasta, the rye flour bread — all went in my cart and then back out again. You see, we will find out later this week if Zuzu has (finally) outgrown her allergy to wheat.
Earlier this summer, Zuzu had a blood test and then, later, a skin prick test to determine whether any of her food allergies were lessening.  The blood test, also known as a RAST test, measures the level of IgE antibodies in a person's blood; the IgE antibodies are the type associated with a typical allergic reaction.  The skin prick test involves pricking the skin and injecting a small amount of the suspected allergen to see whether there is a hive-like reaction.  Neither test is a perfect measure of whether someone is actually allergic to a food or other trigger. They have a high rate of false positives. But, taken together, the tests certainly provide important information.
We have been taking Zuzu for these two tests every year since she was a year old.  When she was first diagnosed with food allergies, we were told that she would outgrow the wheat, dairy and egg allergies by the time she was five. Whoops! That didn't happen. But, recently, her IgE levels have gone down across the board, which is encouraging. Many of them are still in the allergic range, but the severity of the allergy has decreased. The skin prick tests too showed improvement: while she still had a reaction to most of the trigger foods, the size of the welt was smaller. Of all of the allergens, wheat was the one that showed the least allergic reaction. In fact, the most recent skin test showed almost no reaction to wheat.
When neither test indicates an allergic reaction, the next step is a food challenge. Essentially, the patient is given small amounts of the possibly allergenic food at regular intervals in the safety of the doctor's office and then the medical staff watch the patient closely for a reaction.  If the patient does not react, the nurse continues to give him or her more and more of the trigger food until three hours have passed. At that point, the patient is declared No Longer Allergic to that food.  Go forth and eat.
We have actually been through this with Zuzu before. Almost two years ago, her skin test reaction to wheat was so small that her allergist recommended a food challenge. I was over the moon with excitement. I was so sure that we would walk out of that doctor's office and go buy Zuzu her first ever McDonald's hamburger with a bun. (Yes, McDonald's is our go-to bribe/reward for doctor visits. I am not at all apologetic about it.) What actually happened was that Zuzu ate about one-half of a Wheat Thin over the course of 30 minutes and started to break out in hives. I was crushed. But, of course, I had to be cheerful and breezy and act like it was no big deal in front of Zuzu. Fortunately, at that time, she was young enough that she did not really understand the significance of what had transpired, and I was far more disappointed than she was.
But now we are about to go through this same thing again. Another round of tests has shown almost no evidence of a wheat allergy, two years have passed and Zuzu's allergist wants to try the food challenge again. This time, I have tried so hard not to get my hopes up. I had almost succeeded in putting the food challenge out of my mind. Until, that is, I started to do my weekly shopping. As I put the wheat-free animal crackers — a typical camp snack for Zuzu — in my cart, I stopped short and thought: "I shouldn't buy these. Maybe, on Thursday, we will find out that Zuzu can eat wheat and I can buy her regular animal crackers. Or graham crackers. Or Saltines for crying out loud! Not that anyone other than a pregnant women with morning sickness wants to eat Saltines. Blech." All of a sudden, my mind raced with possibilities. She could eat regular pasta! She could have a hot dog with a bun! She could eat an ice cream cone! Uh, with soy ice cream, of course. She's still allergic to dairy. Let's not go crazy here.
After the kids were asleep, I told my husband about my wild fantasies in the aisle of Whole Foods.  But he was not interested in going down that path. He insisted on remaining cautious. He is obviously right. Yes, it would absolutely change our lives, and my daughter's life, so much for the better if Thursday's test were a success and we were to find out that Zuzu can eat wheat for the first time. But, we've been disappointed before, and this time, if the test is a failure, Zuzu will certainly have a better understanding of what is going on and she will feel the disappointment as keenly as we will. So, it is even more important for the adults to approach this test with no expectations about the results. And, in truth, if the test is a failure, our lives won't be any worse.  As I have written before, we work around Zuzu's allergies all the time, and manage to keep her life pretty normal. It is something that I am very proud of. So, the worse case scenario is that we just keep doing what we've been doing her whole life.
But what if it's a success?