It's a good week at West of the Loop because my mailbox is full-to-bursting with thick, glossy magazines trumpeting the top fall trends. I love this time of year when, despite 90 degree heat, I run to the store to try on chunky cardigans and dream of all the boots I am going to buy.
Of course, like some of you, I'm a thirty-something mom who shops on a limited budget and I only have to dress like an actual adult — you know, one who has an office job — one day a week. So, the real question is: which fall fashion trends are actually going to be relevant west of the Loop?
I'm lucky in that slim pants are flattering on me and there are a lot of them this fall: skinny jeans, leggings, denim leggings, and the newest trend, stretch cargo pants. In magazines, these slim pants are tucked into all kinds of boots, from lace-up ankle boots — some with a peep-toe — to riding boots, to rugged utility boots. 
Like many of you, I have an assortment of black and brown boots in various heights leftover from years past. At least three of these will still look current, I think: my brown riding boots, last year's black over-the-knee boots and my beloved flat slouchy grey suede boots.  If I am going to buy one pair of new boots this year, I think it will be something short, just barely over the ankle, and either rugged with hardware or lace-up. And maybe one pair of fabulous platform heels to dress up my skinny jeans for moms' night out.
I plan to top my skinniest pants with a long tee for modesty — I don't want the other moms giving me disapproving looks on the playground — and then add a cropped jacket in leather, tweed or, my personal favorite, the very on-trend military style complete with buttons and epaulets. I am realy loving the military look this fall. Getting in on this trend can be as simple as adding more olive or khaki to your wardrobe — particularly in accessories — or, if your name is Sarah Palin, you can go with the full-on camo gear.
Like most moms, I usually favor pants for running around town, but when dressing up for work or for a evening out, it's nice to pull on a skirt for variety's sake. While it is hard to go wrong with an above-the-knee pencil skirt, it would seem that the of-the-moment skirts are longer and even flared. In my opinion, this look is hard to pull off. You want to watch out for Stevie Nicks territory. If I were to wear a mid-calf-length flared skirt — and I'm really not going to — I would keep my top very tailored and I would not wear a scarf for love or money. Also, please, do not pair your new lace-up boots with your long flared skirt unless you are, truly, a witchy woman.
Another fall trend that I am going to pass on is the fur vest, faux or no. The women wearing these look like they just skinned a Muppet. But feel free to go all Nicole Richie on me, if that's your thing.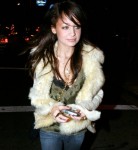 Tweed, menswear and chunky knits are trends that carrying over from last year. Chunky knits are another trend that can be hard to wear. I think you have to wear a thick sweater with slim pants and keep the proportion right for your frame.  Sleeveless or short-sleeve thick sweaters are a little better. One menswear trend which I am
still unsure about is the flat oxford shoe. Is adorable paired with a skirt and tights – or even tweedy shorts and tights – or do you look like you are recovering from foot surgery?
What about a fall bag? Studs and fringe still seem to be big, as do the cross-body messenger bags, which are unspeakable. I bought a slouchy grey hobo with braided handles last November that looks a little like it was made out of elephant hide, but otherwise is very chic. I'll still happily carry that bag, but maybe this fall I will try something in black with some studs to add a little edge to my suburban life. On the other hand, a structured top-handle satchel is very on-trend as well and will look better with the menswear styles.
I don't know about you, but I don't really pay attention to trends in make-up. If I put on make-up at all, I consider it a victory. Who cares if I don't know what's the latest hue of eye shadow? That being said, one fall beauty trend that I love is grayish-beige nails. I've even found the perfect shade. It's "You Don't Know Jacques" by Opi. It looks awesome on fingertip-length square nails and on big toes peeping out of your lace-up peep-toe boots. Trust me.
What about you? Whether you are living life west of the Loop or not: what are you planning to wear this fall?
Sadly, this post was not sponsored in any way. Most of the images come from Piperlime. The second picture of Nicole Richie was borrowed from a blog entitled Petite Fashions for the Vertically Challenged.