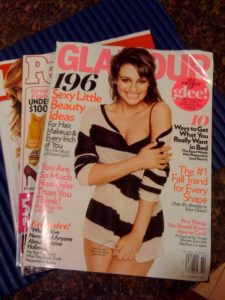 For most of my life, I have been too young for the magazines I was reading. Now I am too old. How's that for a rude awakening?
Like most girls, I started reading Seventeen when I was twelve. By the time I was actually seventeen, I had graduated to Glamour. Yes, admittedly, the articles about how to get ahead in my career and meet Mr. Right had very little to do with my life at that time, but isn't magazine-reading aspirational? Reading Glamour gave me an idea of the kind of fun and fabulous life I could expect to lead, once I finished school and moved out of my parents' house, that is.
I have been subscribing on and off to Glamour since the late 80's, but I have finally decided to move on. First of all, while I applaud Glamour's strong anti-smoking stance, I think it is completely bogus that they still accept tobacco advertisements. So that's one issue. But, in truth, my reason for saying good-bye to my old friend is that all too often she is talking about things that no longer matter to me. I just don't need all that dating advice. I certainly don't need to know the five meals every young woman should know how to cook and, frankly, I am not all that concerned about whether it is appropriate to wear blue nail polish to work. (Anyway, I'm wearing "greige" nail polish because another magazine told me it was hot for fall, thank you very much.) The final straw was last month's cover: teen idol Vanessa Hudgens snuggling a kitten. A kitten! I have to face the fact that while Glamour used to be about my future, it is now about my past. (Although the image of a Disney actress cuddling a kitten would have made me vomit at any age.)
You may have gathered that I subscribe to a lot of magazines. I do. I subscribe to US Weekly because I can read it on the elliptical at the gym while simultaneously listening to music on my iPod and never feel like I am missing anything. Also, how else would I know what color nail polish to wear? I subscribe to The New Yorker because it has the best non-fiction writing in America and because among a certain group of well-informed people — a group to which I strive to belong — a standard conversational opener is: "Did you see that piece in The New Yorker?" I subscribe to Real Simple because I long to be organized and efficient.  And I subscribe to In Style because it is the perfect mix of fashion, celebrity profiles, beauty and, did I mention, fashion? In Style is great because it never pretends to be something it's not. It's pure fluff; pretty fluff, but fluff all the same, and they are unapologetic about it.  God love 'em.
You might wonder why someone who loves to cook as much as I do does not subscribe to a food and cooking magazine. But honestly, I don't know why one needs a cooking magazine when there are so many amazing food blogs out there. Shelter magazines are another category that I skip. If you could see my house, you would know that without me having to mention it.
But letting my subscription to Glamour lapse leaves a hole in my magazine pile. It's the place where a traditional women's magazine should go. I am wondering if there is a magazine out there that can deliver all I am looking for. What I need is a magazine that has some fashion and celebrity gossip, but not only those things. I also want articles on relationships (preferably focusing on the long-term kind, as opposed to, say, the etiquette of leaving your one-night stand's apartment), articles on careers, articles on health and wellness, articles on important policy issues facing women both home and abroad; in other words, I want some substance with my style. And while I know I am not in my 20's any more, I do not want to be hustled into my 40's. I am going to cling to every last second of this decade and then some. So, please, no magazines for "older women" or "mature women" or "women who ought to know better." Similarly, my life bears no resemblance to an episode of "Gossip Girl," so no society magazines either.
I don't think men have this problem. My husband has been exactly the right age for "Sports Illustrated" for the past 25 years and no amount of career or lifestyle changes is going to end that love affair.
So, what's the perfect magazine for a smart, chic 30-something wife and mother? Magazines are all about niches, so I refuse to believe there isn't one that's a perfect fit.