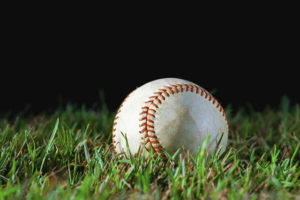 This post originally appeared earlier this week on my new blogging community, The Chicago Moms. I hope that you will swing by and check out some of great voices being featured there.
Labor Day 2010. It was unseasonably cool and breezy that morning, making our plan to enjoy one last day at the local pool seem less appealing. What should we do with our last day of summer, we wondered. My husband grinned: "Three magic words come to mind," he said. "Let's go shopping," I ventured. Uh, no. "Kane. County. Cougars."
My husband has been a minor league baseball fan for as long as I have known him. In law school, at the University of Michigan, he organized group outings to go see the Toledo Mudhens and the Lansing Lugnuts. During the summer he spent working at a law firm in New Mexico, he went to more Albuquerque Dukes games then many long-time residents of the city. (He still talks about winning the trivia contest at one of the games. The prize? A gift certificate for a free Bloomin' Onion at Outback Steakhouse.) And when he was a law clerk in Indiana, he took me to see the South Bend Silverhawks on Grateful Dead night — the team wore tie-dye uniforms. Single A ball, ladies and gentlemen!
In Chicago, the two major league teams each have a devoted following. Kids start going to Wrigley Field and the Cell as babies. But for many families in the Chicagoland area, a trip to see the Sox or the Cubs is a huge investment of time and money that may or may not end well, depending on how long their kids' patience — or Dad's ability to keep buying snacks — lasts. That's where minor league baseball comes in. A trip to see any of the local minor league teams — from the Kane County Cougars to the Joliet Jackhammers to the Schaumburg Flyers — is an affordable, low-key outing aimed at families with young kids. And good seats are always available.
Our seven-year-old, Zuzu, is a pleasure to take on outings. We have taken her to Cubs games, Blackhawks games, ice shows, movies, Broadway musicals,  Symphony Hall – you name it.  She is quiet when she needs to be; cheers when she should; sits still and enjoys every minute. Her younger brother, on the other hand, is the opposite. He is one of those kids who never stops moving and can throw an earth-shattering tantrum, so we have resisted taking him anywhere that we would not be willing to leave on a moment's notice. In other words, we don't invest a lot of money on outings with J.R.
That's why a Kane County Cougars game was the perfect first sporting event for our little guy. First, the tickets are cheap. If you have to pull up stakes and leave, no big deal. But the fact is, you shouldn't have to leave because there is enough to occupy even a rambunctious 3 year old with the attention span of a gnat.  We opted to bring a picnic blanket and sit on the lawn area to give the kids more room to run around. When watching the game and running around grew old for J.R. — approximately the bottom of the first — I took him over to the kids' area where there were several giant inflatables and bouncy houses. I invested in the unlimited pass for $15 instead of buying individual tickets because, well, jumping in a bouncy house is the only thing J.R. can do for more than 10 minutes at a time. Between the bouncy house and the blue cotton candy, it was a hot, sticky but mostly successful outing with J.R. and those are rare indeed.
Zuzu, meanwhile, was having a great time cheering for the Cougars and brushing up on her baseball knowledge with her dad. The fact that you are so close to the action at these small minor league parks really makes it easy for kids to get into the game. The goofy contests between each inning help too. The whole feel of the event could not be more down-home. But the highlight for Zuzu — other than her first-ever funnel cake – was the chance to run the bases after the game ended. I think her dad even got a little misty-eyed watching her out on the field.
The regular minor league baseball season has ended for the year. Good luck to the Cougars in the Midwest League Play-offs! And when summer rolls around again, you can bet that we will be back for another game, and, uh, funnel cake.