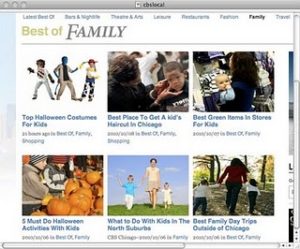 Chicago's local CBS affiliate, CBS-2, recently revamped its website in order to provide more helpful information about things to do in the area for locals and visitors alike. They asked  local bloggers to write about the "Best of Chicago" in their areas of expertise, ranging from restaurants to shopping to theater to travel. I was excited to contribute to the "Best of Chicago: Family" section, along with some of my mom-blogger compatriots, Caitlin (of Wee Windy City fame) and Hyacinth.   I wrote about the Best Spots for Kids in the Western Suburbs — uh, this blog is called "West of the Loop" — Chicago's Best Stuff for Kids ages 5-8; Chicago's Best Stuff for Preschoolers; the Best Places to Take Pictures of Your Kids in Chicago;  and the area's Best Public Pools. It's all my opinion, of course. If I missed some amazing place or activity in any of these categories, please let me know.
If you are looking for things to do with or without your kids in the Chicago area, come over and check out CBS-2′s fun new site. There is a lot of helpful information.
Screen shot of the CBS-2 website courtesy of A Hen and Two Three Chicks because I couldn't get my iPhone to do it.