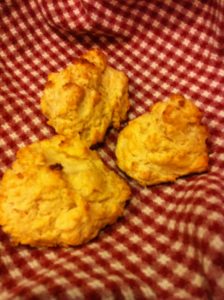 For me, grocery shopping is a race against the clock. I have to get everything in my cart and check out before either 1) the child riding in the cart turns into Damien or 2) it is time to pick up said child from preschool. As a result, my basic M.O. is to grab stuff off the shelves and run, and occasionally the thing I grab was not what I meant to buy at all.
So it happened one day that I came home from "the Jewel," as everyone in the Midwest calls it, with a bag of self-rising flour instead of regular all-purpose flour. I'm sure for serious bakers self-rising flour is an abomination akin to — wait for it — salted butter. I had never even heard of it before. Basically, it's flour with salt and baking powder already mixed in. You know, so you don't have to sift those pesky dry ingredients together or anything. While I didn't want to see the bag go to waste, I was hesitant to use it in many of my favorite recipes that called for all-purpose flour — baking being such an exact science. So, it sat there on the shelf for many months, unused.
Then, the other night I decided spur-of-the-moment to make buttermilk biscuits to go with the soup I was making for dinner. As I was reaching into my baking cupboard for flour — okay, Bisquick, I admit it – my eyes fell on the wretched bag of self-rising flour. "Best for Biscuits!" it proclaimed cheerfully. "Okay," I thought, "I'll give it a try." So, I cobbled together a recipe, adding some Parmesan and cayenne pepper because I thought a cheesy, spicy biscuit would go well with my soup.
As it turned out, the biscuits I put together at the last minute upstaged the butternut squash soup that I had worked on all afternoon. They were a rich, flaky indulgence with just the right amount of heat. After eating two each, my husband and I wrapped the remaining biscuits up and put them away so as not to be tempted to eat more. (After all, it is January: the month of promises to eat better.)
Although I use self-rising flour in this recipe, I'm sure you could adapt it to use all-purpose flour. Just be sure to add some salt, maybe 1/2 teaspoon, and at least 2 teaspoons of baking powder.
Parmesan-Cayenne Biscuits
Makes approximately 12-14 biscuits
2 cups self-rising flour
1/4 tsp baking soda
1/4 tsp cayenne pepper
1/3 cup grated Parmesan cheese
6 TB unsalted butter, cold, cut into pieces
3/4 cup buttermilk
Preheat oven to 450. Whisk dry ingredients, including the Parmesan, together in a large bowl. Cut the butter into the dry ingredients using a pastry blender or two knives. Continue to cut in the butter until most of the mixture resembles coarse meal with some larger pea-sized pieces of butter. Add buttermilk and mix the dough together with a fork until all the dry ingredients are moistened. Gather the dough into a ball and roll it around the inside of the bowl picking up all the loose pieces at the bottom of the bowl. Do not overmix the dough, which will make the biscuits tough. Drop the dough onto ungreased cookie sheets leaving space between the biscuits. Bake for 12 minutes. Serve warm.