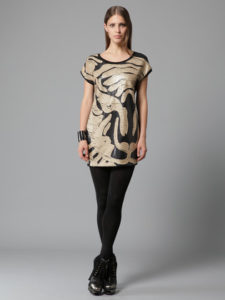 Everyone I know is talking about Yale Law professor about why Chinese mothers are superior to Western mothers. The piece is an teaser from Chua"s upcoming book, Battle Hymn of the Tiger Mother, on how to raise successful children, successful being defined in this context as "high-achieving to the extreme."  Chua contrasts Western parents" permissive parenting strategies — and by permissive I mean "allowing children to do things other than schoolwork and practicing piano" — with her own Chinese style. Apparently, the piece received the highest number of comments ever on a single piece on the WSJ"s website. No wonder. It"s a piece intended to provoke a strong reaction. Here"s one very thoughtful response by Cynthia Liu.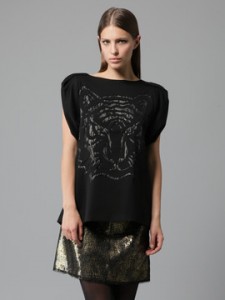 I have been discussing this piece with my husband and my friends since it appeared over the weekend. And I have lots of serious thoughts about it. But nobody wants to hear any of those. Instead, I thought: if I were a Tiger Mother, what would I wear? It just so happens that animal prints continue to be a hot trend this winter.  I was browsing the latest Gilt Groupe sale today and I came across some items that no self-respecting Tiger Mother could live without — "cause you know a Tiger Mother is too savvy to pay retail:
When drilling your preschooler in the elements of the Periodic Table, remind them that AU stands for gold with this . (One can"t help but wonder, were Tam"s parents devastated that she didn"t grow up to be a concert pianist/cardiologist? Oh well! Their loss is our gain.)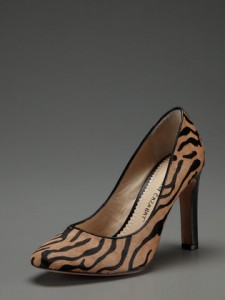 Need to tell your child that she is "garbage" for being disrespectful to you? Nothing reinforces the point like this (above right), also by Vivienne Tam. For all intents and purposes, it looks just like a black Hefty bag!
When stomping on your"s child dream to play a villager in the upcoming school play, be sure to sport these chic . These 3.5 inch pumps are also useful for towering over your lazy, self-indulgent child during those marathon piano-practicing sessions.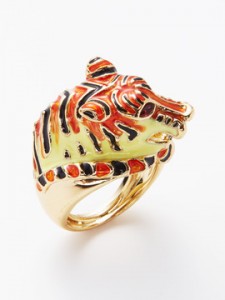 Speaking of piano, it can be hard to stand there for hours on end, denying water and bathroom breaks — hey, those police interrogators know what they are doing! — while your seven-year-old works on getting the right hand and left hand to play the different rhythyms in Jacques Ibert"s charming piece, "The Little White Donkey." When your resolve starts to weaken, usually about hour nine or so, glance down at from celebrity jewelry designer Kenneth Jay Lane. The tiger"s fierce visage will remind you that you, the mother, know what"s best for your child, and her own wishes and desires are meaningless.
Are you reading Amy Chua? I smell a cross-promotion coming on!
All photo credits courtesy of Gilt Groupe.