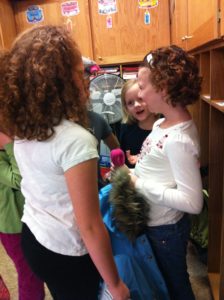 This post originally appeared earlier this week on my new blogging community, The Chicago Moms. I hope that you will swing by and check out some of great voices being featured there.
My daughter was ushered into a sorority yesterday: the sisterhood of the pierced ear. As I explained in a post written last September, I had originally told Zuzu that she had to be eleven — the age I was — to get her ears pierced.  But after seeing how much Zuzu wanted pierced ears, and how many of the other girls in her class had them, I had relented and said that we would consider allowing her to get her ears pierced sooner.
Well, Zuzu spent the fall longing for pierced ears and I spent the fall growing more comfortable with the idea. Obviously, my objection was not to pierced ears themselves. The issue was simply not wanting to see my little girl grow up too fast. But the truth was, I had gotten accustomed to seeing girls the same age as Zuzu wearing small earrings — I still don't like dangly earrings on young girls, which strikes me as a safety issue. And it did not seem too grown-up on them. Rather, it seemed like a fitting symbol of these second graders' transition from "little girls" to just simply "girls."
Last Wednesday, I picked my daughter up from school alone, unencumbered by my four year old son, who was home with a sitter. I surprised Zuzu with the offer of a special girls' outing: manicures or maybe a trip to spend the Claire's gift card that she had received for Hanukkah. Zuzu instantly looked up at me wide-eyed and said, "Can we get my ears pierced?" I was caught off guard at first, but then I found myself wondering, "Why not? She's ready. I'm ready. And it's actually a good time of year to do it: no sports to worry about."
To test her resolve, I told Zuzu that she would have to pay for the earrings herself, with her own saved money and her gift card, and she quickly agreed to my terms.
After some reflection and checking with Daddy, I gave Zuzu the thumbs up and we were off to Claire's. Zuzu was practically quivering with excitement. I found myself getting surprisingly emotional as I watched Zuzu pick out her blue "sapphire" starter earrings. (Because usually, I'm the Ice Queen. Really. I'm not a crier. That's my husband.)  Zoe was completely stoic throughout the actual piercing and spent the rest of the evening in a high state, excitedly calling grandparents and looking in the mirror every five minutes.
The following morning, when I took Zuzu to school, I watched her walk up to a group of her classmates and proudly share her news. All the other girls in the circle had pierced ears and I listened as they admired Zuzu's teeny blue studs and offered advice on how best to clean her ears. It was so sweet and supportive. And so female. Seeing a group of girls clustered around one of their own, ooh-ing and aah-ing over a piece of jewelry – flash forward twenty years. and it could have been a blushing bride-to-be showing off her new engagement ring.
At least I know that's still far off.