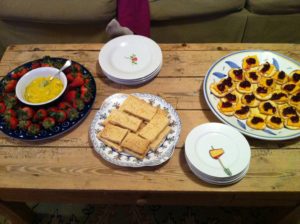 My new book club had its third meeting last week. I am very excited to be part of a book club again after several years off. I had been part of a wonderful book group during the years of my life that I went from "young bride" to "first-time mom."  That group was full of interesting, smart women and we read just the kind of books I like: serious contemporary fiction such as that written by Margaret Atwood, Ian McEwan and J.M. Coetzee, among others; memoirs and some classics. We could actually be quite snobby and the few times that we read less worthy books —  The Lovely Bones being one memorable example — the meeting turned into a competition to see who could find the most appalling passage to read aloud.  But slowly the members of that group married, had kids, moved to different suburbs, or even moved to different cities. And the book club dissolved. (Beth, Jen, Lloy, Ros, Judy, Lisa, Leslie: if you are reading, I miss you guys.)
I had resisted being part of another book club in my suburban, mom-of-two life for several reasons: one, I was afraid that a new book club would never measure up to my old one. Two, I already had several evening meetings a month for my volunteer commitments and I felt guilty about leaving my family for yet another night; and three — let's be honest, here — I barely have time to look up in between issues of The New Yorker, let alone read a whole book.
But, guess what? My friend Chef Druck is an irresistable force and I am not an immovable object. So when she blew into town and five minutes later suggested starting a book club, I could hardly refuse.  The next thing I knew, I was in a room with a group of women, a bottle of red wine and some tasty snacks trying to force myself to stop gossiping and talk about the book.  My reservations about being in a new book club melted away as I laughed, analyzed and argued with a new group of sharp, interesting women, including yet another local blogger, Marketing Mommy.
I hosted our most recent meeting, during which we discussed Helen Simonsen's first novel, Major Pettigrew's Last Stand.  This charming love story at first seems like a light, easy confection for Anglophiles. But there's much more to this story. It's about the ties that bind families together and the betrayals that can cause those ties to weaken and snap; it's about duty and honor and the difference between being traditional and being stuck in the past; it's about loss and love. In short, there was plenty to discuss. Although Major Pettigrew's Last Stand suffers a bit from First Novel Syndrome — too much stuff happens — everyone in our group was enamored of this well-observed, funny tale and I recommend it whole-heartedly. The women of my book club, many of whom have, like me, stepped away from successful careers to raise children, especially appreciated the fact that the author had not even started to write fiction until later in life. Simonsen apparently took a creative writing class at the 92nd Street Y as a respite from full-time motherhood. And now she has a must-read novel being discussed by book clubs everywhere.
Major Pettigrew's Last Stand is so very British. The protagonist, Major Ernest Pettigrew (Ret.), is a traditional British country gentleman, who lives in his family's ancestral manor, hunts with his father's sporting gun, and refuses to drink tea out of a styrofoam cup. I knew that I wanted a British-themed menu for our book club meeting, but I didn't want to serve anything too heavy because we meet at 8 pm, after everyone has already eaten dinner. I settled on this mostly sweet, somewhat savory menu of small bites, and I think it was a hit.
British Book Club Menu
Strawberries with lime curd
Shortbread
Cheddar and cranberry chutney on water crackers
Assorted Teas
1. Strawberries with lime curd: Lemon or lime curd is a classic English spread. It is pleasantly tart with a custard-like consistency. You can buy it in jars — I've heard that the Trader Joe's version is quite good — but it is easy to make yourself. I follow the recipe from my favorite canning blog Food in Jars, which you will find here. Marisa's recipe is for a Meyer Lemon Curd, but it works equally well with lime juice. Citrus curd is a wonderful accompaniment to fresh berries, as I served it here, pound cake, or even yogurt. 
2. Shortbread. You can find a basic shortbread recipe in any all-purpose cookbook. I used one from Barefoot Contessa Parties by Ina Garten. Shortbread dough is very dry and crumbly by nature; you want the finished product to have that melt-in-your-mouth texture. If your dough is barely holding together, which happened to me, do not worry. Just press the crumbly mixture into the bottom of an ungreased pan, poke the dough with a fork in a decorative manner and bake for the recommended time. As soon as you take the shortbread out of the oven, sprinkle it with coarsely ground sugar to add a little additional sweetness.
3. Cheese and crackers with cranberry chutney. Cheddar and chutney is a classic combination. It's an easy, attractive appetizer for any gathering. No need to get fancy: just buy a jar of mango chutney from the Indian section of any good grocery store. I opted to use a cranberry chutney that I canned this past summer for fun, and it was a sweet complement to the sharp cheddar.
What about you? Are you in a book club? Why or why not? Do you try to match the menu to the book?