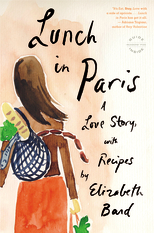 Today's post is part of the From Left to Write online book club. The idea of this book club is not to write a book review, per se, but rather to write a post in which the blogger connects that month's book to an experience from his or her own life. April's book is Lunch in Paris: A Love Story, with Recipes, a memoir written by Elizabeth Bard.
When you are a sophomore in college, tearing your hair out over what to major in, no one tells you that by the time you are 35, no one will know or care what you majored in. In fact, by the time you are 35, if your college major has nothing to do with your career, all it is is the answer to a weird little trivia question about you, like: What did you call your childhood security blanket? What street did your parents live on when you were growing up? What was your college major?
Well, what was yours? Religion? Anthropology? Classics?
So here's my little trivia answer: I was a French major in college. Yes, a French major. My course schedule was filled with classes like "French Romanticism" and "20th Century French Poetry" — totally worth it for the time I impressed a poet at a cocktail party with my knowledge of Francis Ponge. I wrote papers on the portrayal of prostitutes in the stories of Guy de Maupassant and lesbianism in the novels of Emile Zola. I wrote my college thesis on the memoirs of 19th century French actresses and courtesans. If I ever become President or First Lady, someone will surely go to my college library and look that last fact up. Bonne chance, mes amis!
I actually spent my junior year abroad studying in Paris — that's another Obscure Fact about Emily. I lived with a fascinating French family, who are worthy of a whole separate post, and studied at part of the University of Paris. My French was pretty good before that year because I had already spent two summers living and studying in France, but by the time I flew home in May of 1995, I was fluent. These days, I can still speak well enough to converse with my daughter's French teacher and the guy from Togo who works behind the deli counter at Whole Foods, but, of course, my French is nothing like what it was.
Before that year in Paris, I had been certain that I would live my adult life in Europe. Romance languages were my passion. And it was like I was French in my heart. America! Who could be bothered with such an uncouth place? Pas moi! I was destined to walk the cobblestoned streets of Paris wearing a chic carré Hermès, discuss the issues of the day in perfect French over chocolat chaud at Café Flore, and shop for fruits de mer at the marché near Boulevard Raspail.
It was actually living in Paris that cured me of my desire to live in Paris. Don't get me wrong. I had the time of my life studying abroad in Paris. I would do it again in a heartbeat. But it was not until I had spent a significant amount of time away from my country, and immersed in la vie quotidienne of another country, that I realized how hard it is to be an ex-pat. I remembered one of my high school French teachers telling me that while she had been in America for over twenty years, she was homesick for Switzerland every single day. At the time, I was baffled. After a few months in France, I began to understand.
During my time in Paris, I looked around and saw a way of life that was close to the one I knew but still so alien. I thought about what it would be like to live so far away from my family and friends; to always speak in a different language; to lack the cultural references of other people my age. I tried to imagine sending my kids to French schools, with their rigid tracking systems, lack of extracurricular activities and insane grading scale of 1-20 — except that no one ever actually gets a 20. Or even a 19. I knew that I would never quite be at home in France, or in French for that matter. And then I realized that the career I wanted, the husband I wanted, the family I wanted were all American things. So I came home, finished college and went off to law school. The life of an ex-pat was not for me.
Reading Elizabeth Bard's charming memoir-cookbook, Lunch in Paris, was like getting to see my road not taken. Elizabeth ends up living as an ex-pat in France quite by accident when she falls in love with a French man and ends up moving to Paris to be with him. (While Elizabeth's husband seems pretty dreamy, I never met a French man I wanted to go on a second date with, let alone marry. So maybe that was part of my problem.) While Elizabeth is plainly seduced by the charm and romance of Paris — as well as by the food and the guy — she does not sugarcoat the difficulty of adjusting to French norms. For example, during her father-in-law's battle with colon cancer — which was diagnosed late and treated with a shocking lack of compassion by French doctors for whom "second opinion" is definitely a foreign concept — Elizabeth begins to realize that she has signed herself and her future children up for this same kind of health care. When she learns how disdainful teachers tried to squelch her husband's career ambitions, she faces the fact that her children will be educated in the same rigid system. It's a bit of a rude awakening for her. When I read those pages, I nodded sagely. See, I thought, bullet dodged.
But if I were to be as candid with my readers as Elizabeth is with hers, I would have to admit that part of me was green with envy during every single page of Lunch in Paris.  A dreamy French husband? An apartment in Paris? Shopping for perfect vegetables at gorgeous markets? That was supposed to be my life, dammit! And I can even speak French — something that Elizabeth struggles with for much of the book. As I have done my whole life, I made the practical decision and stayed home. Elizabeth went for the romance of an ex-pat life. Bien fait, Elizabeth. Et bon courage.
A "From Left to Write" Book Club post. In conjunction with the book club, I received a free copy of Lunch in Paris.  Buy your copy here.   You can find more bloggers' reactions to Lunch in Paris by following the links on the From Left to Write website.  Follow From Left to Write on Twitter here.