Because it is the season right now, I am reposting this piece from last June with two ideas for using garlic scapes, a fun farmers' market find.
Chances are, if you have a share in a CSA (community supported agriculture) or are a farmers' market regular, you have seen garlic scapes in the past few weeks.   For those of you unfamiliar with scapes, they are the tops of garlic bulbs that poke through the ground, while the garlic cloves are growing underneath the soil.  Farmers need to trim off these curly green shoots so that the garlic bulb will continue to grow. I wonder if farmers used to throw the scapes away or feed them to the pigs.  Nowadays, they get to charge wide-eyed foodies like me $2.50 for a bunch.
Scapes taste like garlic, not surprisingly, but are milder than garlic cloves.  The shoots are firm and juicy, not thin and floppy like a scallion or even last month's produce darling, wild ramps. You can use them like garlic in all kinds of recipes. Chop them up, saute them and add them to pasta, omelets or stir-fry.  Last year, the New York Times published a recipe for a white bean dip with scapes that I quite like because it is dairy-free.  Because of my daughter's food allergies, I am always looking for good dairy-free recipes. Dairy free dips are also useful for cooks who keep kosher and are looking for a hors d'oeuvre before a meat meal. The dip is healthy and delicious on crackers or crudites.
One of my favorite food writers, Kim O'Donnel had a fun post on her Washington Post blog a few years ago in which she recommended making pesto with scapes. What a great idea! I made the pesto according to Kim's recipe and then I used it as a sauce for pizza, which I topped with sliced Roma tomatoes and fresh ricotta. It was terrific.  The pesto had great garlic flavor without being overwhelming and the sweetness of the tomatoes and the creaminess of the mild ricotta tempered any bite that the pesto may have had.  There was plenty of pesto leftover, so the next night, when I was not feeling particulaly ambitious in the kitchen, I tossed it with rigatoni, and added halved grape tomatoes and fresh mozzerella for a delicious, summery dish.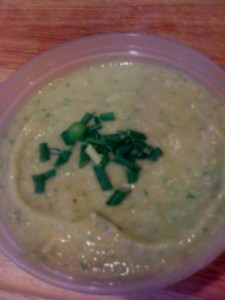 White Bean Dip with Scapes
Adapted from The New York Times
1 can cannellini beans
1/3 cup diced garlic scapes
Juice of 1 lemon
1/2-1 tsp cumin
1/2-1 tsp coriander
1/4 cup extra virgin olive oil
Salt and pepper to taste
Drain the cannellini beans. Combine all the ingredients except the olive oil in a food processor and puree until smooth. Slowly drizzle the olive oil through the feed tube of the food processor (while it is on) until the oil is thoroughly incorporated. Garnish the dip with additional diced scapes and serve with crackers, pita triangle or crudites.