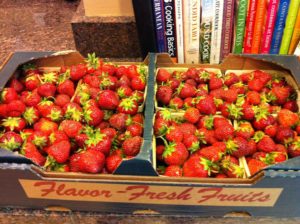 Zuzu accompanied me to the Oak Park Farmers' Market last Saturday morning in exchange for the promise of a powdered doughnut. (I wish I had taken a picture of her face covered in powdered sugar — she looked like a half-made up Geisha girl) We were in the market for cherries, but we quickly learned that we were in a lull between the very early varieties of cherries, which had come and gone, and the regular cherries, which had not ripened yet. So, in short, there were no cherries, not even for ready money. What there were was strawberries. Strawberries were selling for $10 for two quarts, or $30 for a whole flat of strawberries, which is eight quarts. That's like getting two quarts of strawberries for free. So, guess which option I chose? Zuzu carried the asparagus, the green onions and the scraggly bunch of basil, which inexplicably cost $3.50, while I staggered to the car under the weight of a flat of strawberries.
Strawberries are notoriously perishable, so I got to work on using up my eight quarts right away. First, I made a batch of strawberry-balsamic jam that used up two quarts. This jam is absolutely delicious. I personally don't care for plain strawberry jam because I find it to be too sweet. That's why I usually prefer to make strawberry-rhubarb jam or another hybrid. But the strawberry-balsamic jam was a revelation. You don't taste the balsamic at all. What the vinegar does is prevent the jam from being too sweet and at the same time enhance the strawberry flavor without any vinegary bite. I actually liked the jam so much that I made a second batch on Sunday morning, using up another two quarts of berries. That was four quarts of berries down with 16 jars of jam to show for it. Not bad. Not bad at all.
For my next trick, I made a strawberry shortcake for Father's Day dinner. My children's wonderful father does not have much of a sweet tooth and he is very disciplined about what he eats — just like my own beloved father — but he has a soft spot for an old-fashioned fruit dessert, like strawberry shortcake. This shortcakes were made with a really rich, sweet shortcake biscuit — it's almost like a cream scone — macerated berries and whipped cream. It was heavenly. The recipe made eight shortcake biscuits and there were only three of us eating them. So, there was shortcake for dessert two days in a row. That was one quart of strawberries the first day and another one the second day 'cause we like lots of berries on our shortcakes. Six quarts down, two to do.
Adapted from Rustic Fruit Desserts
Makes 8 shortcakes
2 quarts strawberries
2 TB sugar
2 tsp. lemon juice
2 1/2 cups flour
2 1/2 tsp. baking powder
1/2 cup cornmeal
2/3 cup sugar
1 tsp salt
1 1/2 cups heavy cream
Zest of one lemon
1/4 cup butter, melted
Whipped cream (for serving)
Hull and slice the strawberries and toss them with 2 TB sugar and 2 tsp. freshly squeezed lemon juice. (Zest the lemon before squeezing it since you will need lemon zest for the shortcake biscuits.) Refrigerate the berries for at least 30 minutes so that they have time to release their juices. This is called macerating the berries — not to be confused with masticating the berries.
To make the shortcakes, combine the flour, baking powder, cornmeal, sugar, salt and lemon zest in a bowl and whisk together. Pour in the cream and mix with a fork until the dough begins to come together. Gather the dough into a ball and knead it against the bowl 8 or 10 times, but do not overwork it. Turn the dough out onto a floured board and using a knife or a pastry blade, cut it in half. Cut each half in half and repeat until you have eight pieces. Roll each piece into a ball. Dip the balls of dough into the melted butter and then roll them in a shallow dish filled with sugar. Place each ball on a Silpat-lined or greased baking sheet. Bake at 350 for 22-25 minutes until cooked through  and lightly browned. Cool.
To serve, slice each shortcake biscuit in half. Place bottom of biscuit on a plate. Top with a generous serving of macerated berries and a spoonful of whipped cream. Place top of the biscuit at a jaunty angle on top of the whipped cream. Add another dollop of whipped cream on top and a sliced berry or two.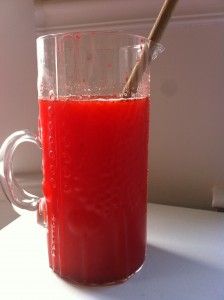 By Tuesday, the strawberries were not looking so hot. I began serving them at every meal. My family was all, "we're sick of strawberries, Mom!" But their complaints fell on deaf ears. We were going to eat those strawberries, dammit. Luckily for my kids, who were on the verge of developing diverticulitis, I agreed to host my kaffeeclatch on Wednesday morning. For the ladies, I whipped up a batch of strawberry lemonade that used up my last quart of berries. This lemonade is not too sweet, not too tart and very refreshing. I bet it would be great spiked, but since the kaffeeclatch meets at 9 am, we didn't try it that way. With our strawberry lemonade, we ate homemade bread with butter and strawberry-balsamic jam. It was a perfect combination.
Strawberry Lemonade
1 quart strawberries
1 cup freshly squeezed lemon juice
1 cup simple syrup*
4 cups cold water
Puree the strawberries in a food processor or blender. Then force the puree through a strainer to remove some of the seeds. Pour strawberry puree into a pitcher and add the lemon juice, the simple syrup and the cold water. Stir to combine. Serve cold. Because this is a thick concoction, you can serve it over ice or cut it with sparkling water.
*To make simple syrup, combine equal parts water and sugar in a saucepan and heat it on the stovetop, stirring until the sugar is dissolved. Simple syrup will keep for ages in your fridge.
I really, really hope there's cherries at the farmers' market this week!