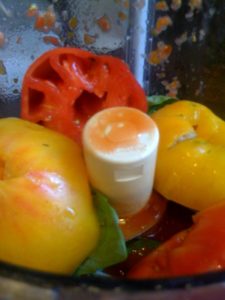 I am reposting this recipe from last July because it is gazpacho season once again and summer cooking just doesn't get better than this. Gazpacho is so simple to make and the result could not be more healthy or delicious. I hope you all give it a try and put your own spin on this versatile dish.
On a slightly different note, I was honored to be a guest this evening on BrandsBloggerRadio, a weekly 45 minute radio show about blogging put on by Midwest Moms Media. The host, Beth Rosen, and I had a delightful conversation about blogging, the work-life balance and some upcoming blogging events like the Brands and Bloggers Summit here in Chicago on July 16. Listen to the interview if you get a chance.
When the heat index hits 104 degrees, as it did today in Cook County, it is too hot to write about anything except gazpacho.
As soon as real, vine-grown tomatoes start appearing at the farmers' market, my family's fancy turns to thoughts of gazpacho, that ubiquitous Spanish cold tomato soup. Gazpacho is a summertime staple in my house and for good reason: it is quick and easy to make; one batch will last for several days because of the vinegar in the recipe — the flavor actually improves with age — and lastly, it's a healthy, refreshing start to any summer meal, casual or fancy.
This time of year, I make a big batch of gazpacho every week and three of the four members of my household eat it for days — gazpacho not being one of the five things on J.R.'s approved-foods list. Starting a meal with a bowl of gazpacho is not only refreshing, but it also helps fill our tummies with a low-calorie dish that conveniently provides several servings of those sometimes elusive vegetables.
Making gazpacho is barely cooking — you certainly never have to turn on the oven or stove — and you barely need a recipe. But I will give you my recipe as a guide to get started. A batch of gazpacho is a terrific way to use up odd leftover veggies or fresh herbs in your fridge, so do not be afraid to experiment. I usually add some fresh basil, but cilantro can be a fun twist so long as no one in your house has an aversion to cilantro. (Did you know that some people get a soapy taste from cilantro? It is apparently genetic.) Also, do not waste fancy heirloom tomatoes on gazpacho. Save those babies for a caprese salad or tomato-onion-goat cheese tart. (Does that last one sound good? If so, can give you all the recipe….) Any decent tomatoes will do just fine. Lastly, this recipe has the added benefit of being vegan, dairy-free and gluten-free so you can serve it to just about anyone.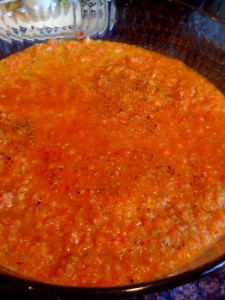 Easy Tomato Gazpacho
Makes a big batch
6 tomatoes, halved and seeded
1 seedless cucumber, roughly chopped
1 red onion, chopped
2-3 cloves of garlic
2 red peppers, roughly chopped
1 1/2 cups tomato juice
1/2 cup red wine vinegar
1/2 cup olive oil
Cayenne pepper to taste (I recommend making it less spicy if you plan to serve the gazpacho to kids)
Salt and pepper to taste
Purée all ingredients in batches in a food processor fitted with a stainless steel blade. Transfer soup to a large bowl or plastic container and cover. Refrigerate for several hours until cold. Garnish with croutons or chopped cucumber. Enjoy!