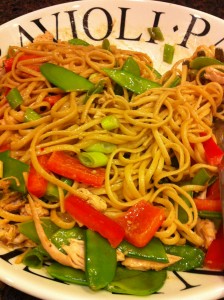 It seems like the whole country is experiencing a heat wave this week. In Cook County, we are looking at a string of temperatures in the high 90′s and even triple digits. In hot weather, everyone talks about not wanting to turn on the oven. I don't mind turning on the oven so much, but what I don't want – in heat like this – is to eat hot or heavy foods. So, for this time of year, I have a whole repertoire of refreshing meals that are best served room temperature or even cold.
One of the advantages of meals that, like revenge, are best served cold is that the cook can prepare them at any point during the day, which can make those hectic after-work/dinner-time/bedtime hours that much easier. Earlier this week, for example, I roasted several chicken breasts early in the day. At some point in the afternoon, I made a refreshing lemony couscous salad. And that was dinner. (And by getting the dinner preparation out of the way early, I was able to cook and can a spicy peach salsa during the hour when I normally am making dinner. So, in short, I was still standing over a hot stove, but it was well worth it.) 
One of my favorite hot-weather meals are these flavorful Asian-inspired noodles. The preparation can be done in parts and spread throughout the day, which definitely makes the process easier. And the recipe is very adaptable, so if you can't find snowpeas, for example, substitute asparagus or snap peas or even broccoli. And feel free to add extra protein. I had a chicken breast left over from the night before, so I shredded it and added to my noodles,; you could probably add shrimp if you aren't deathly allergic to it (ahem), or even tofu. But, don't feel obligated to: this recipe is delicious as a vegetarian entree. Another note: I use regular pasta in this recipe, but if you were, say, making this for someone who does not eat wheat or gluten, you could easily substitute rice noodles. (If wheat or gluten is a concern, please be sure to use wheat-free soy sauce.) So there you have it: a prepare-in-advance, vegetarian, recipe that can be made gluten-free. Who says you can't please everybody?
Chinese Sesame Noodles
Dressing inspired by the Chinese Chicken Salad recipe found in Barefoot Contessa Parties
2 cups snow peas, blanched and halved
2 red peppers, cut into a julienne
3 scallions, diced
1 box spaghetti, linguine or rice vermicelli
1/2 cup vegetable oil
1/4 cup smooth peanut butter*
2 TB apple cider vinegar
2 TB soy sauce
1 TB sesame oil
1 tsp. honey or brown sugar
1 clove garlic, minced
1 tsp minced fresh ginger or 1/2 tsp. dried ginger
1/4 tsp. red pepper flakes
2 TB white sesame seeds, toasted
2 TB freshly squeezed lime juice
Salt and pepper to taste
Remove strings from snowpeas and blanch them by placing them in boiling water for one minute and then immediately removing them and plunging them in cold water. Drain. (This step can be done well in advance.)
To make dressing, place garlic, ginger, peanut butter, brown sugar or honey, soy sauce, apple cider vinegar, sesame oil, lime juice, and red pepper flakes in a medium-sized bowl. Stir to combine. While whisking ingredients in the bowl, add vegetable oil in a slow, steady stream until blended. (This is called making an emulsion.) The dressing can be prepared in advance. Simply cover the bowl with plastic wrap and refrigerate until ready to use.
Prepare the spaghetti or vermicelli according to the package directions. Drain. In a large serving bowl, toss hot pasta with 2/3 of the dressing. Add the vegetables and sesame seeds and toss gently to combine. (If using shredded chicken or other protein, add it now.) Add more dressing if needed. Salt and pepper to taste. Serve warm, room temperature or cold.
*Some of you may remember that my daughter, Zuzu, is allergic to peanuts. She is also allergic to sesame seeds. This is definitely a dish that my husband and I enjoy when we are eating alone. If you would like to make this dish peanut-free, know that there are many excellent peanut butter substitutes, including sunflower butter, made with sunflower seeds, or soy nut butter.