Today's post is part of the From Left to Write online book club. The idea of this book club is not to write a book review, per se, but rather to write a post in which the blogger connects the book to an experience from her own life. September's book is the new biography Cleopatra: A Life by award-winning author Stacy Schiff.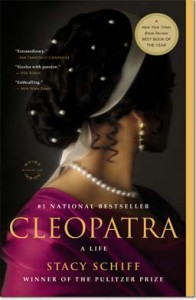 Grief is a universal human emotion. (Interestingly, it is not a uniquely human emotion. There is evidence, for example, that elephants grieve for their dead family members.) Our most ancient stories and myths all contain some depictions of grief. In Greek mythology, for example, there is the story of Demeter and her beloved daughter Persephone, who was kidnapped by Hades, the lord of the underworld. Demeter's grief for her daughter is the explanation for winter in Greek mythology: Demeter is the goddess of the harvest and while she grieves for Persephone, nothing can grow. When Persephone returns to her mother, the earth blooms again. In other words, spring comes.
As I have grieved for my father for the past month and weeks, I have had occasion to think about how the act of grieving is something that binds all people together across cultures and across time. Certainly, the rituals of grief are different for different cultures and different ages. But because all humans live in families and communities and are bound together by ties of love and friendship, all humans grieve when friends and loved ones die. Is any other human experience as universal as the deeply entwined feelings of love and grief?
As a privileged citizen of 21st century America, I managed to reach the ripe old age of 37 before I experienced true, shattering grief. But in previous centuries, death was more of a constant presence than it is for us in the post-modern industrialized world. (Of course, in many parts of the world today, violence and disease make death as much of an omnipresent reality for those people as it was for Americans and Europeans of earlier times.) Before the advent of modern medicine, with its antibiotics and vaccines and surgeries, parents had ever reason to expect that they would lose a child before he or she reached adulthood. Women regularly died in childbirth, leaving behind bereaved husbands and young children. Old age was not an entitlement but a rare accomplishment.
As I struggle with my own grief for my father, I have wondered about people from past centuries for whom losing a loved one was a common experience. When life was more precarious than it is now, were people less attached to one another? Did parents love their children less than we do today? Did spouses love each other less?
The truth is, we do not know what is was like to be a 19th century person. As we go further back in time — to the Early Modern Period, to the Middle Ages, to ancient Rome, to Biblical times — our understanding of what life was like and what people were like becomes even more tenuous. But because we have people's writings from those times — their journals and letters and even novels and poems — we can read what they said about their own lives. And they wrote about the same things we write about today. They wrote about politics and culture and their families. They wrote about what they ate and what they wore and who they loved. And when they lost a loved one, they wrote about their grief.
In her new biography of Cleopatra, award-winning author Stacy Schiff struggles with both a lack of contemporary sources — she admits that we have almost no information about the Egyptian queen's childhood, for example — and the misogyny and suspicion of the contemporary sources that did exist. As a result, the picture that emerges of Cleopatra is fuzzy at best. What we do learn about her family makes us think that family meant something very different to ancient Egyptians than it does to us today. The Ptolemaic monarchs, of which Cleopatra was one, regularly plotted against, exiled and murdered their own parents, siblings and children. It's a little off-putting, to say the least.
But every so often, I came across a anecdote in the book that enabled me to relate to one of the historical figures that Schiff describes. Such a moment came in Schiff's depiction of Cicero, the Roman writer, philosopher and statesman, who was a contemporary of Cleopatra's and Julius Caesar's. As Schiff portrays him, Cicero did not have much use for women, including the Egyptian queen and his three wives. But he adored his daughter and he made sure that she received a first-class education, which was not common in ancient Rome. When she died in her late 20′s in childbirth, Cicero was undone. He was crippled by grief and wept publicly, which embarrassed his friends. Yet Cicero was unapologetic and continued to mourn his loss. This kind of devotion to a daughter in an era when the preference for sons was so strong that Online generic cialis 100 mg Roman parents were only obliged to raise one of their daughters must have been remarkable.
As a daughter who misses her wise and generous father, I was moved by the thought of an ancient father mourning his accomplished and cultured daughter, taken from him so young. A young woman dying in childbirth was certainly not uncommon in ancient Rome, but that fact did not lessen Cicero's grief when it happened in his family. People in other times may have faced loss on a more constant basis than we do today, but that does not mean that they did not grieve as deeply as we do today.
A From Left to Write book club post. In conjunction with the book club, I received a free copy of Cleopatra: A Life. Buy your copy here. You can find more bloggers' reaction to Stacy Schiff's exhaustive new biography of Cleopatra here. Follow From Left to Write on Twitter here.