Thanks to Duncan Hines for sponsoring my writing. There's no limit to the baking possibilities, so grab your favorite Duncan Hines mix and Comstock or Wilderness fruit fillings and Bake On! www.duncanhines.com.
This weekend we are hosting a small gathering of friends to celebrate Hanukkah, which starts on the night of December 20. The traditional food for Hanukkah is, of course, potato latkes and believe me, we will be serving at least two kinds of latkes, with their traditional accompaniments, sour cream and applesauce. There will be other traditional and not-so-traditional fare as well, like noodle kugel, meatballs and veggies and dip. And it will all be delicious, I'm sure. But what most people look for at any kind of holiday party is dessert, right? The holiday season is really about cookies, candies, pie and cakes. At least that's what my kids think.
Although they are not as well known as latkes, there are some traditional Hanukkah desserts.  Hanukkah foods are typically made with oil because of the role of oil in the Hanukkah story. (For those of you who don't know the story, Hanukkah commemorates the victory of a small group of Jews, the Maccabees, over the army of the Syrian-Greek King Antiochus in the second century BCE. After the Jews drove the Greeks out of Judea, they attempted to restore their temple, which had been destroyed in the war, only to discover that there was oil to light the lamp that held the eternal flame for only one day. The story is that a miracle occurred and the small amount of oil lasted for eight days, which was how long it took to make new oil.)  Thus, in Israel, it is very common to eat a kind of fried, jelly-filled doughnut called sufganiyot for Hanukkah. I personally am way too chicken to try making doughnuts at home, but one of our guests said that she was going to give it a try. I'm excited to see the results.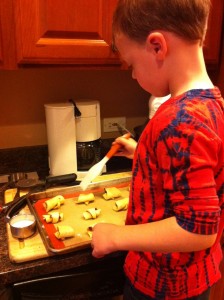 If jelly doughnuts aren't your thing, any dessert made with oil would count as a typical Hanukkah dessert. There are many interesting cake recipes that call for oil — including some which call for olive oil, which would be even more traditional — like this chocolate zucchini cake.  Another traditional Hanukkah dessert is the classic Jewish cookie rugelach. Rugelach are a crescent-shaped cookie made with a rich cream cheese dough and filled with jam, fruit and nuts. Apparently, there is an ancient story from the time of the Maccabees about a Israelite widow, Judith, who plied the Syrian commander with cheesecake and wine and then, when he fell asleep, cut off his head. Thus, in many Hanukkah foods, cream cheese is used to symbolize the bravery and cunning of the small Jewish army.
I'm not 100% sure how I feel about that, but rugelach are delicious and fun to make. I made some for our Hanukkah party with my favorite assistant pastry chef, JR. He loved helping me spread jam and sprinkle brown sugar and raisins on the circles of dough. And then, after I cut the circles into wedges, he rolled them up to make the little crescents. It was a great project for a rainy morning.
Another fun idea for a Hanukkah dessert is a cake in the shape of a dreidel. A dreidel is a four-sided spinning top that is a traditional part of any Hanukkah celebration. Dreidels have a Hebrew letter on each of the four sides. The letters are: nun, gimel, hay and shin. Those letters stand for the sentence "nes gadol hayah shom," which means "a great miracle happened there." To play dreidel, you need a "pot" of small candies, coins or tokens. Players take turn spinning the dreidel and depending on which letter the dreidel lands on, the player has to either add to the pot, take half of the pot, take the whole pot or do nothing. So, basically, it's gambling. I went into Zuzu's third grade class last week to talk about Hanukkah and judging by the enthusiasm of the kids for the dreidel game, Illinois is going to have a generation of gambling addicts on its hands in about ten years.
To make a dreidel cake, all you have to do is make your favorite cake recipe or Duncan Hines cake mix in a straight-sided metal 13×9 inch pan. After the cake is cooled and baked, on one of the short sides, cut a 3X3 inch square off each corner. That creates the top of the dreidel. Then, to make the spinning point, cut two right triangles off the corners of the other short side. Frost and decorate any way you like. I wish I had a picture of the dreidel cake to show you, but I haven't made ours yet. I promise I will post a picture when I have one though. I plan to make a chocolate cake and then using a stencil, make one of the Hebrew letters out of powdered sugar. I think the kids will get a big kick out that.
Remember to check out Duncan Hines' website www.duncanhines.com to find some great recipes for your holiday get-together! I was selected for this sponsorship by the Clever Girls Collective.