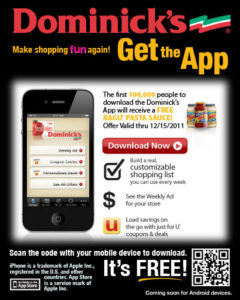 It seems like most people's New Year's resolutions have to do with either money or food. We all want to eat better, cook at home more, spend more wisely and — while we are at it — be more organized too. That's a lot to accomplish in one year. The good news is that Dominick's (or Safeway for my east and west coast friends) has a new mobile app for your smartphone that can help you get on the right track for all these resolutions. With the new Dominick's mobile app, you can load your shopping list right onto your phone. (No more leaving the list at home and buying only half the ingredients you need for your week's worth of menus.) And what's more, you can use the app to review the weekly ad for your store — and maybe plan your menus around what's on sale that week — and even load coupons onto your Dominick's card right from your phone. For me, that is a huge because I am a failure when it comes to paper coupons. I fail to clip them and if by some miracle I do remember to clip coupons, I inevitably leave them at home and then they expire.
I am one of those people who goes into withdrawal if my iPhone is not within a hand's reach. So this app is perfect for me. First, I make my shopping list right on the app. Then I review the personalized Just for U deals on my frequently purchased items and add the virtual coupons for the items I want to my card. Those items then get added to my grocery list, which makes the shopping experience so easy.
Here's the terrible truth about me. Not only am I a failure at using coupons, I am terrible at comparing prices. I honestly don't know which store has the best price on orange juice or corn starch or toothbrushes. I often fall victim to the "it's at a huge warehouse store so it must be a good price" mentality without really doing the research. So I especially love the feature of the Dominick's mobile app that lists not only the Dominick's sale price for an item but also the price of that same item at other stores. So, you can buy the juice boxes or the laundry detergent with a clear conscience, knowing you actually got the best price. It makes me feel rather smug about the whole thing.
In order to encourage you to download the app, which is free, Dominick's is giving away a $50 gift card to one lucky West of the Loop reader. To enter the giveaway for the gift card, leave a comment to this post telling me about your hopes for the new year. Are you trying to eat better? Save money? Be more organized? I must receive the comment by midnight on Friday January 13th (oooooh spooky!). You can get additional entries the following ways:
Download the Dominick's app and leave a comment telling me that you did so. (And I am coming to your house to check your phone)
Follow me @westoftheloop on Twitter (and leave a comment telling me that you did so)
Tweet about the giveaway with a link back to this post (and leave a comment yadda yadda yadda)
I will select the winner at random. Good luck everyone and happy 2012.
Full disclosure time: I was engaged by Dominick's to write about their new mobile app and received a store gift card as compensation. All opinions expressed herein are entirely my own.