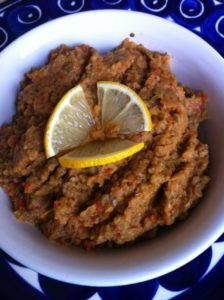 The first of my Twelve Parties for 2012, a casual family dinner party, went off without a hitch this weekend. That is, unless you consider one of your guests locking herself in the bathroom to be a hitch.
When entertaining with kids, the name of the game is flexibility. Don't expect to finish a sentence, let alone an entire anecdote. Do expect your younger guests to turn up their noses at your fine cuisine and demand mac n'cheese.  And, if someone locks him or herself in the bathroom, be ready to dismantle a door knob.
The evening began with hors d"oeuvres. In addition to the eggplant caviar with pita, I also threw together a classic French hors d'oeuvre called fromage fort because my husband doesn't like eggplant and I felt bad for him. To make fromage fort, you take an assortment of leftover cheeses and throw them in the food processor with some white wine and garlic. The end result is a creamy cheese spread with a tangy bite.  Although it only took me moments to make, the fromage fort was as big a hit as the eggplant caviar. Just goes to show you! But the eggplant caviar was still beautiful and delicious and I recommend it.
I forgot to mention in my last post that I have a soft spot for eggplant caviar because I used to eat eggplant caviar sandwiches for lunch when I was studying abroad in Paris. A take-out restaurant near my school called Au Plaisir du Pain had the most amazing grilled sandwiches and the caviar d'aubergine sandwich was my favorite. That and a Diet Coke made for the perfect picnic lunch in the nearby Jardin du Luxembourg.
The children played while the adults enjoyed their hors d'oeuvres and uninterrupted conversation. After 30 minutes or so, we moved into the dining room for dinner. (JR announced his disdain for my chicken couscous dish, so I quickly prepared some instant macaroni and cheese for him and for our guests' preschooler. Luckily both Zuzu and our friends' daughter are adventurous eaters.) The chicken and vegetables part of the chicken couscous — which comes from Dorie Greenspan's book Around my French Table — can be prepared in advance. I was glad that I had done so because the broth came out a little greasy. It was probably the fault of my homemade chicken stock, and not the recipe. But by preparing the dish in advance, I was able to skim the fat off the broth before reheating, which improved it tremendously. In all, the dish was quite tasty, although if I were to make it again I would replace the turnips in the recipe with a vegetable that more people like. Zuzu thought the large white chunks were potato and the look on her face when she took a big bite of turnip was priceless. Even I have to admit that turnips aren't my favorite.
However, the highlight (?) of the meal was when our friends' nine year old locked herself in our powder room. She could not get the old sticky lock undone to save her life, so after an aborted attempt to send an adult in through the window, the dads dismantled the doorknob and busted the little girl out of the bathroom. Luckily, no one ever panicked and the adults — buoyed by wine and determined not to scare the kids — remained jolly even when I began combing through the Yellow Pages for a locksmith. Fortunately it never came to that and the whole incident was a reminder that when you're entertaining, there will inevitably be disasters of all sorts. All you can do is handle them with as much grace as you can muster and hope that your guests are forgiving. Ours certainly were.
After the hearty chicken couscous, a beautiful spinach salad brought by our guests and the bathroom break-in, dessert was probably overkill. But I had made a fancy dessert and I was determined to serve it. I had made another Dorie Greenspan recipe, a Sable Breton Galette with lemon curd and fresh berries. What on earth is that, you ask? Imagine a crispy, slightly salty shortbread crust, spread with lemon curd and topped with an assortment of raspberries, blueberries and strawberries. It tasted as good as it sounds. (And the galette looked stunning on my new cake plate from Marshalls — which I still can"t believe only cost $10!)
I had made the different elements for the galette — namely the crust and the lemon curd — in advance but the whole thing needed to be assembled right before serving so the crust would not get soggy. Luckily, it's a quick task and the result is impressive. Because this dessert is not particularly sweet, it was perhaps not the best choice for a dinner that included kids. They would have preferred something more typically dessert-y. But the adults loved it and I would definitely make it again for a different crowd. I think of lemon curd as a wintertime ingredient — because citrus fruits are best in winter — and the berries obviously are in season in the summertime. So I'm not sure what time of year this dessert is really intended for. You could certainly have fun with this idea and replace the lemon curd with a chocolate cream or a marscapone cheese. But the salty galette shortbread dough is definitely a keeper, especially if you love the combination of salty and sweet.
Eggplant Caviar
Ingredients
3 eggplants
1 red pepper
6 cloves garlic
Freshly squeezed lemon juice and olive oil
Paprika, cumin, and salt and pepper
Instructions
Cut the eggplants in half lengthwise and cut a small slit in each half.
Stuff a garlic clove in each slit.
Roast the eggplants in a 350 degree oven for 45 minutes.
Meanwhile, char the red pepper in a dry skillet over high heat until all sides are blackened.
Place pepper in a paper bag. When it is cool, remove the skin from the pepper.
Peel the eggplant halves and puree them in a food processor along with the garlic cloves, and the red pepper.
Add freshly squeezed lemon juice (start with half a lemon) and olive oil until the puree takes on a smooth yet chunky consistency.
Season with paprika (start with 2 tsp.) and cumin (start with 1 tsp.) and salt and pepper.
Serve with pita chips, slices of French bread or raw vegetables.
Notes
Adapted from Quiches, Kugels and Couscous by Joan Nathan,

Eggplant caviar also make a delicious spread for a sandwich. Try it on a baguette with roasted red peppers and some goat cheese.
Looking forward to next month's party: a Superbowl Party!