I love my little west suburban corner of the greater Chicago metro area. I enjoy the diverse housing stock and the mature trees. I am grateful for the kind neighbors and the excellent schools. I relish being so close to downtown. But the Oak Park-River Forest-Forest Park restaurant scene leaves a little something to be desired. There are a few bright spots of fine dining and plenty of reliable family-friendly options. But so often my husband and I end up driving into Chicago for a special night out. There's nothing wrong with that — Chicago is one of the best dining cities in the country and driving thirty minutes to take advantage of that is a small price to pay. But I still sometimes wish for more exciting options closer to home.
Last summer, a small restaurant opened in nearby Berwyn — a town that is often viewed as Oak Park's working class cousin — and made a big splash not just in the local dining scene but city-wide. That restaurant is , a Mediterranean-influenced small plates spot staffed by two chefs with impressive fine-dining resumes. Both the Tribune and the Sun-Times gave Autre Monde glowing reviews and the modest restaurant became one of the hottest tables around.
I don't know why it took me and my husband six months to get ourselves to Autre Monde considering that it is ten minutes away — and right next to our favorite bike shop. But I am pleased to report that we have finally experienced this hot restaurant for ourselves. Sunday night we celebrated my husband's birthday with a wonderful dinner at Autre Monde and with a check that just barely hit three figures, I can safely say that we won't need a special occasion to return.
If you are going to Autre Monde, I definitely recommend a reservation. There can't be more than fifty covers in the whole place. We called less than a week in advance, and had no trouble getting the day and time we wanted, so I don't think it's hard to get into. But a reservation is clearly a good idea.There's something fun about a small restaurant — it feels exclusive and intimate — but like many small restaurants, Autre Monde is loud. I wouldn't choose it for a romantic occasion, but it would be great for meeting friends or for a festive night out.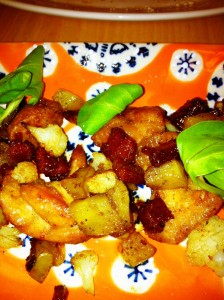 The menu, as I said, is Mediterranean influenced and built around the small plates concept. I know small plates have become ubiquitous, but I can't say that I am tired of them. I was always of the opinion that a restaurant's appetizers were usually its best dishes. Small plates seems to acknowledge that truism. And I sometimes find a large individual entree to be tiresome — like I don't want to eat this much of the same thing. So I really enjoy getting to share plates with my dining companions and try lots of different dishes. When my dining companion is a picky eater like my husband, coming up with a diverse selection is more challenging. But I still end up enjoying it.
At Autre Monde, our choices were definitely limited by my shellfish allergy and my husband's aversions to seafood and pork. If you are not similarly limited, you will definitely have a great meal. We ended up eating a lot of vegetables. But you know what? The vegetables were excellent and at the end of the night we didn't feel too heavy or full as one sometimes can after eating a big hunk of meat.
We started with a cold appetizer of burrata cheese topped with sauteed garlic. The cheese came with a tomato fondue — there was not nearly enough of that — and grilled bread. It was delicious and indulgent. Next came one of the housemade flatbreads; we picked the Moroccan one with merguez (a lamb sausage), manchego cheese, and Harissa. (It usually comes with eggplant, but my husband doesn't like eggplant — do you see what I am up against?) The flatbread was paper-thin and crispy and a generous portion. I would definitely recommend trying one if you dine at Autre Monde Cafe.
While my husband concentrated on the flatbread, I had one of the nightly specials all to myself: pan-fried sweetbreads with apple, cauliflower, lardons and truffle honey. I can never resist sweetbreads when they appear on a menu. I am a sucker for their unctuous texture. This preparation had just the right amount of sweetness and the chewy lardons were the perfect foil to the melting softness of the sweetbreads. (Can one make sweetbreads at home? Where does one even find them?)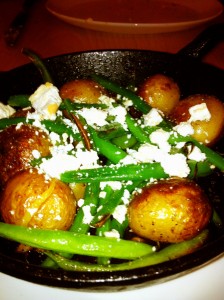 After the flatbread and offal, we had three vegetable dishes: grilled vegetables a la plancha, Italian green beans with potatoes and goat cheese and Neevik, which is a sauteed spinach dish with lemon and chick peas. All were delicious. Green beans are the most boring vegetable in the world, but when cooked perfectly and paired with roast potatoes and smoky goat cheese, they took on a new character. The grilled vegetables featured endive, cauliflower, fennel and one mystery vegetable which turned out to be sunchoke. They were served with a tangy Romescu sauce — it reminded me of something I ate at Girl and the Goat. In fact, the vibracy of the all the vegetables at Autre Monde made me think of Girl and the Goat, which despite being known for serving goat, actually makes some of the best vegetables dishes around.
For dessert, we split a chocolate hazelnut pot de creme, which was lovely, and the restaurant very nicely comped us for it because we were celebrating a birthday. The dessert menu is brief, but there is an impressive list of dessert wines and after-dinner drinks. In fact, I should have mentioned the wine list and cocktails earlier. Autre Monde has a short but impressive list of specialty cocktails. My husband had a striking blood orange gimlet and I has something called The Adriatic which was delicious and unusual. I think it was the elderberry liquer that was responsible for my drink's flavor and pale grey hue. After dinner, my husband and I shared a mint tisane, since we are not coffee drinkers. The tisane was very refreshing and reminded me of dinner parties I had been to in Paris, where people often end the meal with a tisane to aid digestion.
The check, as I mentioned, came to just $100 with tip, which felt like a good value considering how delicious the food was. I am delighted to have Autre Monde Cafe as a new neighbor and I will definitely be back — next time with a larger group, I think. But even if you don't live just down the Roosevelt Road, Autre Monde Cafe is, in the words of the Michelin guide, worth the trip.