It's quiet here today. The guests have all gone home and the Seder plate is packed away for another year. All that is left of two days of cooking and cleaning is the memory of a joyful holiday. That and a fridge full of leftovers. So that's not so bad.
We had a lovely Seder on Friday night with my husband's parents who came from out of town. I cooked and they led the service, which was the perfect division of labor in my view.The big excitement this year was that JR is now reading well enough that he could take a turn reading part of the service. He did a great job considering that he just turned five. But like a human auto-correct, when he saw a long word, he often just guessed at what it was based on the first few letters, which led to some hilarious moments. But we did our best to suppress our giggles so as not to discourage our young reader. As my husband says, sometimes the hardest part of parenting is not laughing.
Almost everything I made turned out quite well. The brisket was tender and flavorful without being greasy. (I've said it before and I'll say it again: the key is to cook the brisket the day before.) The matzo balls were light and fluffy and the chicken soup was delicious. My first-ever attempt at chopped liver turned out extremely well too. (I ended up with so much chopped liver that I brought some over to my friend Genevieve who was hosting a Seder on Saturday night. She made it clear that while she was grateful, if her husband had a coronary after dinner, she was blaming me.)  Even the Passover apple cake was moist and quite tasty. The only disappointment was my matzo farfel kugel, which my husband described as "a brave effort." I think it tasted a lot like a regular bread stuffing, such as you might eat on Thanksgiving. And my father-in-law liked it enough to snack on it all weekend. But it was clearly the weak link of the meal.
The Passover Apple Cake was good enough that I made a second one for the congregational Seder at our temple, which we attended on Saturday night. This was our first time attending the congregational Seder and it was a very nice event. There was lots of music and singing, audience participation and bad jokes from the Rabbi. Passover is thought of as a "home" holiday, as opposed to a holiday that is celebrated in the temple, like Rosh Hashanah or Yom Kippur. In fact, many temples don't even have a congregational Seder for this reason — and because it can be very difficult to follow the holiday's dietary laws. But I am glad that our temple offers one. It is nice to celebrate the holiday as part of a larger Jewish community and to be reminded why it is such an important ritual.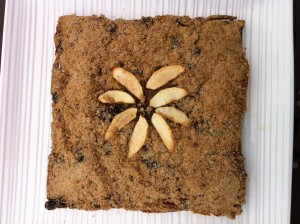 As I explained in my last post, Passover desserts cannot contain flour in any form other than matzo, and they cannot be leavened by baking soda, baking powder or other leavening agent. For those who follow the Jewish dietary laws of kosher, a Passover dessert can also not contain dairy products because the Seder meal almost always is a meat meal. (We don't keep kosher in our home, but my in-laws do, and I was asked to bring a dairy-free dessert to the temple Seder.) Many Passover desserts contain nuts in some form, but if, like me, you have a child with a nut allergy, those desserts are off limits too. So, for me, this apple cake, which is 1) kosher for Passover, 2) dairy free AND 3) nut-free is a life saver. And it doesn't taste half-bad. I'm not saying that I want to eat it all year round, but once a year? Sure! If you don't care about the dessert being dairy-free, you can use butter in lieu of margarine in the streusel topping and it will be that much tastier.
Pareve, Nut-Free Passover Apple Cake
Adapted from Jewish Home Cooking by Arthur Schwartz
Topping
1/2 cup matzo cake meal
1/2 cup sugar
1/2 cup brown sugar
4 TB cold dairy-free margarine or butter
Pinch kosher salt
1 tsp. cinnamon
Pinch each nutmeg and ginger
Cake
3 eggs at room temperature
3/4 cup sugar
1/3 cup vegetable oil
3/4 cup matzo cake meal
4 apples, peeled, cored and sliced
1/3 cup raisins
To make the streusel topping, combine the 1/2 cup each of matzo cake meal, sugar and brown sugar in a bowl. Add the salt and spices and whisk together. Cut the margarine or butter into small pieces and add it to the bowl. Using two knives, a pastry blender or your fingers, work the margarine or butter into the dough until the mixture resembles coarse crumbs. Set aside.
Preheat the oven to 350 and grease an 8 inch baking pan. Add the eggs to the bowl of your stand mixer and beat them well. Gradually beat in the sugar, a few tablespoons at a time, and continue beating until the mixture is thick and foamy. With the mixer on, slowly pour in the vegetable oil in a steady stream. Add the matzo cake meal and blend, scraping down the sides of the bowl as necessary.
Pour about half of the cake batter into the prepared pan. Top with about half of the streusel topping. Arrange half the apple slices on top and sprinkle the raisins on top of the apples. Top the apples and raisins with the rest of the cake batter. (It may be thick and hard to spread. Just do your best and if some of the apple slices and raisins get mixed up in the batter, that"s okay.)  Top with the remaining apple slices and the rest of the streusel topping.
Bake at 350 for at least 1 hour, but it may need as much as 1 hour and fifteen minutes. It is done with the cake begins to pull away from the sides of the pan. Cool on a rack before cutting into pieces. This cake can be made a day in advance and it only gets better. Leave it in the pan and cover well with plastic wrap.
How did your Passover Seder or Easter feast turn out? Any great new recipes?