After managing to live up to my obligations for the Twelve Months of Parties for 2012 project in June and July, I missed another month in August. I was supposed to host a cocktail party in August and as much as I would have loved to do so, I was out of town for two out of the four weekends of the month and hosting celebrity guest Marisa McClellan for another. Alas! I just couldn't get my act together.
But I am pleased to report that it is only the first week of September and I have already lived up to my Twelve Parties obligation for the month: a kid birthday party. This past weekend, I threw Zuzu's 9th birthday party — a kickball party to be exact. Over the past year, Zuzu has turned into quite a sports fan. She and her dad now bond over the highs and lows of being a Chicago Bulls fan — Zuzu cried when Derrick Rose blew out his knee — the playoff prospects of the hot-and-cold Chicago White Sox and the travails of their beloved St. Louis Rams (don't ask). Her favorite Hanukkah gift was a Steven Jackson Rams jersey and among her hoped-for birthdays present was a Paul Konerko Sox jersey. (Reader, she got it.) So, we thought a sports-themed party would be fitting. When Zuzu's Brownie troop had a successful kickball event with the troop dads last spring, the idea for the kickball party was born.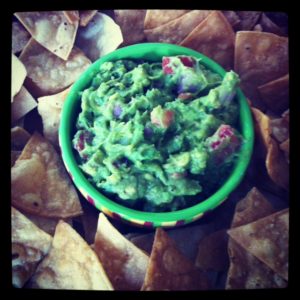 There is only so much kickball that 9 year old girls will play, so we decided to kick off the party (get it?) by dividing the girls into teams — it was the Call Me Maybes versus the Starships, naturally — and having them decorate team t-shirts. I bought plain t-shirts in white and tan from and a big pack of Sharpies and let the girls go nuts. They seemed to enjoy the project and the challenge of decorating their shirts with the team theme.
While the girls drew, I set out some tasty but healthy party snacks to fuel them for the game. With Zuzu's help, I had made kid-friendly guacamole — meaning not too spicy — French onion dip with crudités and for the height of kiddie cuisine, fruit skewers. To drink, a sweet and fizzy Kickball Punch made with lemonade, Hansen"s Natural ginger ale and puréed strawberries to give it the requisite red color.
After thirty minutes of eating and decorating, the girls headed to the field for the kickball game. I can"t report what happened at the field because I stayed behind to clean up and get the cake ready, but I gather the game was fun for everyone. The girls even let JR take a few at-bats and cheered him on.
After the quickest hour in my recollection, the girls returned to our house for birthday cake. As usual, I trusted the cake to the professionals, specifically Jen Giovingo from Pastries So Tasty. I recommend Jen's cakes to my local friends all the time. They taste great; she will do any custom decorations you want and she delivers. Also, I find it satisfying to support a local mom who is living out her culinary dreams with her own pastry business. Zuzu's kickball cake was not as elaborate as ones that Jen has done for me in the past — check out the guitar cake from last year — but it was cute, delicious and very reasonably priced.
Speaking of supporting great local businesses, for the goody bags, I turned to my friend Donna of River Forest Chocolates. Donna owns a tiny jewel box of a candy store on River Forest's main drag. When you walk in, you feel like you have entered a real-life Candyland. For a very reasonable price, Donna filled adorable tin pails with brightly colored candies to create the world's cutest goody bags. Not surprisingly, the girls loved them.
Food, a craft, a game, some cake and candy — even for betwixt and between 9 year old girls, that is still a winning party formula.
Kid Friendly Guacamole
If I were making this for an adult crowd, I would add a chopped and seeded jalapeño pepper and probably more garlic. But this level of spice seems to work best for kid palates. This is a great cooking project to do with your kids. JR and Zuzu helped scoop out the avocado flesh and mashed it.
4 ripe Haas avocados*
1 small red onion, diced
2 Roma tomatoes, seeded and diced
Zest and juice of 1 lime
2 cloves garlic, minced
1 TB cilantro, chopped
1 pinch chili powder (optional)
Halve the avocados and scoop the flesh into a medium-sized bowl. Mash avocados into a chunky paste — forks well better than a potato masher here. Add the chopped onion, garlic and tomato and stir to combine. Add the lime zest and juice, chili powder, cilantro and salt and pepper. Stir. Taste and adjust seasonings. If making ahead, place plastic wrap directly on top of the guacamole to prevent browning and refrigerate. Serve with tortilla chips.
*Most supermarket avocados are sold not-yet-ripe. Try to buy the avocados a few days ahead of time and allow to ripen on the counter.
Kickball Punch
I use Hansen's Natural Ginger Ale for this sweet and fizzy punch because I love the spicy ginger taste. Plus, Hansen"s uses only real cane sugar in its soda, not high-fructose corn syrup, and I think you can taste the difference. A can of this ginger ale is one of my guilty pleasures.
3 64 oz. bottles of lemonade
1 6-pack Hansen's Natural Ginger Ale
1 quart strawberries
Combine lemonade and ginger ale in a large punch bowl. Purée strawberries in the food processor with a splash of water or simple syrup. Add strawberry purée to the punch and stir to combine. Serve cold.
Now, with weeks to go until October, I have no excuse not to schedule my party for the month. It's supposed to be a Game Night. Stay tuned!
Full disclosure time: none of this post was sponsored in any way and I paid in full for all of the products mentioned in the post with the exception of the Hansen's Natural Ginger Ale. I received a case of ginger ale for review purposes. I was not asked to write about it and all opinions expressed herein are entirely my own.