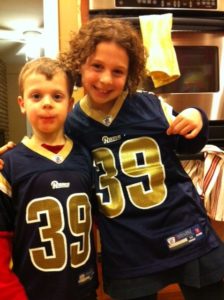 The following post is a departure for West of the Loop. There are no recipes or cute anecdotes about my children. With this post, I am wading into much more controversial waters than is typical for me. But the subject of this post is something that I have been thinking about and discussing with my husband repeatedly over the past year, if not longer. I feel compelled to share it with you because I believe that this is a topic that we as a society must start talking about. I do not mean to criticize or vilify anyone and if you allow your child to play football, I am not condemning you. We all have to make our own decisions about what risks are acceptable for our own kids. So, if you disagree with me about anything that I say here, I welcome your comments. Please, though, let's keep it civil.
The pro football season started last week. Like many families, my husband and daughter spent Sunday afternoon tracking the progress of their favorite team, the somewhat-hapless-but-perhaps-improving St. Louis Rams, who lost a close game to the Detroit Lions. My Facebook feed was full of comments about the Redskins' victory over the New Orleans Saints from my high school friends. And there was no chance that I would have control of the remote last night while Monday Night Football was on.
Saturday, my husband spent the afternoon following the fate of the Michigan football team — the only team to which we own season tickets despite the stadium being a good four hours away from Chicago. He is just waiting for the year that the kids will be old enough to take to Ann Arbor for a game at the Big House. In other words, my husband is a big football fan and with his help, Zuzu is becoming one as well. One of her favorite birthday presents this year was a white Sam Bradford Rams jersey. She even spent her September allowance on joining my husband's office football pool. She is so excited to be attending her first NFL game in a few weeks when the Rams come to Chicago to play the Bears.
As much as my husband loves following college and pro football, he agrees with me completely that we will never, ever allow JR to play football. Before I even had a son, I met another mom who was a radiologist at Northwestern Hospital. She told me that the rule for her son, based on the injuries she had seen in her practice, was no football, no hockey. "That's good enough for me," I thought at that time.
These days, there is even more compelling evidence that football is an inherently dangerous sport. I'm not talking about broken bones and sprains. No, I'm talking about concussions and the long-term effects of repeated head trauma, which we are only now just beginning to truly grasp. We've all seen the stories in the press about retired football players suffering from neurological disorders and the high-profile suicides, including most recently Junior Seau. The cover story of this week's Sports Illustrated, in fact, is about woman who are caring for former NFL players who suffer from dementia — dementia caused by the head injuries they suffered in their football careers.
The evidence is undeniable. A 2009 University of Michigan study shows that professional football players are five times more likely that other men their age to suffer from early-onset dementia. Other studies put the risk much higher, at more like 19 times the national average for men ages 30-49. Over 140 lawsuits have been filed by these former players against the NFL alleging that the league hid information about the long-term dangers of repeated blows to the head.
And it is not just professional football players who are at risk: 20% of high school football players are diagnosed with brain injuries in any given season. Even the players who aren't diagnosed with concussions can suffer brain-tissue damage according to a study from Purdue University. Repetitive subconcussive blows to the head cause as much damage as concussions — and repetitive blows to the head is what some positions are all about in football. Boston University estimates that an average high school lineman receives 1000 blows to the head in a single season. No wonder some people are calling for a ban on high school football.
Yes, my husband loves football. Yet he is adamantly opposed to his son playing football. Many parents have come to the same conclusion that we have. Enrollment in pee-wee football leagues is down nationwide — although football remains king in some parts of the country. There are even former NFL players, such as Kurt Warner, who have stated publicly that they would not want their sons to play football. It seems to be only a matter of time before some high schools and colleges — which are, after all educational institutions — decide that a sport that causes permanent brain damage is inconsistent with their mission and dismantle their football programs. I suspect that the colleges that lose money on their football programs may come to that conclusion a lot sooner than those whose football programs are the university's cash cow — call me a cynic.
It was not difficult for us to decide that JR will never play football and because we live in a part of the country where soccer and baseball are more popular youth sports anyway, I doubt that our decision will have large social implications for our son. No, this was not a hard decision. What is a hard decision for me is whether, having come to the conclusion that football is too dangerous for our son to play, it is ethical for us as a family to continue to watch football; to buy football jerseys and go to games. Why is it okay to watch some other woman's son play the sport that I deem too dangerous for my own boy?
My husband does not see the ethical conflict as starkly as I do. He would argue that the men playing football in the NFL know more about the risks than players did a generation ago. They are adults who chose to go out on the field every week. That is their right.
But one of the reasons that boys and teenagers continue to want to play football is because of the fame and money lavished on the NFL players. As long as we as a society continue to treat football as a matter of national import akin to foreign policy or a presidential election — check the newspaper headlines if you don't believe me — young men will want to play the game regardless of statistics about the long-term neurological damage caused by subconcussive head injuries.
Given what we know about the devastating long-term effects of the kind of head injuries that are endemic to the game of football, I don't think this is a sport that our young men should be playing. So how can I watch grown men play it without feeling like a hypocrite? The truth is, you can't and even a guy who makes his living as a professional sports fan, Bill Simmons AKA the Sports Guy, admitted as much in this column. As Simmons put it, the NFL is banking on our hypocrisy for its continued existence. Well, I'm not sure that it can bank on me any longer. But I'm not the issue — I am not the fan here. The issue is my husband and all the dads like him. Where are they going to go with their discomfort?
This issue is so complicated and there are many more layers than I can possibly unravel in this one post. For one thing, there is clearly some good to football. Football is a path out of poverty and toward a college education for disadvantaged young men. Football is a fascinating game with elaborate strategy and a rich history. Rooting for football teams promotes school and civic pride. And families, like mine, bond around their shared love of a team.
All the good things about football is what makes this even a dilemma. Because if it weren't for all those good things, we would just shut it down now. We are a society that believes in protecting kids from known harms. We require kids to ride car seats and mandate the width of crib slats and pass laws about flame-retardant pajamas. The evidence about the long-term effects of football-related head trauma is just as compelling as the evidence about these dangers. Yet have any school boards banned the sport yet? Is anyone even contemplating it? No, and the reason is that we love football and we aren't ready to give it up.
Nevertheless, it's time for us as a country to start facing these tough questions. It is time to ask ourselves how much longer we can stand to watch our teenagers, our college students and yes, the men in the NFL give themselves permanent brain damage in front of our eyes as we cheer them on.