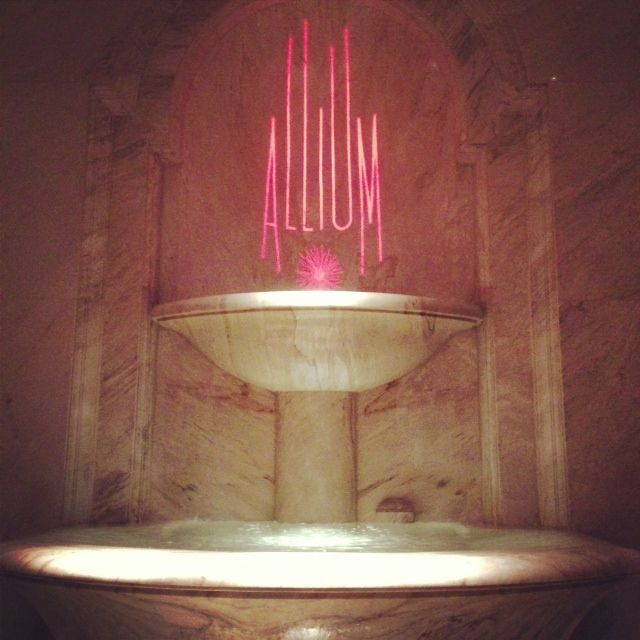 When my husband and I still lived
in our little house in Chicago's trendy Bucktown neighborhood, my parents always stayed at the Four Seasons on Michigan Ave. when they came to visit us. They did not fancy sleeping on the sofa bed in our spare bedroom and sharing our bathroom. They understandably preferred the elegance and outstanding customer service of the Four Seasons and my dad got a favorable corporate rate. As a result, I have spent more time in that hotel than any of the others along the Magnificent Mile. I have happy memories of my dad treating us to dinner at the hotel's fine dining restaurant, Seasons, when he was in Chicago on business and the whole family enjoying one very indulgent Sunday brunch.
But times have changed. We have lived in the suburbs for almost six years and we now have a very nice spare bedroom with its own tiny little bathroom for out-of-town visitors. My beloved dad is no longer with us. And even Seasons is no more. At the beginning of 2012, Executive Chef Kevin Hickey shuttered the high-end Seasons and reinvented the space as the more casual, even whimsical small-plates restaurant Allium. Based on the positive reviews of Allium, and its classic Chicago setting, I chose the restaurant for a nice dinner out with my husband to celebrate his new job. Our dinner was delicious but even more than that, it was fun. Not what I might have expected from a restaurant at a Four Seasons.
The setting at Allium is still very elegant, particularly if you are, as we were, seated in the room with the windows overlooking Michigan Ave. And the service remains
exceedingly professional, although warm and friendly. But this is not your father's — or my father's — cuisine. The menu, which is divided up into small plates, vegetables, slightly larger plates and a no-sharing category called simply "Mine," is full of high-end versions of low-end food. Think beef jerky, deviled eggs and, yes, a Chicago-style hot dog with "homemade everything." If you felt like it, you could compose a whole meal out of snacks and side dishes. And although this contradicts what I tell my children every night at dinner, at Allium it is okay to use your fingers to eat. And you better be ready for those fingers to get messy.
My husband and I found ourselves boxed out of most of the larger sharing dishes because of his aversion to seafood and his philosophical objection to pork. So we concentrated on the first category of small plates. We started with the cheese lavosh, and then moved onto the bison tartare, the roasted cauliflower, the warm burrata with delicata squash and the onion "tarte tatin" with sorrel.
The cheese lavosh, as most reviews of Allium will tell you, is a must-order. It's presented hanging on a hook from a hole at the top of the lavosh. The only thing to do is to start breaking off pieces with your fingers and let the crumbs fly. Not only is the lavosh fun to eat, but it tastes just like toasted cheese with crispy edges and toothy, chewy center. We polished ours off in record time. The bison tartare is also a noteworthy presentation; it arrives in a beautiful cylinder topped with a perfectly poached egg and waffle chips and a cunning little jar of mustard on the side. But it's soon mashed up into a paste — chips included — by the host. The result is a delicious, tender but not mushy tartare with spiciness from the mustard and a bracing brininess. We loved it.
Not so much the onion "tarte tatin," which is really a whole caramelized onion on top of a a bit of pastry accompanied by a pretty sorrel salad. It was fine, just not special. The roasted cauliflower with griddled capriko cheese was another winner, however. It arrived in a cast-iron skillet so it was scalding. The cauliflower was perfectly cooked — I don't know why I can't achieve this at home — with a hint of acidity that cut through the richness of the melting cheese. Fabulous. The warm burrata with squash vinaigrette and rustic bread was another messy dish. There was no way to eat it but to dip hunks of bread into a cheesy goo like we were at a Swiss ski chalet. We loved the sweetness of the squash with the gooey cheese, but we both found the lukewarm temperature of the dish odd — maybe our taste buds had been singed by the cauliflower.
At that point, my husband and I were not exactly hungry anymore, but we weren't sated either. As I said to my husband, it felt like we had just eaten a lot of snacks; I wanted my dinner. So, we gave into our curiosity and ordered the Chicago-style hot dog with "homemade everything." The presentation of the hot dog is cute, bordering on the precious, with its perfectly minced dishes of onion and tomato and miniature squeeze bottles of mustard and pickle relish. We all know that no authentic Chicago-style dog comes with ketchup but there was a Balsamic ketchup for the accompanying fries. Although the concept of a Chicago-style dog in this elegant setting may be a gimmick, the truth it, it's a delicious hot dog. Maybe the best you will ever eat. The dog itself is thick and has a great snap and a meaty, smoky flavor. The poppy seed bun was, as my husband put, well-thought-out. It was just the right amount of bread for the size of the dog. I loved the crunch of the clearly house-made pickle spear. The fries were top-notch and the vinegary accompaniment reminded this East Coast girl of eating Boardwalk Fries at Rehoboth Beach. In sum, I'm glad I tried Chef Hickey's version of this Chicago classic. It may have ruined me for any other version.
For dessert, our server made it sound like the butterscotch-miso shake was a must-have so we gamely complied. It is one delicious shake. Too thick to attempt with a straw — I almost passed out before I caved and asked for a spoon. The miso is barely detectable, but adds just a hint of salt and earthiness that makes this dessert more than a one-trick pony. There were many desserts that looked fun and whimsical, like s'mores and cupcakes, but we were content with our shake. My husband and I both thought, however, that between the beef jerky appetizer, the hot dog and the child-like desserts, Allium would be a great place to bring Zuzu for a special occasion.
The truth is, we loved our snack food and hot dog dinner, but I couldn't help but wonder: would my father have gotten the joke? Would he have wanted to break off bread suspended from a hook and pick up a hot dog with his hands, potentially dripping juice onto his perfectly tailored suit? I suspect not. Not that my dad was stuffy; he wasn't. But I think he might have found the setting and the service of a Four Seasons property to be out of sync with the food at Allium. And he might have had a point.
In truth, I wonder how the whole finger food/small plates concept at Allium is playing with the more traditional, out-of-town clientele that frequents a Four Seasons hotel. My husband and I couldn't help but notice that the restaurant was at most 3/4 full on a Saturday night. It is a large room, but still. A restaurant this good should be full. The good news is that the prices at Allium are in keeping with the more causal cuisine. Our check just came to three figures. Now, mind you, I was the only one drinking — and I quite liked my "basil smash," Allium's version of a mojito — but that's still a very reasonable tab for Saturday night on Michigan Ave. And when you consider that validated parking at 900 North Michigan Ave. is only $6 at night, Allium starts to look like a real bargain. Maybe we will bring Zuzu and JR next time.