I am swamped this week grading papers for my day job, so I am reposting this seasonal entry from the 2010 West of the Loop archives with lots of fun ideas for Halloween party food. Some of the kids in Zuzu's grade still remember me as the mom who made the watermelon brain for the 2nd grade Halloween party…..
As most of my friends know, I feel constantly conflicted about my decision to step away from the full-time practice of law to take care of my family. I was one of those creatures, rarer than unicorns, who loved practicing law and I miss it. I had good reasons for making the decision, and I don't regret it. But at the same time, I am often ambivalent about my status as a (mostly) stay-at-home mom. As a result, when I have a day that reminds me why I walked away (mostly) from the world of work, I cherish it.
Friday happened to be one of those days. In the morning, after taking J.R. to preschool, I watched the Halloween costume parade at Zuzu's school, and then I helped out at her class Halloween party — a party for which I had made all the snacks. (More on that below.) I love volunteering in Zuzu's classroom and spending time with her and her classmates in that setting. By the time a child is in second grade, her school and her classroom is such a huge part of her life and it can seem like a strange alternate universe for a parent if you don't have the chance to physically be in it. I don't mean to suggest that parents who work full-time can't be a part of their child's school life; to the contrary, I know many who are. And I hope I don't seem like a crazy helicopter parent. I appreciate how important it is for Zuzu to have her own turf away from us and school is that turf. But, as a parent, I am grateful for the chance to get a glimpse of what Zuzu's day is like when she is at school and how she and her friends interact other than her own (unreliable) narration.
The elementary school had an early dismissal — yes, the entire school day was 1) a Halloween parade, 2) a Halloween assembly and 3) class Halloween parties — and so Zuzu and I picked up J.R. at preschool together. The three of us spent the sunny, if chilly, afternoon carving our family's pumpkins and creating leaf piles to jump in. It was just a really nice day with my kids. Of course, by 6 pm,
I was so exhausted that the idea of taking Zuzu to temple for a family Shabbat service at which her class was singing was more than I could bear. So I made Daddy do it. But still, it was one of those days that made me feel at peace with my choice to (mostly) stay home.
So, how about those Halloween party snacks? I had volunteered to make them because it is just easier for me to do that rather than talk some other parent through how to make them safe for Zuzu and for the other child in her class who has food allergies, which is what would inevitably happen. The allergies eliminated dairy products and anything with nuts or peanuts. Zuzu's teacher had requested only one dessert-type snack, so I couldn't go hog-wild with sweets. Luckily, there are lots of cute ideas for Halloween snacks on the Internet, and some of them are even marginally healthy. This is what I came up with:
Pumpkin Apple Bread
Dried fruit "eyeballs"
Spiderweb and "dirt" cupcakes
Watermelon brains
The pumpkin apple bread is a recipe from the Gourmet cookbook. I am disappointed with that cookbook overall, but this recipe is a keeper: A not-too-sweet pumpkin bread with chunks of apple and a crunchy steusel topping. I considered it a healthy food because it had tons of vitamin A from all the pumpkin.
The cupcakes are pretty straightforward. Make any kind of cupcake you like. I used a yellow cake mix and added an overripe banana to give it a little extra flavor and moistness. Frost with whipped chocolate frosting — whipped frosting is easier to spread. For the dirt cupcakes, pulverize chocolate cookies in your food processor and sprinkle them on top of the cupcake. Top with a gummy worm. For the spiderwebs, draw concentric circles on top of the cupcakes with a thin tube of white icing. Take a clean skewer and draw it from the center outward all around the cupcake to create the "web" effect. Top with a gummy spider.
The dried fruit eyeballs were fun and a good mix of salty and sweet. Start with a banana chip. Cut a dried apricot in half to expose the sticky inside, cut it in half again and stick it onto the banana chip to make the iris of the eyeball. Half a raisin makes the pupil. Creepy!
But my masterpiece was the watermelon brain. Again, I am not claiming credit for the idea for this snack. I completely found it on the Internet, and even if I hadn't, one of the moms made it for Zuzu's class Halloween party last year. That mom was a doctor, so she had an unfair advantage: she had probably seen an actual brain. Loads of them even! I was working with less information, but I think I still managed to come up with a reasonable approximation. To make the watermelon brain, buy a baby watermelon and slice off the bottom third so it lies flat and has a brain-like shape. Then, peel the outer green layer off with a vegetable peeler — that is harder than it sounds, by the way. Once the white layer is exposed, start carving away to make your brain. Be sure to have a straight line down the middle for the two hemispheres.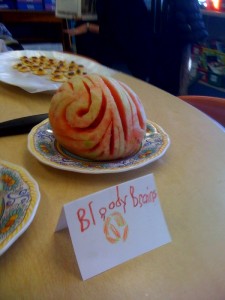 The culinary highlight of the party for the kids was definitely the cupcakes. I got a lot of requests for second cupcakes — requests which were flatly denied. But from a visual standpoint, they all loved the watermelon brains. This is a guaranteed hit with the under-nine set. To be really macabre, display it with the knife sticking out.
Another mom brought hot apple cider garnished with cinnamon sticks to drink. We quickly learned that second graders do not understand the concept of "garnish." I think every single one of them tried to bite the cinnamon stick before we make an announcement that that was a bad idea. And this is a good school district ! Oh well. Second graders.
Have a safe and happy Halloween, everyone!