A few years ago, I found a recipe for pumpkin apple bread with a crunchy streusel topping in the Gourmet cookbook and it has since become a staple in my house. The recipe makes two loaves, so it is perfect for gift-giving. I make a batch and get to give one loaf away and keep one to eat or stash in the freezer. The pumpkin apple bread is loaded with spices and the combination of pumpkin and apple — two fall favorites — turns out to be inspired.
When my friends at Artizone.com announced their Flavors of Fall cooking contest, I quickly signed up. I love a cooking challenge. Plus, the prizes are very enticing! The Grand Prize winner wins $500 in Artizone credit — I could do a lot of damage with that on the Artizone website — a chef"s dinner for six at City Provisions, and a chance to make the winning dish on WCIU"s "You and Me in the Morning."
To enter the contest, I selected the category I wanted to compete in — baked goods — and Artizone sent me a themed box that contained my secret ingredients that I had to incorporate into my entry. When my box arrived, I was greeted with six perfect Granny Smith apples and a packet of Chinese five-spice powder. Apples — that"s easy. But Chinese Five-Spice Powder? I was not familiar with this spice, but it smelled heavenly. The five spices are cinnamon, star anise, anise seed, ginger and cloves. As you can see, it"s a real mix of sweet and spicy and it is typically used in savory cooking. But I could see why the folks at Artizone.com thought it would be an interesting addition to baked goods.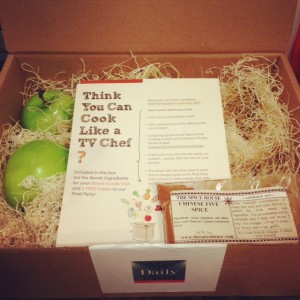 After some consideration, I decided that this five-spice powder might be just the thing to turn my pumpkin apple bread into a knockout dish. I also decided to turn the quick bread into a cake for a more elegant presentation — something you could serve at a brunch for company or to cap off your Thanksgiving meal. The cake turned out to be quite a show-stopper as you can see and it"s absolutely delicious too. The five-spice powder adds a kick that is really unusual.
To make it to the next round in the competition, I need to get the most votes for my pumpkin apple cake in the baked goods category. The voting is on Facebook, so if you use Facebook and have a minute to spare, I would be really grateful for your vote. You can find all the entries here. Be sure to look out for my Five-Spice Pumpkin Apple Cake!
If you are in the Chicago area, you still have time to enter the contest yourself. It"s really fun. There are two other categories besides baked goods: Soups and Chilis and Slow-Cooked Meals. Artizone.com delivers the theme box with the secret ingredients to your door. (While you are on the Artizone site, be sure to check out the other amazing products that they deliver, from meats and cheeses to sweets and the freshest produce.) All the entrants get to attend the "Flavors of Fall" finalists party at The Centered Chef on November 11. I will be there, win or lose!
Five-Spice Pumpkin Apple Cake
Adapted from The Gourmet Cookbook
For the topping:
1 TB all-purpose flour
5 TB sugar
1 tsp. Chinese Five-Spice Powder
2 TB crystallized ginger, minced
1 TB unsalted butter, softened
For the Cake:
3 cups all-purpose flour
3/4 tsp. salt
2 tsp. baking soda
3 tsp. Chinese five-spice powder
1 15 oz. can pumpkin (not pumpkin pie filling)
3/4 cup vegetable oil
2 1/4 cups sugar
4 large eggs, at room temperature
3 Granny Smith apples, peeled and cored
Preheat oven to 350 and grease a large Bundt pan. To make the streusel, whisk together the flour, sugar and five-spice powder in a small bowl. Cut in the softened butter and pinch the mixture together with your fingers until it resembles a coarse meal. Add the crystallized ginger and stir to combine. Freeze until ready to use.
To make the cake, whisk together the flour, salt, baking soda, and Chinese five-spice powder in a bowl. In a standing mixer, cream the oil and sugar until light and fluffy. Add the eggs one at a time. Add the canned pumpkin. Gradually add the flour mixture and mix until smooth. Chop two of the apples into chunks and gently fold them into the batter. Pour the batter into the prepared Bundt pan. Slice the remaining apple and lay the slices on top of the batter in the pan overlapping slightly. Top with the streusel. Bake for 60-70 minutes until the top is firm and a tester inserted into the center comes out clean. Cool cake on a wire rack for 30 minutes before removing to a platter.
Thanks for your help in winning the contest!
Full disclosure time: I was not asked to write about the Flavors of Fall cooking contest, nor have I been compensated in any way for my participation. I do, however, contribute recipes to the Artizone website, for which I receive compensation.
I am a sucker for pumpkin-flavored baked goods. The pumpkin pie is definitely my favorite part of Thanksgiving dinner. But pumpkin-flavored treats are more versatile than we give them credit for: they work well not just for dessert but also as breakfast or brunch fare. I love how pumpkin adds sweetness but also earthiness to baked goods. I also love how well pumpkin pairs with fragrant spices like cinnamon, clove and ginger. And I convince myself that baked goods with pumpkin are somehow healthier than other baked goods — you know, because of the vitamin A.