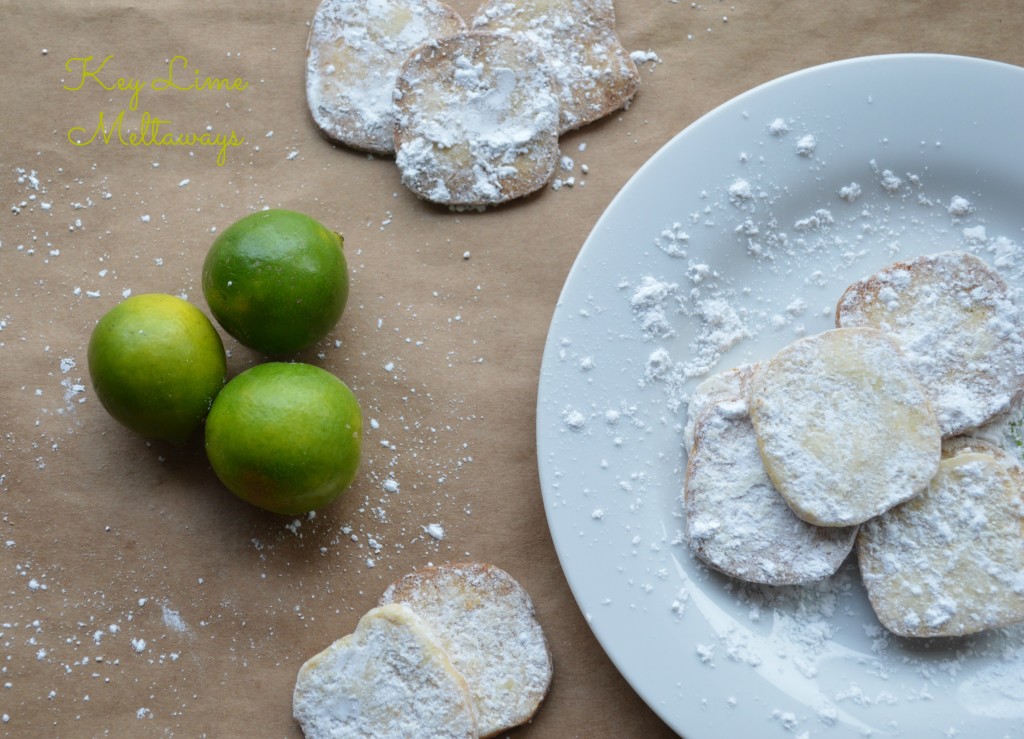 Continuing on my theme of cooking with citrus fruits — a perfect January theme — today I present the Key lime. Smaller than its cousin the Persian lime, which is the variety we usually see in stores, the Key lime is particularly juicy and acidic. It has a smooth rind, a greenish-yellow color when ripe and lots of pesky seeds.  Key limes also have a distinctive aroma and taste which make them the darling of bakers everywhere. Of course, pie is what Key limes are best known for, but please don't think that is the only way to use these tart little guys. You can substitute Key lime juice in any lime recipe for a fresh twist. But if you go to the trouble to find Key limes, you may also want to do something to showcase their distinctive taste.
I brought my Key limes home from Florida along with a dozen Meyer lemons and a handful of Rangpur limes. It was a pain carrying all that citrus through the airport, but so worth it! If you don't have a trip to Florida on the horizon, you can find bagged Key limes in grocery stores with large produce sections at this time of year. I paid $4.50 for three bags of Key limes at a Florida roadside citrus stand; you will likely have to pay more. But go ahead and splurge on a bag because they will give you a little taste of the tropics in the middle of January.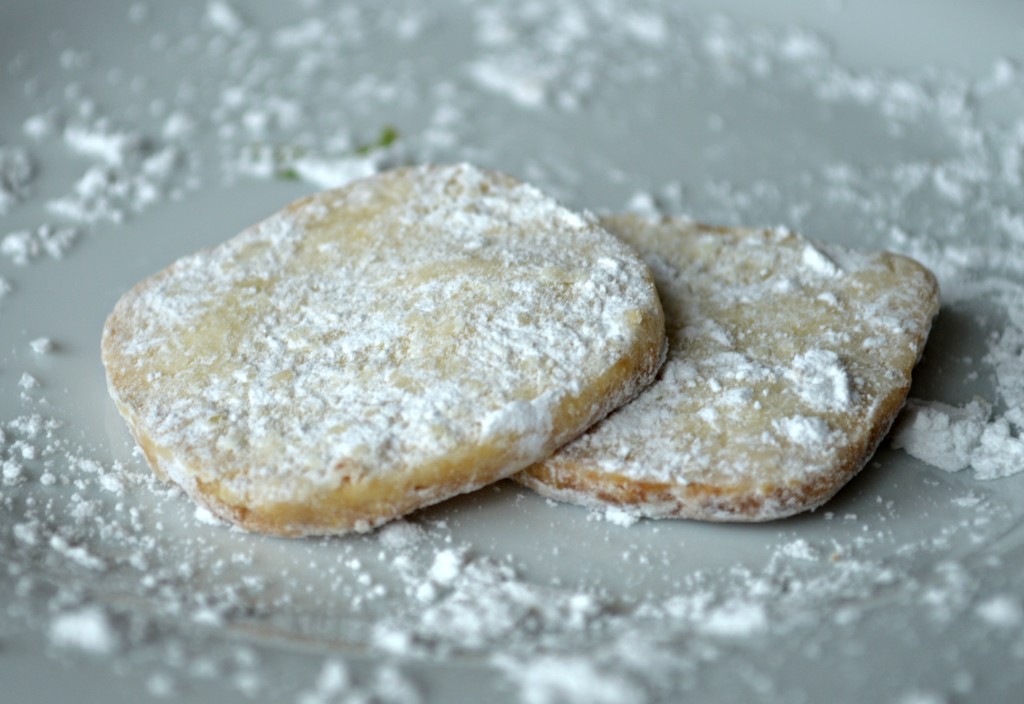 I wanted to make something with my Key limes that I could bring to the Chicago Food Swap because when you have three bags of Key limes, you had better make something that you can share. And I thought that the other swappers might like a little taste of my Florida vacation. I found a really old recipe on Smitten Kitchen for a crumbly Key lime meltaway cookie, and I thought that would be perfect for the swap.
These meltaways are a delicate, shortbread-style cookie. They melt in your mouth — hence the name — in part because of the cornstarch. Thus, this is an elegant, sophisticated cookie to serve with tea or coffee. A dozen packaged in a little cello bag tied with twine also makes a charming gift.
This recipe makes two logs of dough, each one of which makes close to 5 dozen cookies. So, this is a great recipe for cookie swaps, holiday giving or other times when you want to make a big batch of cookies. If you want to a make a more normal number of cookies, you can halve the recipe, or — and this is my recommendation — freeze one of the logs of dough, well-wrapped in wax paper, for another time. It's not any more work to make the larger amount of dough, so I say, go ahead and do it. And then you will have cookie dough in your freezer for the next time you have friends coming over, or you want to bring someone a little gift.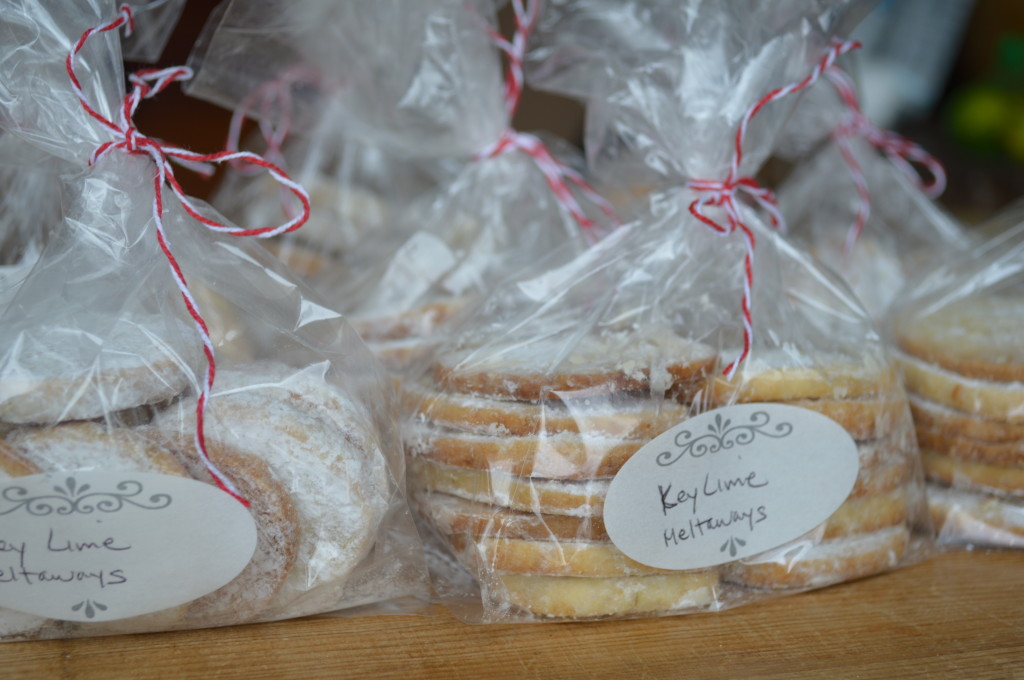 Key Lime Meltaways
Ingredients
3 sticks (12 oz.) unsalted butter, at room temperature
⅔ cup confectioner's sugar plus t least ½ cup for dusting
Zest of 6 to 8 Key limes (depending on size)
⅓ cup freshly squeezed Key lime juice
2 tablespoons vanilla extract
2¾ cups all-purpose flour
¼ cup cornstarch
½ teaspoon salt
Instructions
In a large bowl, whisk together flour, lime zest, cornstarch, and salt. Set aside.
In the bowl of a standing mixer, cream the butter and ⅔ cup confectioner's sugar until light and fluffy.
Add vanilla extract and lime juice to butter-sugar mixture and beat until combined.
Gradually add dry ingredients to the butter-sugar mixture and beat until the dough comes together into a ball.
Divide dough in half.
Roll each dough half into a log about two inches in diameter.
Cover logs with wax or parchment paper and chill at least one hour.
To bake, preheat oven to 350 and line baking sheets with parchment paper or a Silpat baking mat.
Slice dough into ¼ inch thick rounds.
Bake 15 minutes, rotating the baking sheets midway through, until the edges of the cookies are golden brown.
Remove cookies to a wire rack.
While the cookies are still warm, place ½ cup confectioner's sugar into a strainer and thoroughly dust the top of the cookies by holding the strainer over the cookies and tapping the side. If desired, turn the cookies over and dust the underside, adding more sugar to the strainer if necessary.
Store in an airtight container.
Notes
Adapted from Smitten Kitchen