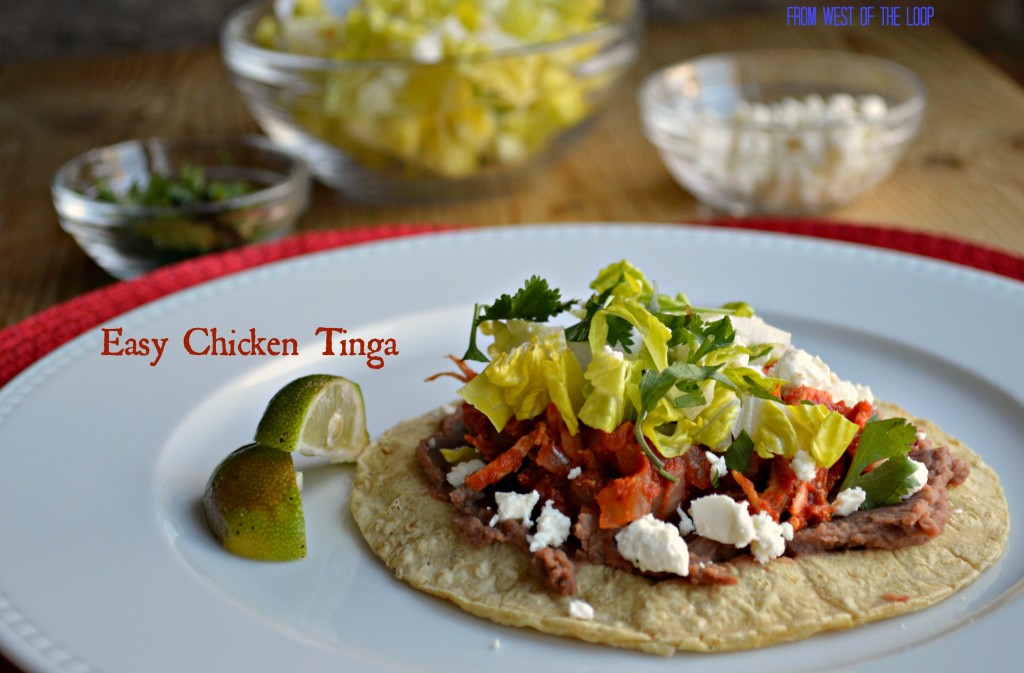 If someone asked me to name my favorite trick for making weeknight meals easier, it would be this: roasted split chicken breasts. If you roast several chicken breasts over the weekend, or whenever you have time and then shred the meat and save it in the refrigerator, you have the makings for at least two or three quick and easy weeknight dinners. And because shredded chicken is so versatile, your family will not feel like they are eating the same thing over and over.
As an example, if you were to roast four chicken breasts on a Sunday evening, and then shred the meat of the bones and refrigerate it, you could easily make this Barbeque Chicken Flatbread one night and this Mexican-inspired chicken tinga the next night. Would your family complain about eating too much chicken? I highly doubt it.
The point is, if you are going to the trouble of roasting two chicken breasts, you might as well roast four, or even six. It's barely any more work and the results will improve your whole week. That is the kind of trick that makes a savvy cook.
What is the big deal with roasting chicken breasts? As I have explained before, I much prefer to cook bone-in skin-on split chicken breasts and shred the meat off the bones than to buy boneless, skinless chicken breasts. For one thing, split breasts  have more flavor and for another thing, they cost less than the boneless kind. Moreover, you can save the bones in the freezer and use them to make homemade chicken broth.
Luckily, roasting split chicken breasts is just about the easiest thing in the world. You preheat your oven to 375; line a baking sheet with foil or a Silpat baking mat for easy clean-up; place the chicken breasts on the baking sheet and rub them with a little olive oil, salt and pepper and then roast them for 45 minutes or until cooked through. (Go ahead and check if they are cooked through. You are taking the meat off the bone anyway so who cares?)
When the breasts are cool enough to touch, remove the meat from the bones with your hands, shred it into pieces and refrigerate. If you like, wrap the bones in foil and stash them in the freezer until you have a lazy day at home and get the urge to make chicken broth. (This happens to me on a weekly basis.)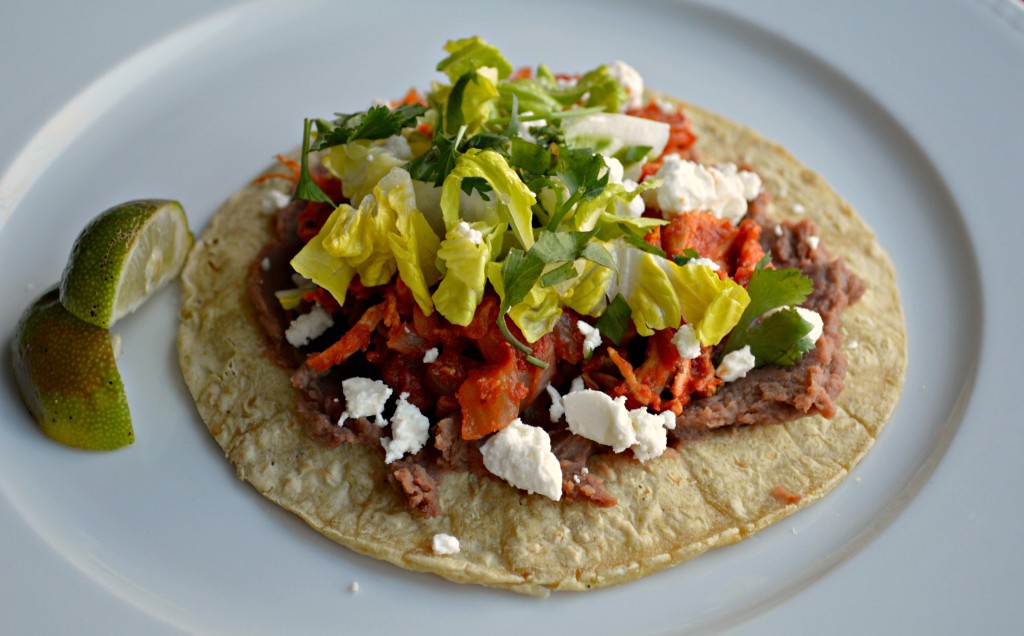 This chicken tinga tostada recipe, which was inspired by one from Pati's Mexican Table, is a great example of a meal that comes together in almost no time if you have the cooked chicken breast on hand. I kept my tostadas pretty simple with just refried beans, the chicken tinga, lettuce, queso fresco and some chopped cilantro. A spritz of lime juice and you're done! But you could add whatever you like to yours, including sauteed onion or diced fresh tomato.
It is fun to set out an assortment of toppings and let your kids or guests assemble their own tostadas with whatever ingredients they choose. However, you have to be prepared for variations on the theme: my husband is not a big fan of corn tortillas, so he just wanted to mix all the ingredients together and eat them with a fork. The horror! You can see what a trial it is to be married to him. (I'm just kidding! He's the best even if he doesn't always adhere to my vision of how to eat a dish I've made.) Personally, I love layering the tostada on the tortilla, although I will admit it is hard to know whether to eat them with your hands or a fork and knife.
Chicken Tinga Tostadas
Ingredients
2 cups cooked, shredded chicken breast
2 TB olive oil
1 onion, diced
2 cloves garlic, minced
1 tsp. dried oregano
1 15 oz. can chopped tomatoes
1 can chipotle chiles in adobo*
1 package corn tortillas
1 15 oz. can refried beans
1 package queso fresco, crumbled
1 head lettuce, shredded
¼ cup chopped cilantro
Limes for garnish
Instructions
Heat the olive oil over medium heat in a deep skillet.
Saute the onion over medium-low heat until softened and translucent, about 10 minutes. Season well with salt and pepper and oregano.
To the onion in the skillet add the garlic and shredded chicken and toss to combine.
Add the can of tomatoes, one chopped chipotle chile and several tablespoons (to taste) of the adobo sauce from the chipotle chiles.
Bring mixture to a boil, and then turn down heat and simmer until thickened, about 5 minutes.
Meanwhile, warm the tortillas according to the package directions and heat the refried beans in a small saucepan until soft.
To assemble the tostadas, spread a tortilla with a spoonful of refried beans.
Top with about ¼ to ½ cup of the chicken mixtures.
Add shredded lettuce, crumbled queso fresco and cilantro. Spritz with lime juice and serve.
Notes
* Chipotle chiles in adobo are small chile peppers that have been dried and smoked. They have a spicy, smoky flavor that you may recognize from meals in Mexican restaurants. One pepper will make your chicken tinga reasonably hot. If you prefer, just use the sauce from the can, not the pepper. The sauce, however, is indispensable to get the authentic smoky flavor of chicken tinga.