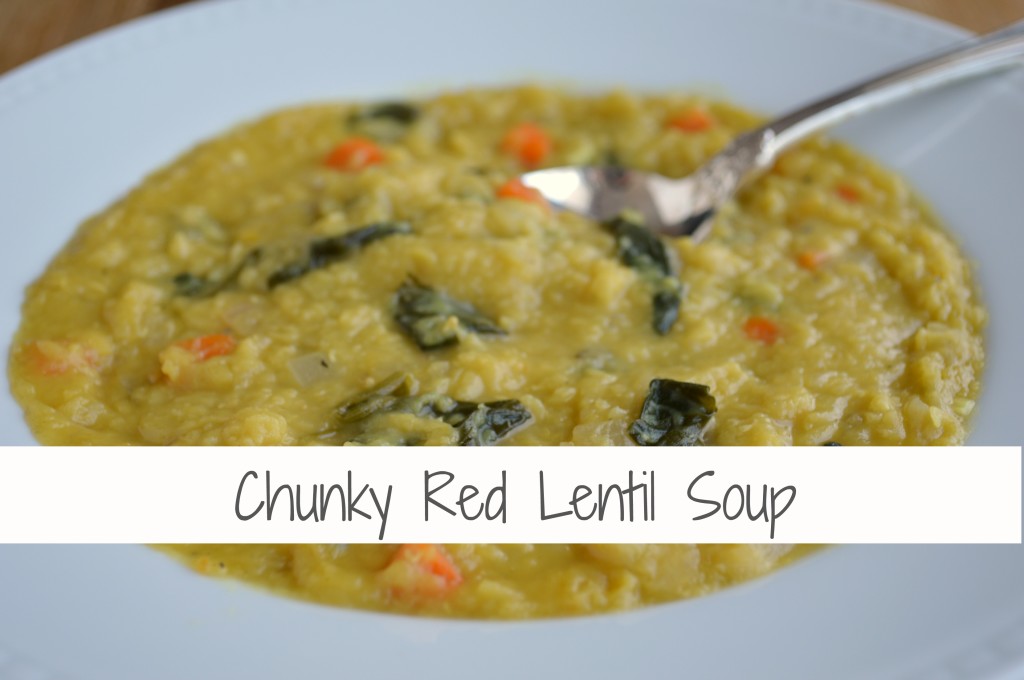 Since I started cooking with lentils about two years ago, I have become increasingly enamored of these little pulses. They are a great source of vegetable protein — the third highest level of protein by weight among legumes — and relatively quick-cooking. Unlike dried beans, which need to be soaked prior to use or take long to cook, lentils are ready to go right out of the package and can be tender and ready to eat in under an hour. My kids also object to beans far more than they do to lentils. It's perhaps a texture thing.
Lentils are an incredibly versatile pantry staple — in part because they come in many different varieties. You can go French with a salad made from tiny, green lentils du Puy or South Asian with a red lentil dal or soup. Check out this helpful explanation of the different kinds of lentils from The Kitchn.  Some lentils hold their shape well, which is great when you want to bite into them, like in a salad, and others, primarily the red lentil, melt into the dish and become thick and creamy.
I first started making red lentil soup in my slow cooker, which is convenient, but not necessary. Lentil soup comes together relatively quickly on the stove — although if you want to make it in advance and let it simmer for ages, that will work too. My slow cooker is somewhat small, so if I want to make a big batch of red lentil soup — enough to keep us eating for days or to freeze for another time — I make it in my large stockpot.
I also used to puree my red lentil soup with my immersion blender before serving, but recently I have discovered that we prefer it kind of chunky. This chunkier version of red lentil soup, with small bits of carrot and celery, eats hearty, almost like a stew. And with the protein from the lentils, it will satisfy a 6'3″ husband with a big appetite. But honestly, it is so virtuous that even a dieter can go back for second helpings with no guilt. Indian spices and lots of aromatics pump up the flavor so that you don't feel like you're eating bland, 1970's-style health food.
This chunky lentil soup for dinner rounded out our week of meatless dinners. I used chicken broth so the soup was not vegetarian, but you could easily substitute vegetable stock and then this recipe would actually be vegan. Imagine that! A hearty, satisfying vegan recipe for when your twenty-something cousin comes to dinner. (Don't we all have a twenty-something vegan cousin?)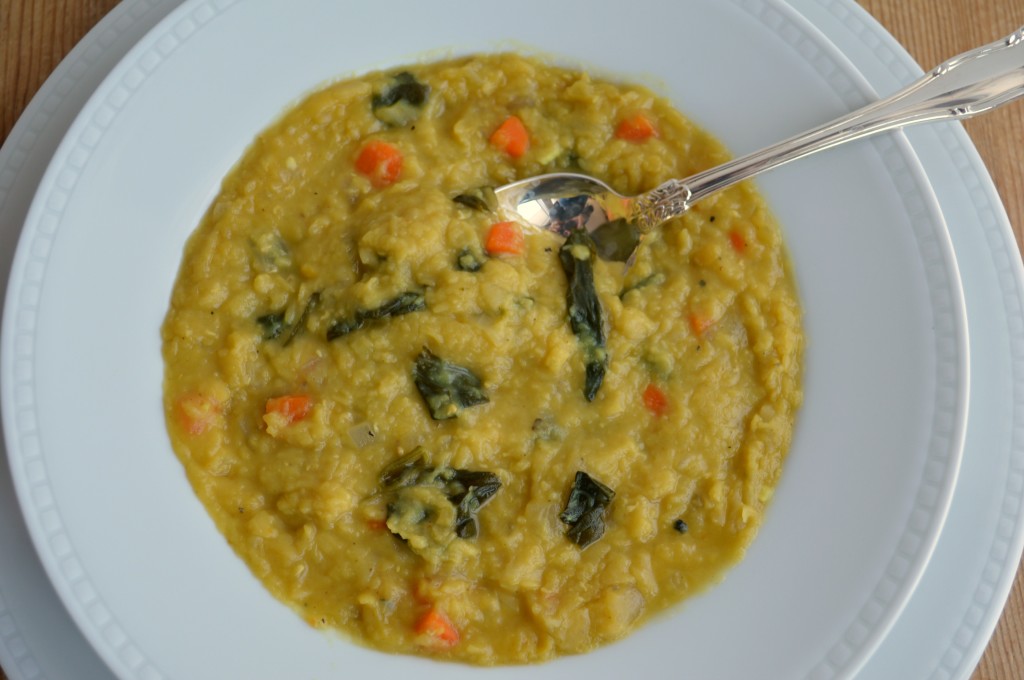 Chunky Red Lentil Soup
Ingredients
2 TB extra-virgin olive oil
2 yellow onions, finely chopped
4 cloves garlic, minced
2 inch piece fresh ginger, peeled and minced
2 carrots peeled and diced
3 ribs celery, diced
2 tsp. cumin
1 tsp. coriander
½ tsp. turmeric
2½ cups red lentils, rinsed
9 cups broth, chicken or vegetable
Zest and juice of one lemon
5 oz. baby spinach
Instructions
Heat olive oil over medium heat in a large stockpot.
Add onions and toss to coat with oil.
Saute onion over medium-low heat until translucent but not browned, about ten minutes.
Add ginger, garlic, carrots and celery and stir to combine. Saute vegetables and aromatics until tender, approximately ten minutes.
Add cumin, coriander, turmeric and salt and pepper and continue to saute a few additional minutes until fragrant.
Add red lentils and toss to combine.
Add broth and bring soup to a boil.
Turn heat down and simmer until the lentils are cooked through and soup is thickened, approximately forty-five minutes. You can continue to simmer soup on very low heat for longer if you wish.
Shortly before you wish the serve the soup, add the lemon zest and juice and the spinach. Allow the heat of the soup to wilt the spinach.
Adjust the seasonings and serve.
I've really enjoyed our week of meatless dinners, which included a beet gnocchi and cheese pizza in addition to butternut squash risotto and red lentil soup. I know that during this time of year, that is to say, Lent, many people are cooking more meatless dinners than usual. I hope these recipes have been helpful and I will be posting at least one more next week.