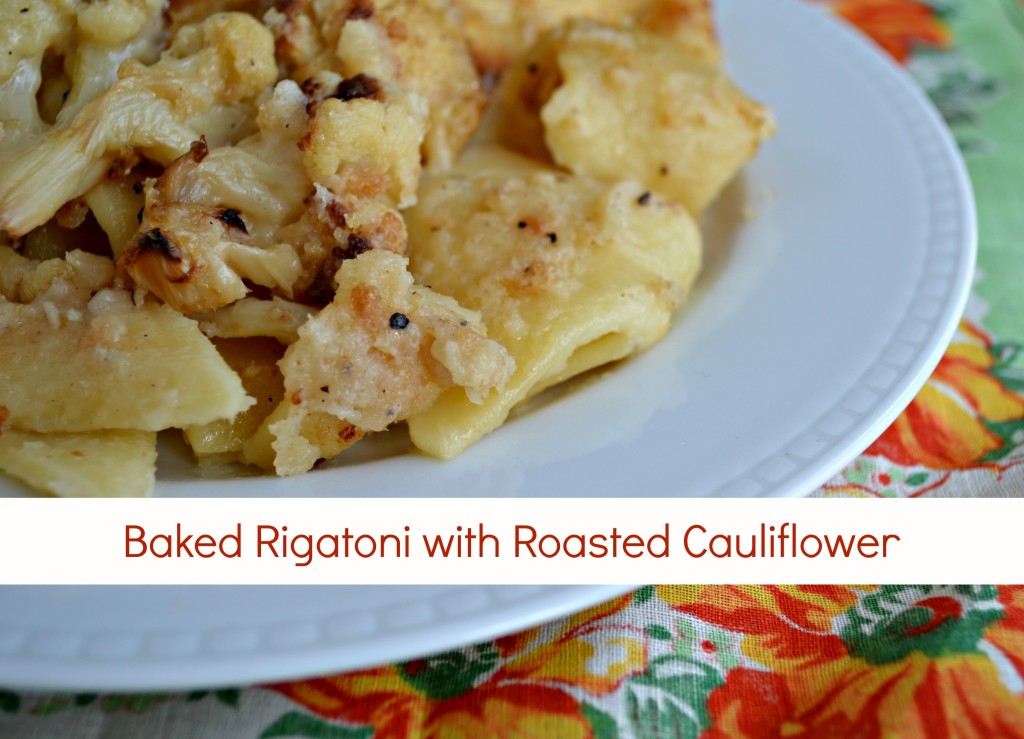 Last week, when I was planning my week of meatless meals, I had intended to make a baked pasta dish with cauliflower that I had read about in the April 2013 issue of Food and Wine. When my husband saw the recipe, however, he practically had a heart attack — a preview of the actual heart attack that he would have had after eating the dish, which contained a cup and a half of cream plus two kinds of cheese. Even the folks at Food and Wine admitted that their dish was "decadent" and "insanely rich."
I loved the idea of a creamy baked pasta dish studded with cauliflower though, so I thought that I would try to create a less artery-clogging version. Don't get me wrong, even my lightened-up version is not exactly diet food. But by using skim milk in lieu of cream, I've made this dish feel less like an attempt on my husband's life.
The other problem with the Food and Wine recipe, besides the shocking calorie count, was the fact it began with boiling the cauliflower.  When you boil vegetables, not only do you lose flavor, but the nutrients just leach out into the water. Why not roast the cauliflower instead? Roasting brings out cauliflower's nutty flavor and is by far my favorite way to prepare this member of the Brassica family. (Other members include broccoli, cabbage, kale and Brussels sprouts.) Just as roasting can convert an avowed Brussels sprouts hater, roasted cauliflower is a game-changer. Zuzu actually begs me to make it.
So, my plan was to create a baked pasta dish with roasted cauliflower and  a cheese sauce that wouldn't cause immediate cardiac arrest. To do this, I knew I needed to start by making a béchamel. If you aren't familiar with béchamel, making this dish will be a good exercise for you. A béchamel is merely a white sauce made with a flour and butter base — known as a roux — and thickened with warm milk. It's the base of many casseroles, including macaroni and cheese, and souffles. In French cuisine, béchamel is known as one of the "mother" sauces. (Quick side note: if you add stock instead of milk to your roux, you will make a velouté, which is another one of the mother sauces. You probably know velouté as the sauce in chicken pot pie. Yum, right?)
Béchamel has a rich, creamy consistency but without all the fat of actual cream. I use skim milk to make béchamel, so that I can feel less guilty about the whole thing. Because it is a "mother" sauce, béchemel can be turned into other kinds of sauces by adding additional ingredients at the end. We're going to add cheese and that will turn the béchamel into Mornay sauce, which sounds way better than "cheese sauce." None of this is hard at all and knowing how to make these sauces will really increase your range in the kitchen.
Although this recipe appears to have a lot of steps – roast the cauliflower, make the sauce, cook the pasta, bake the casserole – it is not as labor-intensive as it seems. For one thing, many of these steps can happen simultaneously. There's no reason, for example, that you can't make the Mornay sauce while the cauliflower is roasting in the oven. Or feel free to do some of the steps ahead of time. You can roast the cauliflower hours or even a day in advance. Lastly, the whole casserole can be assembled ahead of time — even the night before — and refrigerated until you are ready to bake it.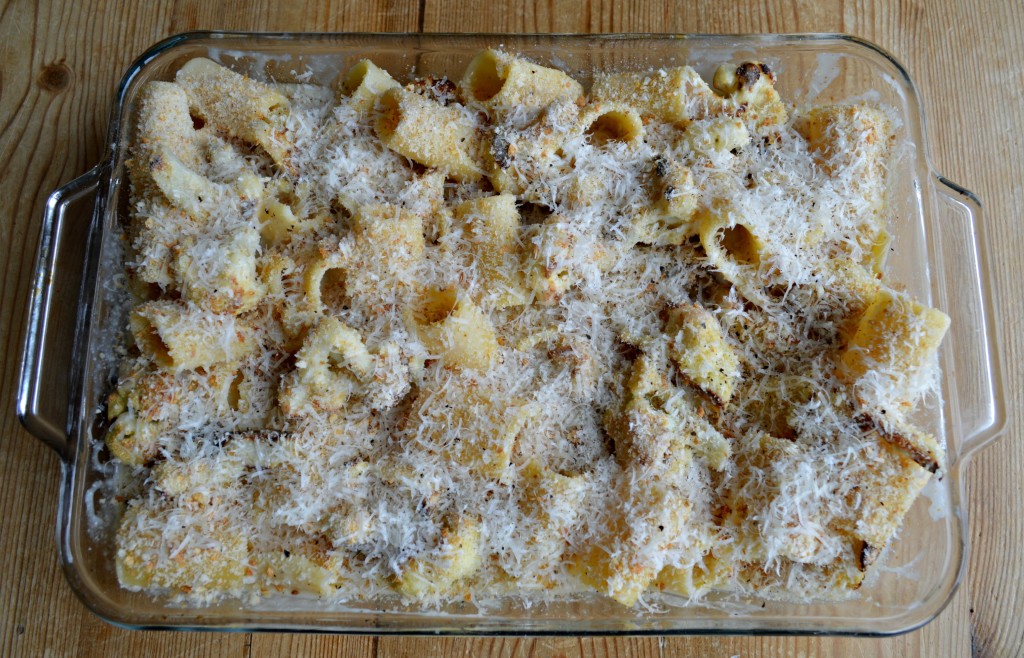 I used Taleggio and Parmesan in my Mornay sauce because that was the cheese used in the original Food and Wine recipe that inspired me. It is traditional to use half Gruyère and half Parmesan. But honestly, you could use just about any cheese you like. It would be fun to experiment with different flavors.
I do recommend, however, that you use a high-quality or even artisanal pasta. I used a fancy imported pasta that I bought at Eataly. High-quality pasta, even a brand like De Cecco, will retain its shape better during baking and not turn to mush. You can also undercook the pasta slightly to have the same effect.
While baked pasta with roasted cauliflower may not be the most colorful dish in your repertoire, it is nonetheless a nice addition when you are looking for a warm, comforting meatless meal. And it's a great way to work on mastering the béchamel and Mornay sauces.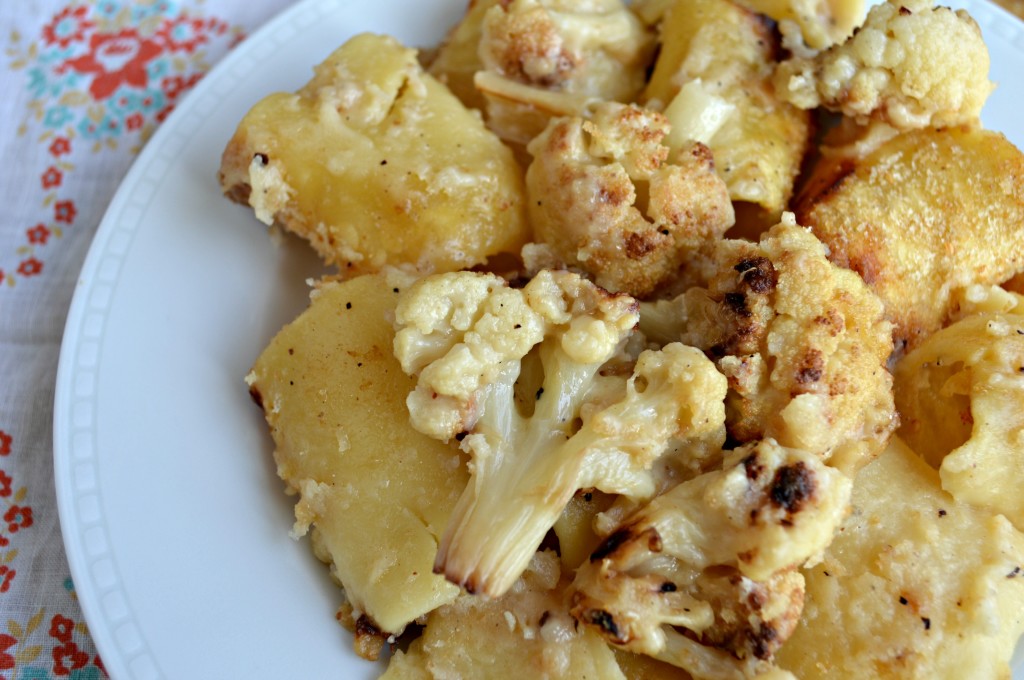 Baked Rigatoni with Roasted Cauliflower
Ingredients
1 head of cauliflower, cut into florets
2 TB olive oil
5 TB butter
4 TB flour
4 cups milk
¼ tsp. nutmeg
½ lb. Taleggio, rind removed and cubed
½ cup grated Parmesan
1 lb. large hollow pasta, such as rigatoni
½ cup dry bread crumbs
Instructions
Preheat oven to 425.
Toss cauliflower florets with olive oil, salt and pepper and spread in a single layer on a baking sheet.
Roast cauliflower until browned, about 20 minutes.
If baking the dish right away, once you remove the cauliflower, turn the oven up to 450.
To prepare the sauce, begin by melting the butter in a large sauce pan.
In a separate saucepan, heat the milk to a simmer and keep warm.
Add the flour to the saucepan with the melted butter and whisk together over low heat for 5-6 minutes until golden. (This is known as a roux.)
While whisking, slowly add the warm milk to the roux. Bring mixture to a boil then turn down heat and simmer until thickened, about 2-3 minutes. (This is a bechamel sauce.)
Remove the bechamel from the heat and add the cubed Taleggio and grated Parmesan. Stir to combine. The resulting sauce should be smooth and not grainy.
Cook the pasta according to the package directions, erring on the side of undercooked. Drain.
Butter a 3 qt. baking dish and add the cooked pasta and roasted cauliflower, spreading out in a single layer.
Pour the Mornay sauce over the pasta and cauliflower and toss gently to ensure that the pasta is coated.
Top with dry bread crumbs and more grated Parmesan if you like. (The dish can be covered and refrigerated at this point if not baking right away.)
Bake at 450 for twenty minutes. Serve hot.