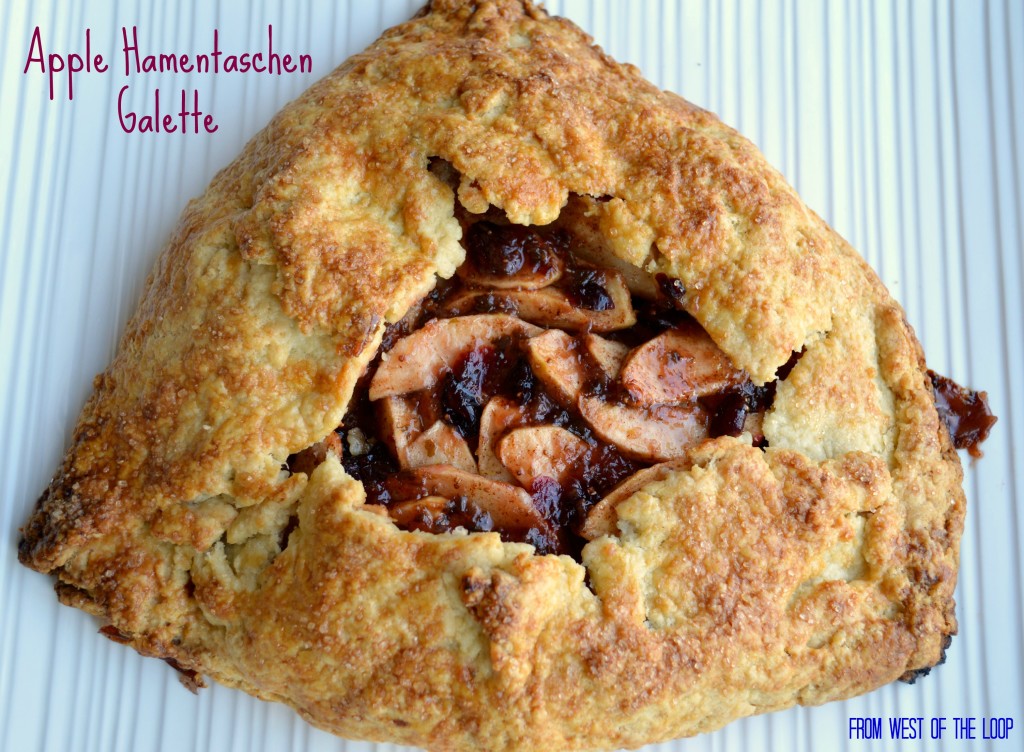 Saturday at sundown, the Jewish festival of Purim begins. Purim commemorates the deliverance of the Jewish people from an evil government minister, named Haman, who plotted to destroy the Jewish community in ancient Persia. In essence, Purim is the Jewish "carnival" holiday — every culture has one — where people are encouraged to dress in costume, make merry, and drink to excess. (Yes, drunkenness is required. Lucky for us that Purim falls on a weekend this year.)
While Purim was traditionally a holiday for adults to cut loose — you might have picked that up from the "drink to excess" part — in modern-day Judaism, it has become more of a children's holiday. Most temples have a Purim carnival or similar event where kids come in costume, play games and win trinkets. For my kids, the Purim carnival is an exercise in sensory overload so we often skip it. But I still think it is important to acknowledge the holiday in some way.
As always with Jewish holidays, Purim has special foods associated with it. Indeed, one of the ways that Jewish people celebrate Purim is by giving packages of treats, called mishloach manot,  to friends and neighbors. In Ashkenazi communities, the signature food of Purim is a triangular filled cookie called hamantaschen. The cookie's shape is said to come from the three-cornered hat that the villain Haman wore. However, the word taschen means "pockets" in German, and middle German is the basis of the traditional Ashkenazi language, Yiddish, so I suspect that the name really has more to do with Haman's pockets.
Hamantaschen can be delectable or absolutely dreadful. Just like all Jewish kids have been scarred by a terrible, tough brisket that some relative used to serve, all Jewish kids have scarred by eating a soggy, tasteless Hamantaschen filled with nasty prunes or poppy seeds. (Poppy seeds are a traditional food for Purim because they were a favorite of the Jewish queen, Esther, who is responsible for saving her people in the Purim story.)
I usually make a batch of hamantaschen at this time of year for my family, but it is a labor-intensive project. You have to make the dough and chill it.  Then, once the dough is chilled, you have to roll it out, cut out circles, fill them with jam, fold them into triangles and bake. It's a production. Sometimes that can be fun, but this week I needed a more stream-lined baking project. So I thought: what if I made something different for Purim this year? What if I kept the three-cornered shape of the hamantaschen, but instead of making dozens of small cookies, I make one, big family dessert? Thus, I decided to create a three-cornered galette as my Purim dessert.
A galette is a rustic kind of pastry featuring flaky dough circled around a filling. Italians have a similar idea called a crostada. Unlike a pie, for example, a galette is not made in a dish, but is more free-form. Thus, you need  slightly sturdier dough that you do for a pie. This dough recipe is adapted from Rustic Fruit Desserts, my go-to cookbook for this kind of thing.
Galettes can be both sweet and savory depending on the filling.  Smitten Kitchen has several wonderful recipes for savory galettes that make terrific, one-dish meals. Here, obviously, I was making a sweet galette. For a filling, I chose apples because I had plenty of them on hand and then I threw in some dried cranberries for added texture. Pears would have been an equally nice choice. Neither fruit is the most seasonal choice, but the truth is, Chicago has not seen any spring fruits yet. We are still eating fall and winter crops.
With his passion for fruit desserts, my husband was all over this hamantaschen galette.  I must say it did come out rather well. I don't think anyone will be missing the hamantaschen cookies this year. And if you don't celebrate Purim, go ahead and make this galette in a circular shape. It's too good to miss.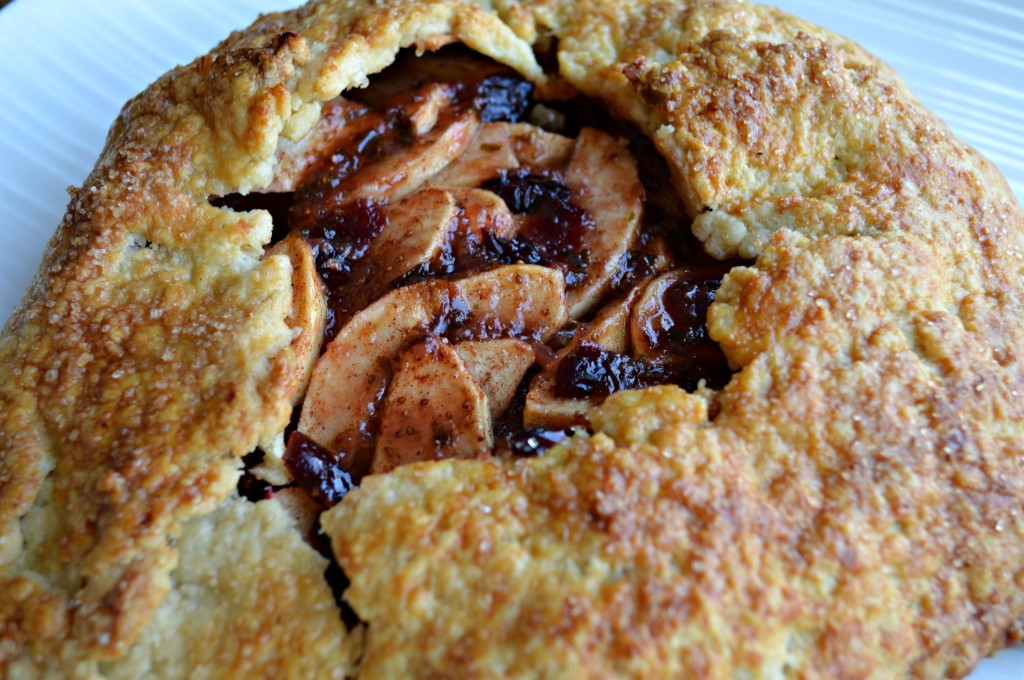 Apple Hamantaschen Galette
Ingredients
Dough:
1¾ cups all-purpose flour
1 TB sugar
1 tsp. salt
6 oz. (one and a half sticks) cold unsalted butter, cut into cubes
3½ TB ice water
1½ tsp. lemon juice
Filling:
3 apples, peeled, cored and sliced
½ cup dried cranberries
Zest and juice of half a lemon
½ cup sugar
1 tsp. cinnamon
½ tsp. allspice
Pinch salt
1½ TB cornstarch
1 egg
Turbinado sugar (optional)
Instructions
Combine the flour, sugar and salt for the galette dough in small bowl, and place the bowl in the freezer for ten minutes.
When the flour is quite cold, remove the bowl from the freezer and add the cubed butter.
Toss the bowl to coat the butter with the flour.
Cut the butter into the dough using a pastry cutter or two knives until the mixture resembles coarse crumbs. Leave some visible pieces of butter that are slightly smaller than a pea.
Mix the water and lemon juice together and drizzle over the dough. Stir with a fork until the dough begins to come together.
Gather the dough into a ball and knead it against the sides of the bowl until you have incorporated all of the dough.
Wrap dough in plastic wrap and chill for at least one hour. (Dough can be made ahead and kept refrigerated for up to three days or frozen for longer periods.)
Preheat oven to 400.
To make the filling combine the apple slices, lemon juice and zest in a medium bowl.
In a smaller bowl, whisk together the sugar, spices, salt and cornstarch and add them to the apple mixture, tossing to combine.
To assemble the galette, place dough on a well-floured surface or nonstick rolling mat, and using a well-floured rolling pin, roll dough out in a circle shape until it is ¼ inch thick.
Carefully transfer dough - a large pastry scraper comes in handy here - to a baking sheet lined with a Silpat baking mat or parchment paper.
Place the apple filling in the center of the galette leaving a two-inch border around the edge.
Fold the dough over the apples in a triangle or circular shape, as desired, pleating the dough as necessary. If making a triangle, pinch corners of the dough together to seal.
Beat the egg with a teaspoon of water and brush the egg wash over the outside of the galette.
Sprinkle with Turbinado sugar, if using.
Bake galette for 30 minutes at 400, then turn heat down to 350 and bake an additional 25 minutes. (If crust begins to burn, cover edge with foil.)
Cool galette on a wire rack for thirty minutes before serving.
Garnish with whipped cream or vanilla ice cream if desired.