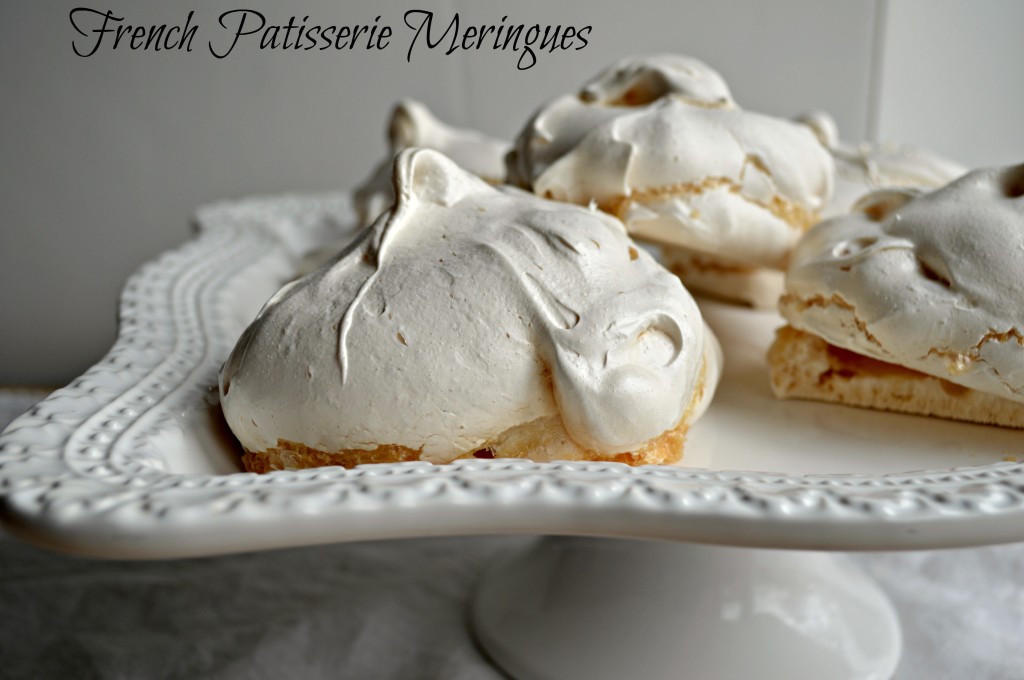 When you think about French pâtisseries, or pastry shops, what is the first thing that comes to your mind? An impossibly flaky, buttery croissant? An almost-too-beautiful-to-eat tarte aux fruits? A towering croquembouche encased in spun sugar? Rows of brightly colored macarons? Sensible choices all. But for me, the favorite French pâtisserie indulgence is a gigantic, puffy meringue. Yes, a meringue.
Every French pastry shop that I have ever wandered into — and remember, I lived in Paris for a year —  has a glass case of pancake-sized meringues on the counter.  These achingly sweet, vanilla-scented clouds are impossibly crunchy on the outside — each bite causing an embarrassing explosion of crumbs. But that hard shell inevitably reveals a slightly chewy, sticky center that is tremendously satisfying to bite into.
I suspect that only small children in France actually eat these enormous meringues straight. The main use of pâtisserie meringues is to form the basis of some other dessert, like a combination of crushed meringues, stewed berries and creme fraîche — the French version of an Eton Mess. 
My husband and children love it when I make meringues at home, which I usually do whenever I find myself with extra egg whites. When I make meringues at home, I almost always make meringues kisses: bite-sized cookies in the shape of an onion dome on a Russian Orthodox church. My husband especially loves these cookies because they are relatively low in calories for a dessert. Meringues have many such advantages in fact. They're gluten-free, dairy-free and — how timely! — kosher for Passover.
I recently found myself with a lot of extra egg whites as a result of trying the citrus curd recipes in my friend Marisa McClellan's beautiful new cookbook, Preserving by the Pint. (More on that soon.) The number of meringue kisses I would have to make to use up a dozen egg whites was a little intimidating — imagine piping out tray after tray of these little guys that then have to spend two hours in the oven — so I decided to try my hand at giant, French pâtisserie-style meringues.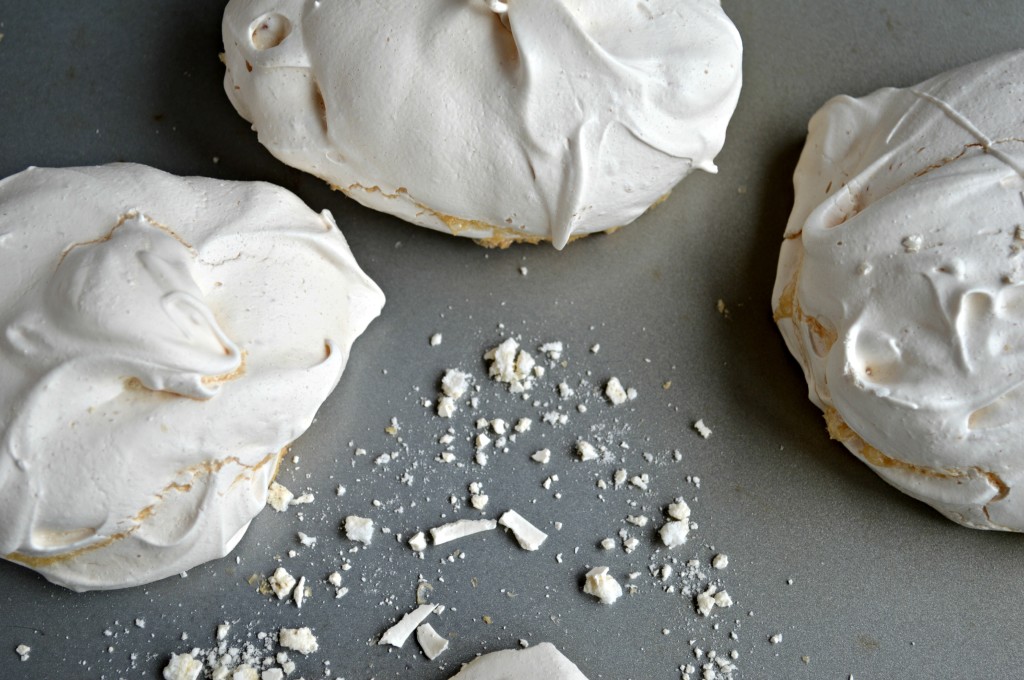 I found a recipe for giant meringues in Ottolenghi, the cookbook from Yotam Ottolenghi's eponymous restaurant, which is known in London for the meringues on display in the window. Ottolenghi flavors his meringues with such exotic flavorings as rose water and cinnamon. My customers, however, have been known to object when I stray from plain old vanilla meringues, so I kept it simple.
This recipe, especially the technique of heating the sugar before mixing it with the egg whites, borrows heavily from the Ottolenghi recipe. I don't know why Ottolenghi heats the sugar in this way — Ottolenghi recipes while long on creativity are often short on explanations — but I tried it and was pleased with the results.
Here are a few of my tips for ensuring successful meringues: first, make sure the bowl of your stand mixer is perfectly clean. Wipe it out well before getting started. Second, bring your egg whites to room temperature before you get started and make sure that they have absolutely no traces of yolk in them. Lastly, add the sugar gradually.
These giant meringues when baked at 225 degrees for two hours will be crunchy on the outside but soft inside. If you prefer your meringues crunchy throughout, make them smaller.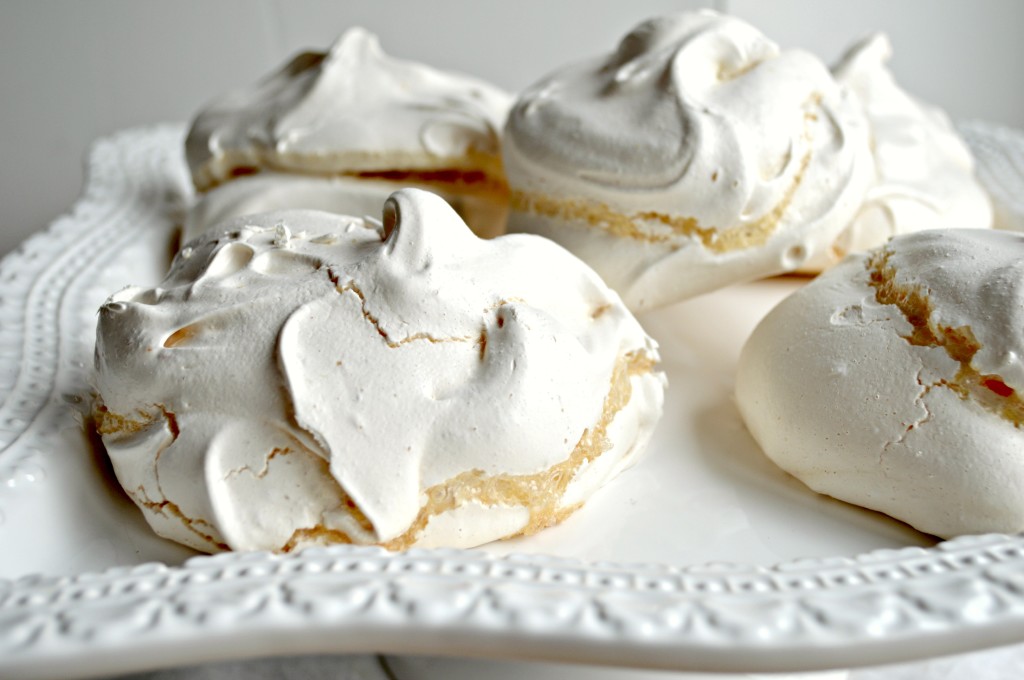 French Patisserie Meringues
Ingredients
3 cups sugar
10 oz. egg whites at room temperature
½ tsp. cream of tartar
2 TB vanilla extract
Instructions
Preheat the oven to 400.
Spread the sugar on a clean baking sheet and heat the sugar in the oven for 8-10 minutes until you can see the sugar start to dissolve around the edges.
When you remove the sugar from the oven, turn the heat down to 225.
A few minutes before the sugar is finished, place the egg whites and the cream of tartar in the bowl of a stand mixer.
Beat the egg whites on high until they begin to froth and then, while the mixer is still going, begin gradually adding the sugar.
Once all the sugar has been added, add the vanilla extract and continuing beating the egg whites until they form stiff peaks and are glossy. This could take as long as ten minutes.
Line two baking sheets with parchment paper or Silpat baking mats.
Spoon large dollops of meringue onto the baking sheet - six on each. Divide the meringue evenly between the twelve cookies.
Bake each tray at 225 for two hours until firm on the outside and cooked through but still chewy on the inside. If yours are not done, you can turn off the heat and leave them in the oven for longer.
Store meringues in an airtight container. They will last for weeks.