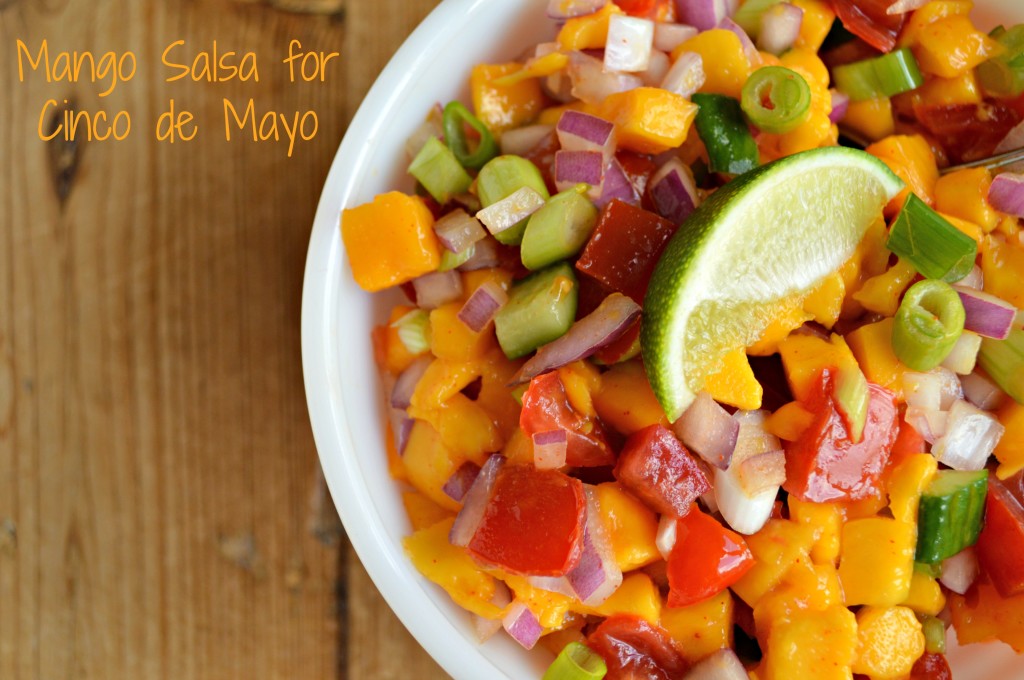 Okay, so we don't actually celebrate Cinco de Mayo at my house. We're not twenty-something city dwellers with the alcohol tolerance befitting a recent college grad. Instead, we are a suburban family of four who will spend Monday night going to piano lessons, doing homework and eating dinner without Daddy, who has a work function. But we did have tacos for dinner on Saturday night and Taco Night is truly a favorite with everybody.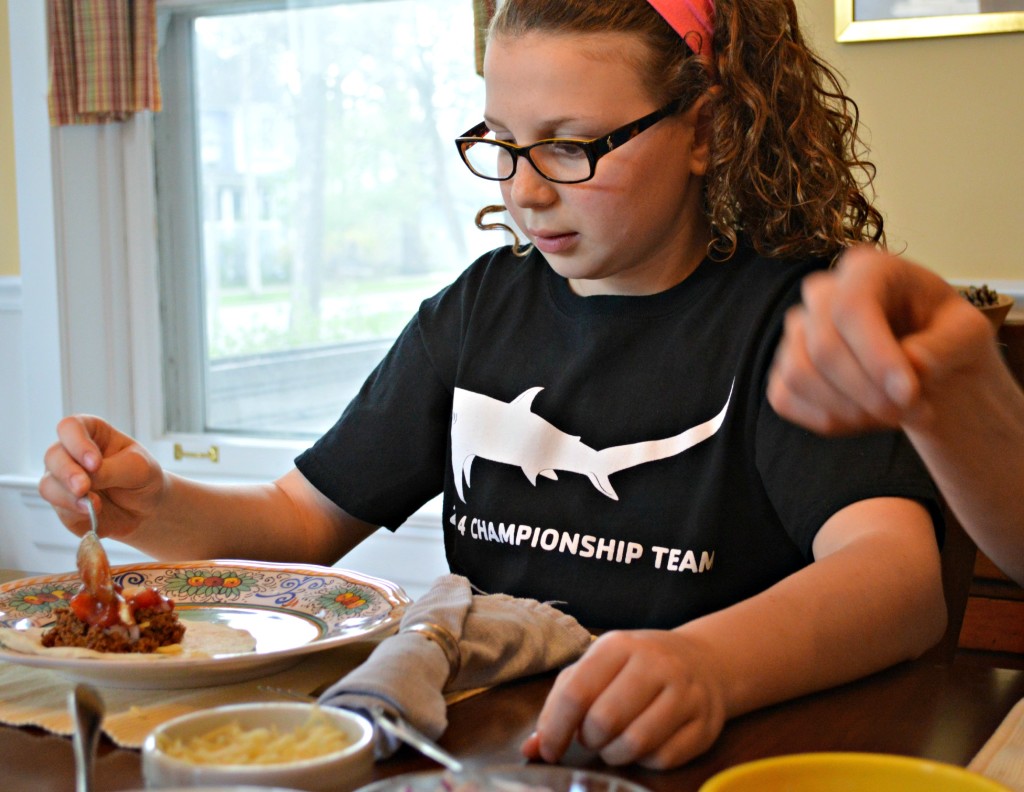 Is there a more crowd-pleasing way to clean out your fridge than Taco Night? I use the opportunity to dice up any leftover veggies and grate random hunks of cheese to make toppings. My kids turn up their noses at lettuce, onion and tomato…except when it is something to add to their tacos. I will confess that I typically rely on store-bought taco seasoning and shells when we have Taco Night– it's supposed to be easy after all. (One of these days, I will try my hand at making homemade taco seasoning.) But I do try to make a fresh salsa for the occasion. And my family loves my homemade tortilla chips.
This weekend, I made a mango salsa that was the perfect combination of sweet and spicy. The beautiful bright colors of the chopped mango, red onion, tomato and jalapeño only added to the salsa's appeal.  When making this salsa, be sure to cut the fruits and vegetables into a fairly small dice. Large chunks of mango can be pretty unwieldy when spooned on a taco.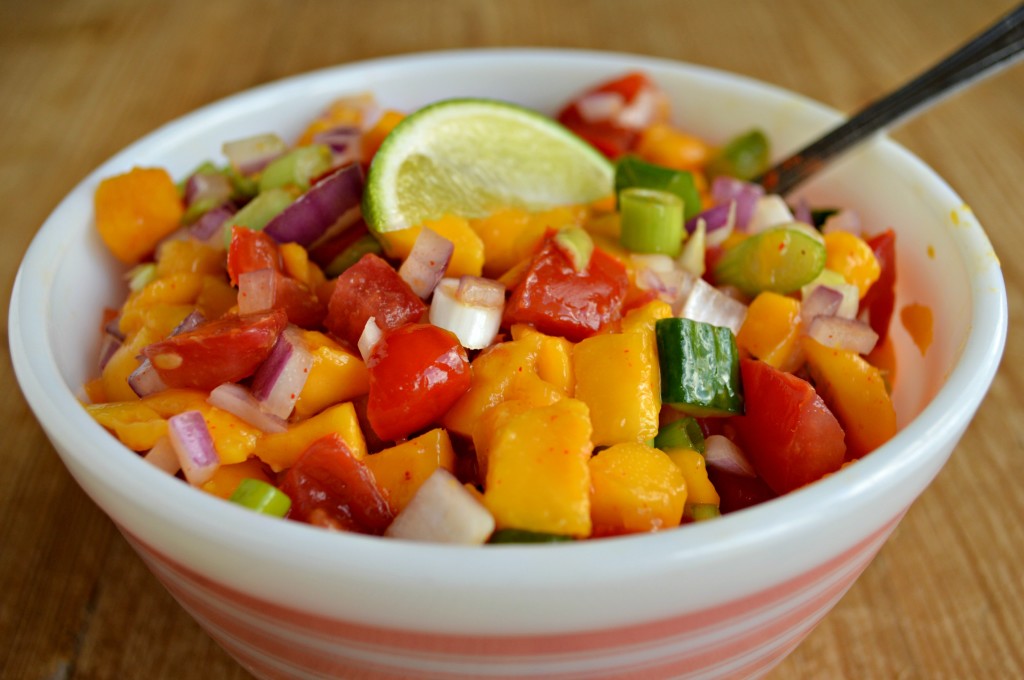 Do you guys know how to cut a mango? I am relatively inexperienced when it comes to handling tropical fruits but I have been working on my mango technique. The mango's flat pit runs down the widest part of the fruit. It's important to keep that in mind when cutting it. You want to cut down one side and then the other, leaving behind the part with the flat pit running through the the middle. Score the two halves lengthwise and crosswise and turn the fruit inside out, making it easy to scoop the chunks of mango out from the peel. From there, it is easy to dice the mango into small pieces for the salsa.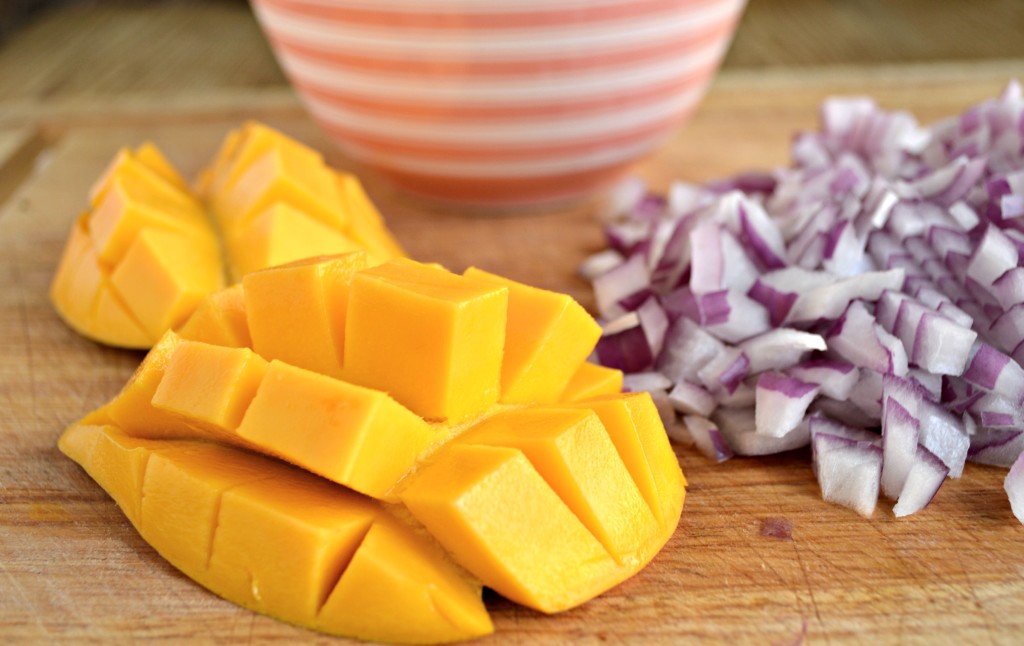 Homemade tortilla chips are a bit indulgent, sure, but they are so easy to make and so much tastier than store-bought ones. My family cannot get enough of them. I make homemade tortilla chips not only for Taco Night, but also to serve with Mexican-inspired soups and stews, like Chicken Tomatillo Stew.  To make homemade tortilla chips, the only thing you need are good-quality corn tortillas. Cut each tortilla into 6 wedges and then pan-fry as many wedges as you can comfortably fit into your skillet, using a neutral oil with a relatively high smoking point like canola, until crispy and browned.  Drain the cooked chips on paper towels, dusting with salt, while you continue cooking the rest of the tortillas. If possible, serve the chips still warm. It's definitely a special treat.
Feel free to use this mango salsa not just as a dip for chips or on tacos, but also on grilled fish or chicken. You can even combine it with goat cheese or cream cheese for a dip to serve with crackers. It's an incredibly versatile and delicious condiment. If you're looking for another Mexican-inspired dish to celebrate Cinco de Mayo, be sure to check out my recipe for Chicken Tinga Tostadas!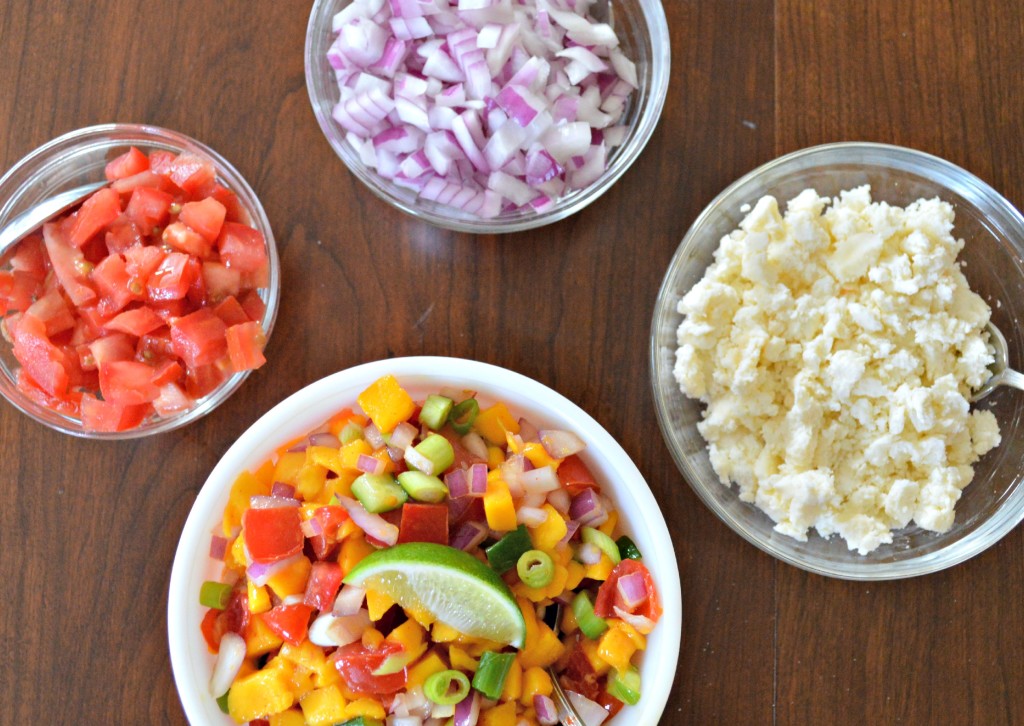 Mango Salsa
Ingredients
2 ripe mangos, peeled and cut into a small dice
1 medium red onion, finely diced
2 plum tomatoes, seeded and diced
1 jalapeño pepper, seeds and ribs removed and minced*
2 scallions, white and light green parts only, sliced
Lime
Salt and pepper to taste
Instructions
Combine all the diced fruits and vegetables in a large bowl.
Add the zest and juice of the lime and stir to combine.
Season with salt and pepper.
Cover and chill at least one hour before serving to allow the flavors to develop.
Notes
*As always, use caution when working with hot peppers. I recommend wearing rubber gloves.