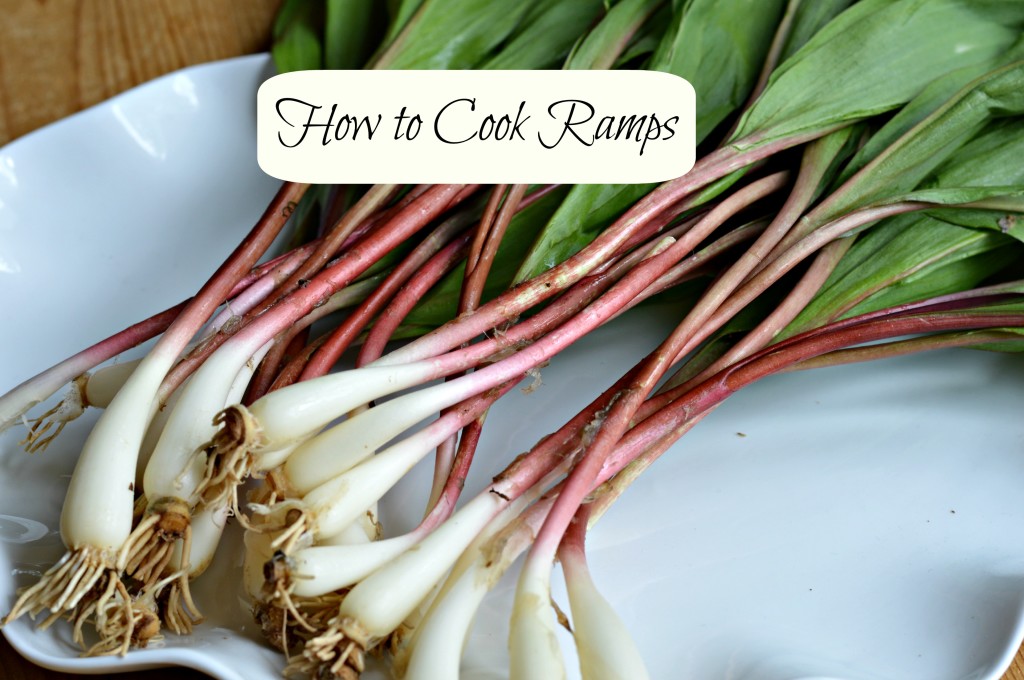 It's spring and that means that foodies everywhere are losing their minds over ramps. For the uninitiated, ramps are a variety of wild leek with a mild garlic flavor.  They have a small bulb at the bottom and a leafy green top. A staple of farmers' markets, ramps are apparently hard to cultivate and tend to be available only for a few weeks in the spring. While it's not easy, you can track down deeply overpriced ramps at fancier grocery stores.
Ramps are one of those foods that has gone from obscure to overexposed in the past five years.  I remember reading about a West Virginia town's ramps festival in the Washington Post Food section fifteen years ago.  Back then, ramps were a plant that only grew wild and those in the know had to forage for them.  By 2008, they were one of the year's Top Ten food trends.  And someone must have figured out how to grow them if Whole Foods is selling them.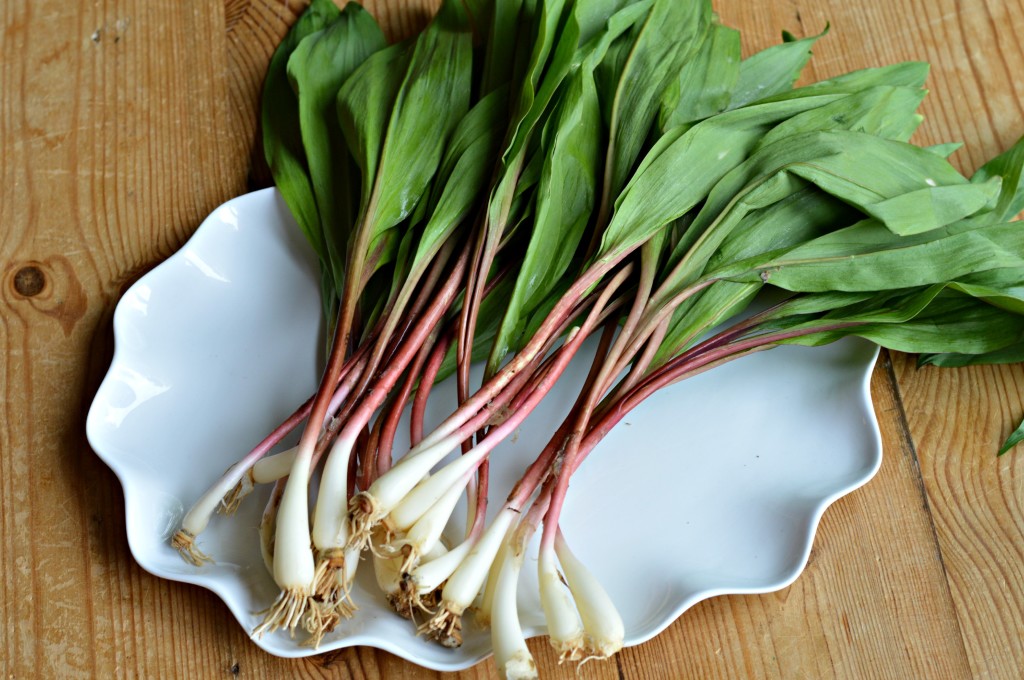 Ramps herald the arrival of spring and thus cause an amount of excitement that some find to be disproportionate to their merits. I will admit to being one of the people who gets excited about ramps.  While I had been reading about ramps for years, I have only been able to buy them for the past few years because most Illinois farmers' markets do not start until late May.  So when I started seeing them for sale at Whole Foods a few years ago, despite the sticker stock, I bought some. Now I have come to expect to get my hands on them at least once or twice a year.  Their scarcity is part of their appeal.
I had a lot of fun with my ramps this week. The key to cooking with ramps is to realize that you can either eat the whole ramp – perhaps grilled — or you can separate the bulb from the greens and treat the two parts separately. I tend to opt for the latter.  That's why I am calling this post "Ramps Two Ways."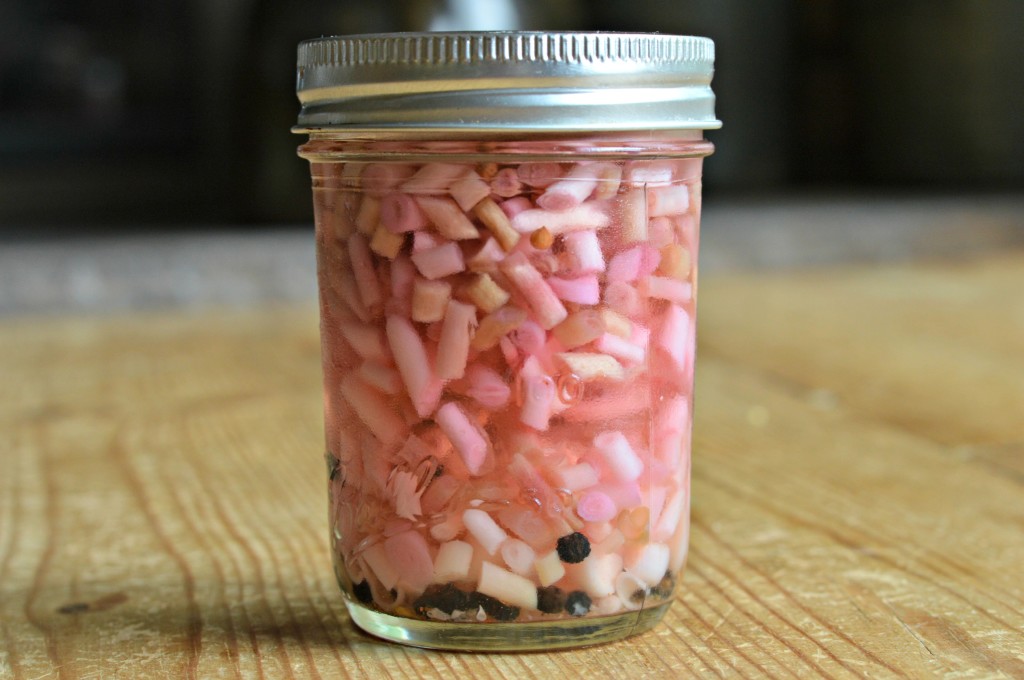 First, I pickled the bulbs in a sweet and spicy brine. Pickled ramps are quite a phenomenon and you can find lots of different recipes for them. Here is one that my friend Marisa McClellan of the canning blog Food in Jars posted on Serious Eats. I improvised my particular pickled ramps recipe, but since this is a quick pickle that is refrigerated, not one that I process for shelf-stability, it is okay to improvise a bit. I will have to wait a few more weeks to see how they turned out.  One trick I have learned about pickled ramps: slice them thinly before pickling. Last year, when I made pickled ramps, I tried to eat them whole and I found them stringy and tough and just not very good. But then, at a restaurant, I had a dish that was garnished with sliced pickled ramps and I loved it.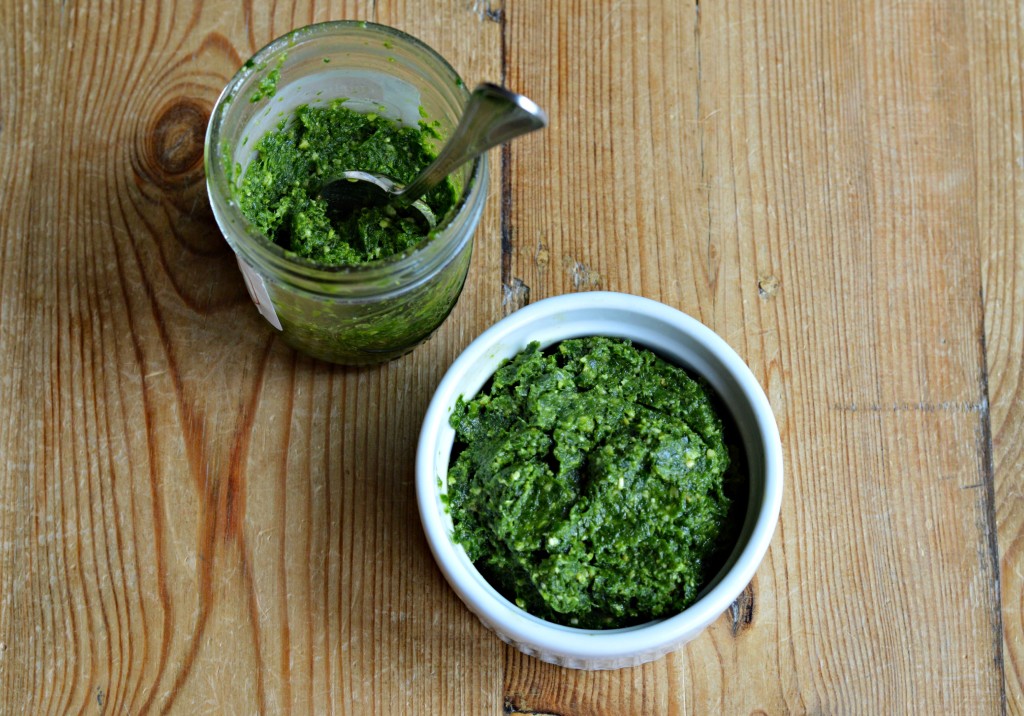 After pickling the ramp bulbs and putting them in the back of the refrigerator to cure, I made a delicious garlicky pesto with the leaves, which is wonderful on pasta or even as a sandwich spread.  Other times, I have sautéed the greens and folded some of them into scrambled eggs and used the rest to top a pizza.  You can really use the sauteed greens anyplace where you enjoy the flavor of onions, like on top of a hamburger.
One thing we know for sure about ramps: they will be gone in a week or two, if they are not already. But it is fun to play with them while they last.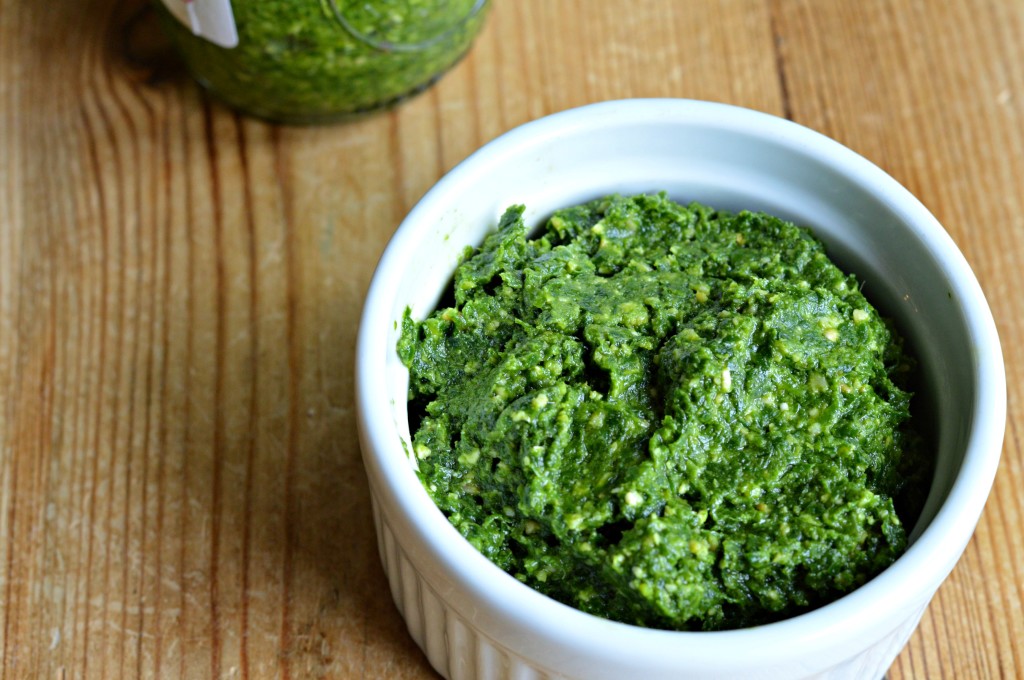 Ramps Pesto
Serves:
Makes 8 oz. pesto
Ingredients
3 cups well-packed, roughly chopped ramps leaves
¼ cup lightly toasted pine nuts
Pinch kosher salt
1 tsp. freshly squeezed lemon juice
¼ cup extra-virgin olive oil
Instructions
To toast pine nuts, place them in a dry skillet over medium heat. Toss watching them carefully until lightly browned and fragrant.
Combine ramp leaves, toasted pine nuts, salt and lemon juice in a food processor. Pulse to combine.
While machine is running, pour in olive oil, scraping down the sides as necessary, until a smooth paste forms.
Store pesto in the refrigerator until ready to use.
Notes
The lemon juice helps to fix the vibrant green color.