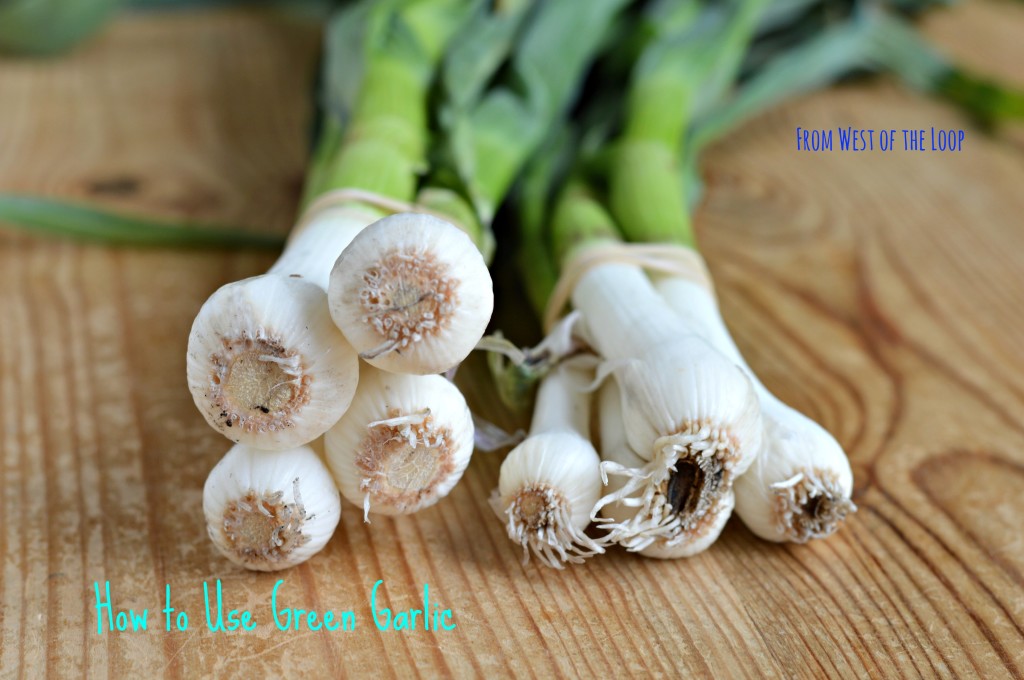 If you have visited your local farmers market this spring, chances are you have seen a lot of spring onions. But are you sure it was green onions that you saw? Could it possibly have been green garlic? The two crops look very similar. And, of course, they are related as onions and garlic are both members of the allium family. (Other cousins include leeks, scallions and chives.high school uniforms is to let student interest drive the kinds of projects we work on.)
Just as green or spring onions are an immature form of onions, green garlic is an immature form of garlic. It is one of the first crops to appear in early spring farmers markets and it can hang around through early summer. While some people may view green garlic as one of those things they are dismayed to find in their CSA box — "what the heck am I supposed to do with that?" — they are actually a wonderful seasonal treat.
Unlike mature garlic, green garlic is entirely edible. You can slice and eat every part of the part of the stem from the bulb to the green leaves. No need to peel. (Just cut off the bottom of the bulb and the top of the stalk if it is dry or wilted and wash away any dirt or grit.) Green garlic has a milder flavor than mature garlic and is almost sweet and nutty, similar to an onion. In cooking, think of one stalk of green garlic as equivalent to a clove of mature garlic, a small onion or a leek in intensity.
Don"t confuse green garlic with garlic scapes, by the way, another farmers market mystery crop that matures a bit later in the season. Garlic scapes are the curled flower stalks of certain, hard-necked garlic varieties. They are thinner and more stalk-like than green garlic, which is really similar in texture to a spring onion.
If you ask your CSA farmer or farmers market vendor what to do with green garlic, he or she will certainly have many suggestions. The truth is, you don"t need to overthink this one. Chop up the whole green garlic stalk and use it wherever you use garlic or onions, such as soups, stews, sautés, sauces and stir-fries. I made a hash for dinner this past week with leftover steak and potatoes from our Memorial Day cookout and started the dish with sautéed onion, shallots and green garlic — triple allium power! — for extra flavor.  But seriously, you cannot go wrong just substituting green garlic for regular garlic.
However, because of its stalk-like form, you can use green garlic in ways that you cannot use mature garlic. You can roast or even grill the whole stalks. Use chopped green garlic to top a flatbread or let the delicate flavor shine in a quiche or frittata for a meatless meal. Remember the saying that "if it grows together, it goes together" and pair green garlic with other spring crops like asparagus and fava beans. You can find many more ideas for green garlic in this Huffington Post article.
I decided to combine some of my remaining green garlic with hothouse basil to make a verdant and extra-garlicky pesto.  At first, I tried it with equal amounts of basil and green garlic but that was a little intense even for me. I ended up with a 3-2 basil to green garlic ratio and that was perfect.
Although I sometimes like to make vegan pestos, the grated Parmesan in this recipe improves the final product immensely by rounding out the flavor and adding creaminess. I advise you to include it if possible. I served this green garlic-basil pesto over fresh spinach tagliatelle and topped each plate with a little diced plum tomato to add sweetness and color. It was a pretty spectacular early spring dinner.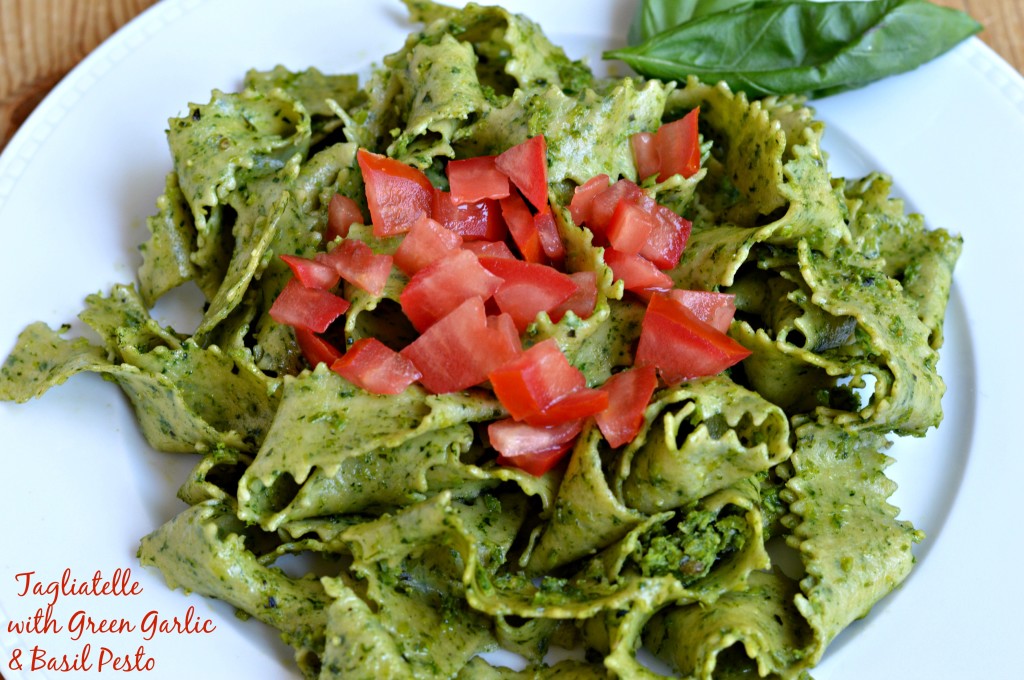 Green Garlic and Basil Pesto
Ingredients
3 cups loosely-packed basil leaves
2 cups chopped green garlic bulbs and stems
6 TB pine nuts
¾ cup extra-virgin olive oil
Pinch salt
½ cup grated Parmesan
Instructions
Toast the pine nuts in a dry skillet over medium heat until lightly browned and fragrant. Watch carefully so that they do not burn.
Allow pine nuts to cool.
Place the basil, green garlic, toasted pine nuts and salt in the bowl of a food processor and pulse several times to combine.
With motor running, add the olive oil in a slow, steady stream, scraping down the sides as necessary, until the mixture resembles a chunky paste.
Remove the pesto to a bowl and stir in the grated Parmesan.
Store the pesto in the refrigerator until needed.
Use with pasta, on pizza or as a sandwich spread.
Notes
This recipe makes a large amount of pesto, perhaps 1 pint. Feel free to scale down.