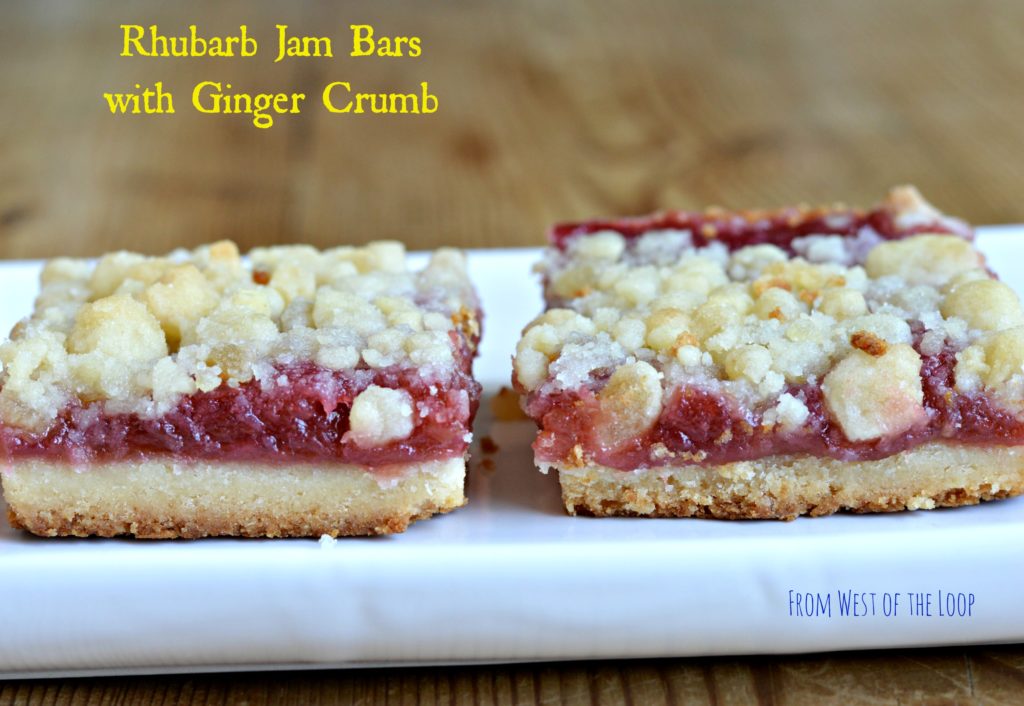 It absolutely kills me that my husband doesn't like rhubarb. WHAT'S NOT TO LIKE? Rhubarb is tart — not cloyingly sweet like strawberries can be. (Oh please, don't send me hate mail because I dared to say that strawberries are too sweet. I like strawberries just fine, but I think we've all had a few overly sweet strawberry desserts in our time. Strawberry pie without rhubarb in it? Just…no. ) Rhubarb is not seedy or grainy or stringy. It cooks down to a perfect, jammy texture. Plus, it's hot pink.  Hot pink, people! Rhubarb is like the most chic spring fruit.
The Oak Park farmers market just started and already the farmers are telling me that their rhubarb is almost finished for the season. The hard winter was not kind to the rhubarb plants, I guess. So this past Saturday, I panicked and bought six bunches. I have a lot of rhubarb baked goods and canning projects to do before moving on to cherries.
Last Sunday, we had two events to which we were asked to bring a dessert to share: the kids' piano recital and a swim team potluck dinner. I decided to go straight rhubarb for both. For the piano recital, which is indoors and a bit more civilized, I made a lemon rhubarb Bundt cake from my all-time favorite dessert cookbook, Rustic Fruit Desserts. But for the swim team potluck, I thought I needed something more portable like a cookie or a bar.
Knowing that rhubarb cooks down into a delicious, bright pink jam, I had this notion that I could make a tasty and eye-catching bar cookie with a shortbread crust, a rhubarb filling and a crisp crumbly topping. I basically borrowed a recipe for each element of the cookie. (Coming up with completely original recipes for baked goods is beyond my skill level.) I used the crust from a Barefoot Contessa recipe for lemon bars, a simple rhubarb jam recipe and the ginger crumb topping comes from a Rustic Fruit Desserts recipe for rhubarb buckle.
The bars came out even better than I could have hoped. The tartness of the rhubarb filling cuts through the richness of the buttery shortbread and the candied ginger in the crumb topping adds a little chewiness and also a spicy kick. Plus, how beautiful do these look? This recipe is definitely one to bring to a picnic or bake sale where the bars' good looks will undoubtedly elicit many admiring remarks.
The rhubarb filling is definitely a jam, but if you have never made jam before, do not be intimidated. First of all, there is no actual canning required. You will use most of the jam for the bars and if you have any leftover — I had about 8 oz. extra — you can just refrigerate it and pray for overnight guests so that you can casually offer them some of your homemade rhubarb jam with their morning toast. And the jam itself is easy to make. I do ask that you go out and buy powdered pectin – which is available in most grocery stores — because rhubarb is naturally low in pectin and you won't get that jammy texture without it. You don't want to have runny rhubarb syrup weeping all over your shortbread crust, now do you?
If you are not familiar with pectin, it is a naturally-occuring substance in many fruits, although some have more than others. It is what gives jams and jellies their viscous, spreadable texture. You can make jam without adding pectin but it requires a longer cooking time than jam made with pectin. Store-bought pectin comes in powder and liquid form. I have a personal preference for the powdered kind because every time I have had a jam not set up properly it was when I was using liquid pectin. Although you may have never noticed it before, powdered pectin is truly available in most, well-stocked grocery stores in the baking aisle or in the canning section, if there is one.
If you really can't face making the jam yourself, you could certainly use a good quality store-bought jam — in rhubarb or another flavor — for the filling, which would turn these bars into a very simple baking project. I will say that the ginger crumb goes especially will with rhubarb. But I can also see that it would pair nicely with apricot, raspberry, currant or any other tart fruit jam.
However you choose to do it, I implore you to give these rhubarb jam bars a try. I honestly think this is one of the best recipes I have ever created — and by "created" I obviously mean "cobbled together like a Frankenstein recipe from three different sources."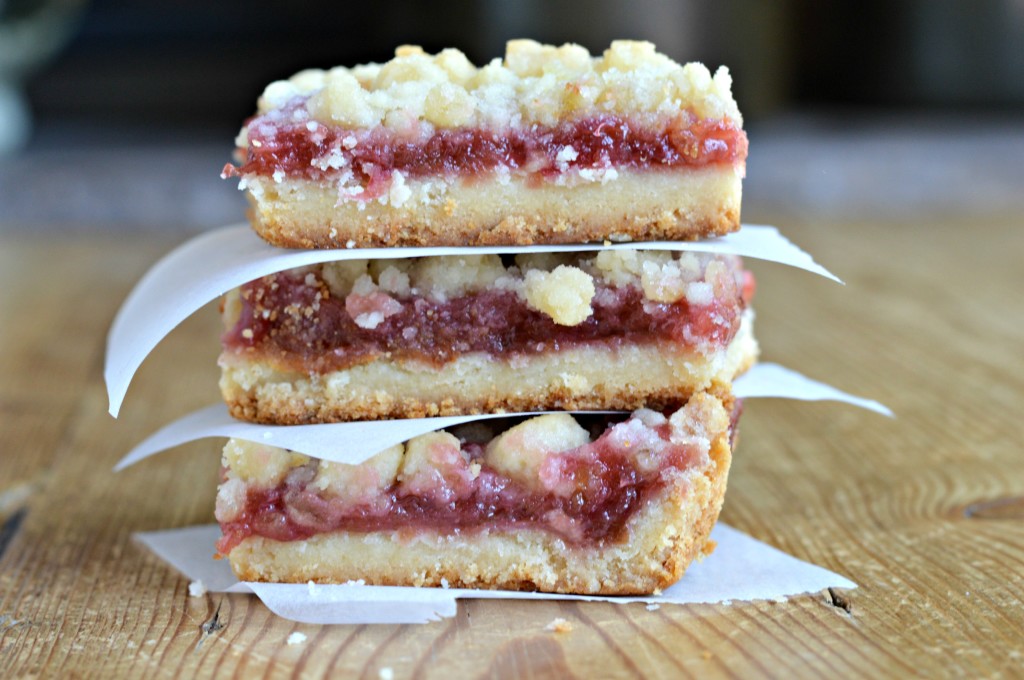 Rhubarb Jam Bars with Ginger Crumb
Ingredients
Crumb topping:
½ cup granulated sugar
½ cup all-purpose flour
½ cup finely chopped candied ginger
2 oz. (1/2 stick) unsalted butter, melted
Crust:
2 sticks (8 oz.) unsalted butter at room temperature
½ cup granulated sugar
2 cups flour
Pinch salt
Rhubarb jam:
5 cups sliced rhubarb
½ cup water
Zest of one orange
5 TB powdered pectin
2½ cups granulated sugar
Instructions
Preheat the oven to 350.
Begin by making the crumb topping. In a small bowl, combine the sugar, flour and candied ginger.
Pour the melted butter over the other ingredients and stir together with a fork to create small clumps.
Chill until needed.
Make the crust by creaming together the butter and sugar in the bowl of a standing mixer for 3-5 minutes until light and fluffy.
Gradually add the flour and salt and combine until a crumbly dough forms.
Turn the dough out into an ungreased 9X13 baking pan and press it into the pan with your fingertips until the dough covers the bottom of the pan in an even layer and you have formed a slightly raised crust around the edges.
Bake the crust in the oven for 20 minutes.
While the crust is baking, make the rhubarb jam. (You can also make the jam ahead of time if you prefer.)
Combine the rhubarb, water and orange zest in a large saucepan.
Sprinkle the pectin over the rhubarb, stirring to combine, and bring the mixture to a boil over high heat, stirring constantly to prevent scorching.
When the rhubarb mixture is boiling, add the sugar all at once and stir to combine.
Continue to cook the rhubarb jam until it returns to a boil, stirring constantly, and boil it hard for two minutes. The fruit should be broken down by this point.
Set jam aside until the crust is ready to come out of the oven. It will continue to gel as it cools.
To assemble the bars, spread the jam in an even layer on top of the pre-baked shortbread crust. (Refrigerate any leftover jam and use at your leisure.)
Remove the crumb topping from the freezer and sprinkle it evenly over the jam.
Bake the bars at 350 for 25-30 minutes until the jam is bubbling and the crumb topping is golden brown.
Cool on a wire rack before cutting.
Nutrition Information
Serving size:
Makes 15-20 bars depending on the size.