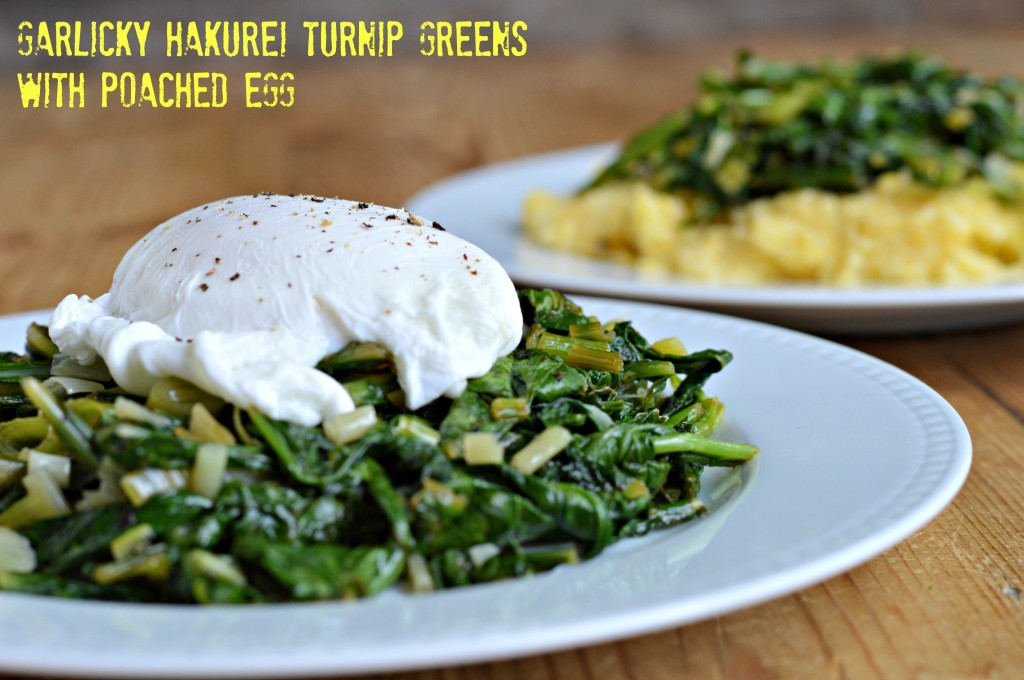 There is a saying in cooking, or maybe gardening, along the lines of: what grows together, goes together. As spring turns into summer, and farmers markets all over the country begin to overflow with fresh, local fruits and vegetables, it can be helpful to keep that axiom in mind. If you are not sure how to use your farmers market, or garden, bounty, think about pairing crops that come into season at the same time. Strawberries and rhubarb. Peas and fava beans. Greens and green garlic.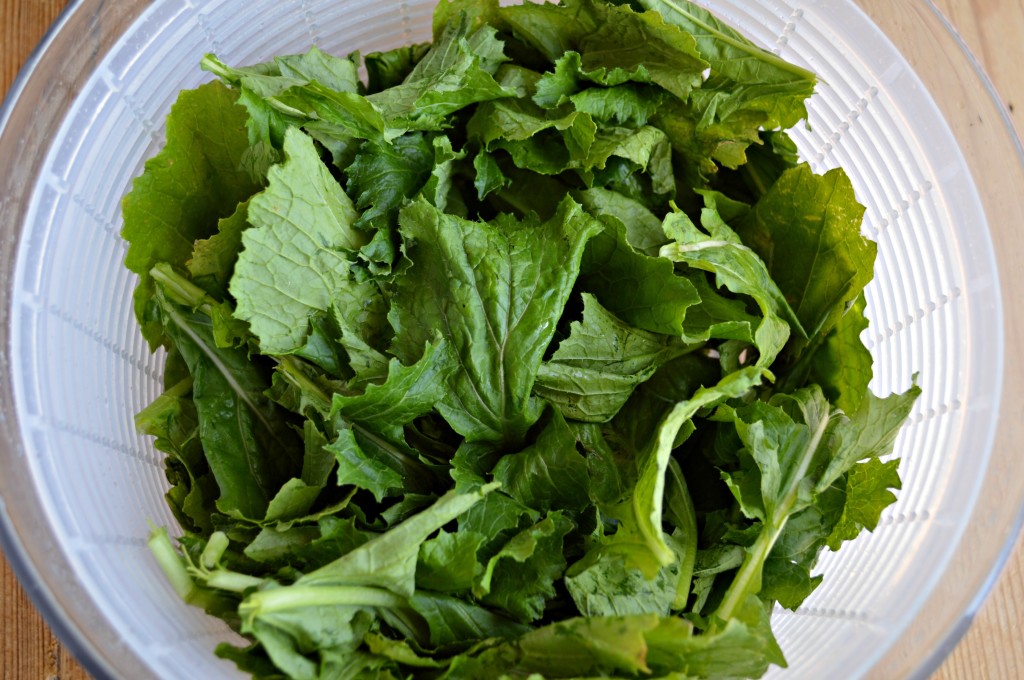 I only heard of Hakurei turnips a few months ago and already I can't enough of these sweet, diminutive, snow-white turnips. Only one stall at the OakPark Farmers Market has them, but I have bought a few bunches each week. The turnips themselves can be sliced and pickled, as Marisa McClellan suggests in her new cookbook, Preserving by the Pint, glazed or eaten raw in a salad. But whatever you do with the turnips, do not, under any circumstances throw away the green tops. These greens are a nutritional powerhouse and are far less bitter than mature turnip greens.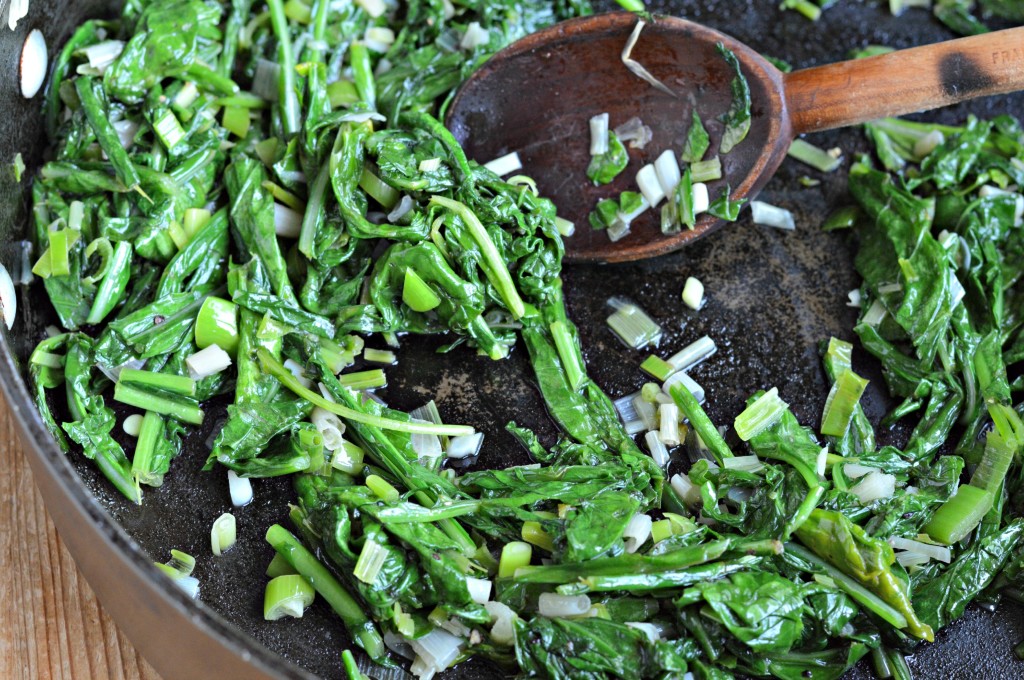 I made pesto from my first few batches of Hakurei turnip greens but there is only so many jars of pesto one family can consume. (And I really push the boundaries of that limit.) So, when faced with another bunch (or two) of leafy Hakurei turnip greens, and a few remaining stalks of green garlic, I decided to sauté the greens and garlic together — what grows together, goes together, right? — and hope for the best.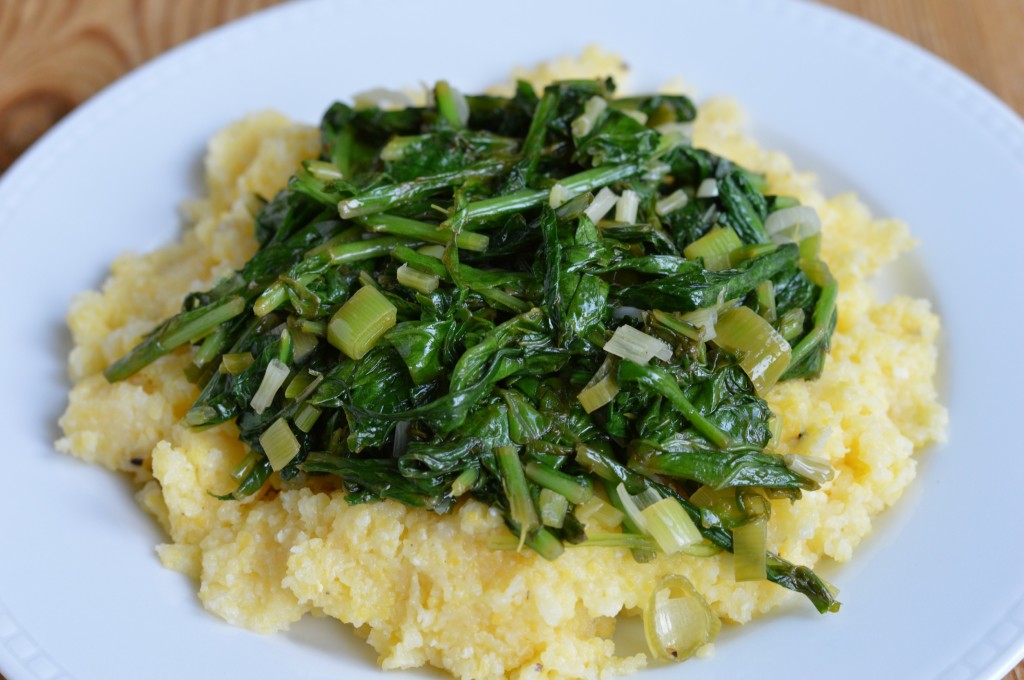 The green garlic and turnips greens were a perfect match. With a generous squeeze of lemon juice for brightness, this quick-cooking sauté is a healthy and delicious side dish for almost any meal. When placed over polenta or brown rice, or topped with a poached egg, garlicky sautéed greens become a complete vegetarian meal. As you can see, I placed my sautéed greens over polenta and topped the concoction with a poached egg. That's just how I roll.
If you can't find Hakurei turnips at your farmers market, don't despair. (Well, despair a little. They are really quite a treat.) You can make this sauté with other spring greens. Try to pick less mature varieties and adjust the cooking times as necessary. If you cannot find green garlic, feel free to substitute three cloves of regular garlic.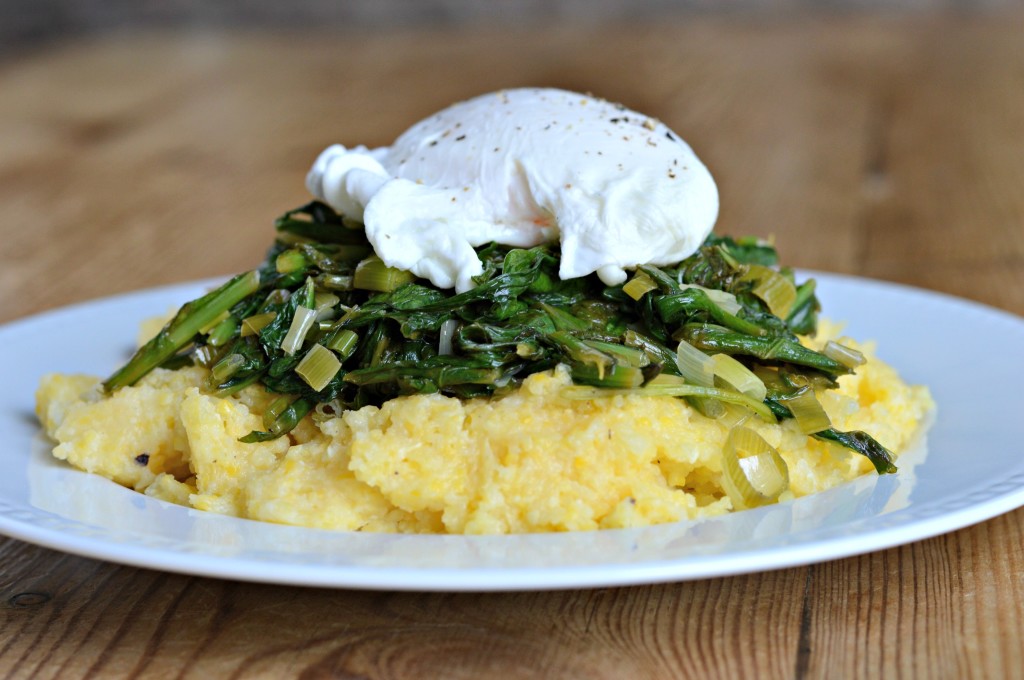 Sautéed Turnip Greens with Green Garlic
Ingredients
2 TB extra-virgin olive oil
4 stalks green garlic, white and light green parts only, trimmed and sliced
2 bunches Hakurei turnip greens
Juice of half a lemon
Salt and pepper to taste
Instructions
Wash the turnip greens in several changes of cold water, discarding any wilted or discolored leaves. Dry in a salad spinner.
Roughly chop the greens into wide ribbons.
Heat the olive oil in a very large skillet or sauté pan over medium heat.
Add the sliced garlic and sauté under tender, about three minutes.
Add the turnip greens and toss to combine.
Saute the greens over medium-low heat until wilted, approximately five minutes.
Remove from heat and add the lemon juice, salt and pepper.
Nutrition Information
Serving size:
Serves four as a side dish; two as a main course