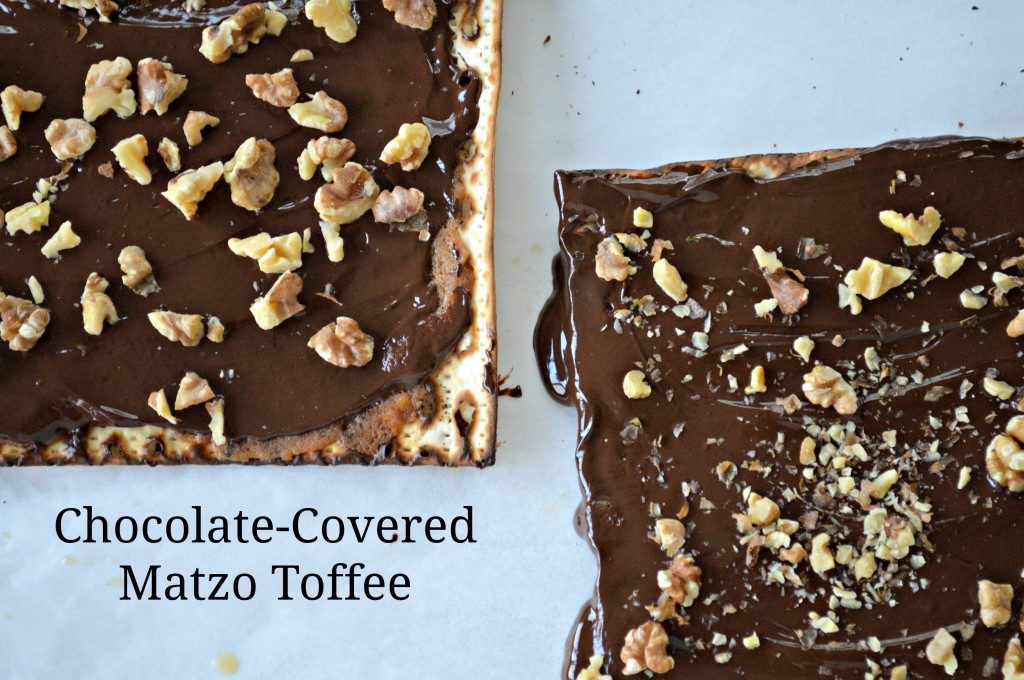 Less than two weeks until Passover begins! Time to start planning the Seder menu. So much of cooking for Passover is about making up for what we can't have during the eight-day festival. Many Passover recipes, especially those for Passover desserts, claim to be "as good as" a regular dessert made with flour and leavening. The author cheerfully declares that he or she would eat this Pesadich dessert all year round – it's that good! Yeah right. Kosher-for-Passover versions of baked goods are almost always terrible – dense and leaden. I'm never making another Passover cake or cookie again. It's just not worth it.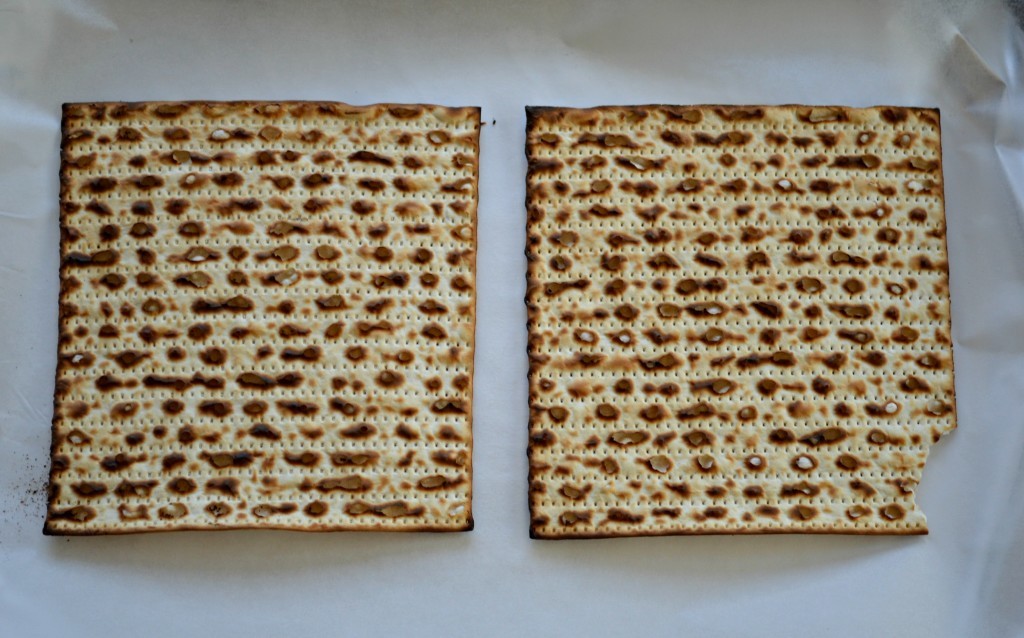 However, I am not quite resigned to serving those creepy Manischewitz jelly fruit slices for dessert at my Seder. (My husband loves those things, by the way.) My approach to Passover desserts is to embrace what we can have, namely matzo. The one Passover dessert that I might seriously consider eating all year round is this chocolate-covered matzo toffee. Then again, if I made it all year round, it might lose its once-a-year mystique.
This recipe is extremely straightforward. It does take a little bit of time, but that is mostly because you have to chill the matzo toffee before adding the chocolate, and then you have to chill it again after adding the chocolate before breaking it into pieces. Speaking of chilling things, I actually store this matzo toffee in the fridge because otherwise I find that the chocolate gets kind of melty.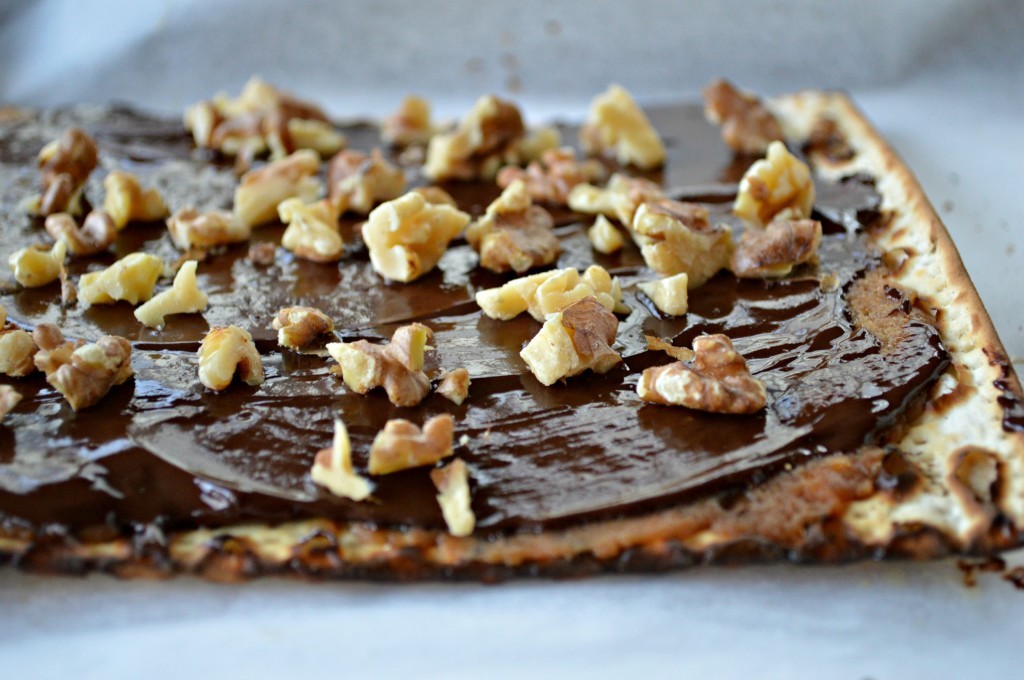 You can top your matzo toffee with chopped, toasted nuts, as I specify below. (Toast nuts in a dry skillet over medium heat for a few minutes until fragrant – watch carefully to prevent burning.) But if you don't care for nuts or have someone in your family with a nut allergy, like I do, feel free to omit the nuts and just sprinkle the chocolate with a little finishing salt. A fun alternative to nuts is dried fruits, like raisins or sour cherries.
I call for Cabot Creamery unsalted butter in the recipe below because its high fat content makes the toffee taste incredibly rich and prevents the butter-sugar mixture from separating. European-style butters also work well. But if you keep kosher or just want to avoid dairy at your Seder, you will get decent results with a Pareve, kosher-for-Passover margarine.  Also if you are keeping Passover very strictly, you will want to look for a Pesadich brown sugar.
So, indulge in a little chocolate-covered matzo toffee this Passover and you won't miss the cakes and cookies.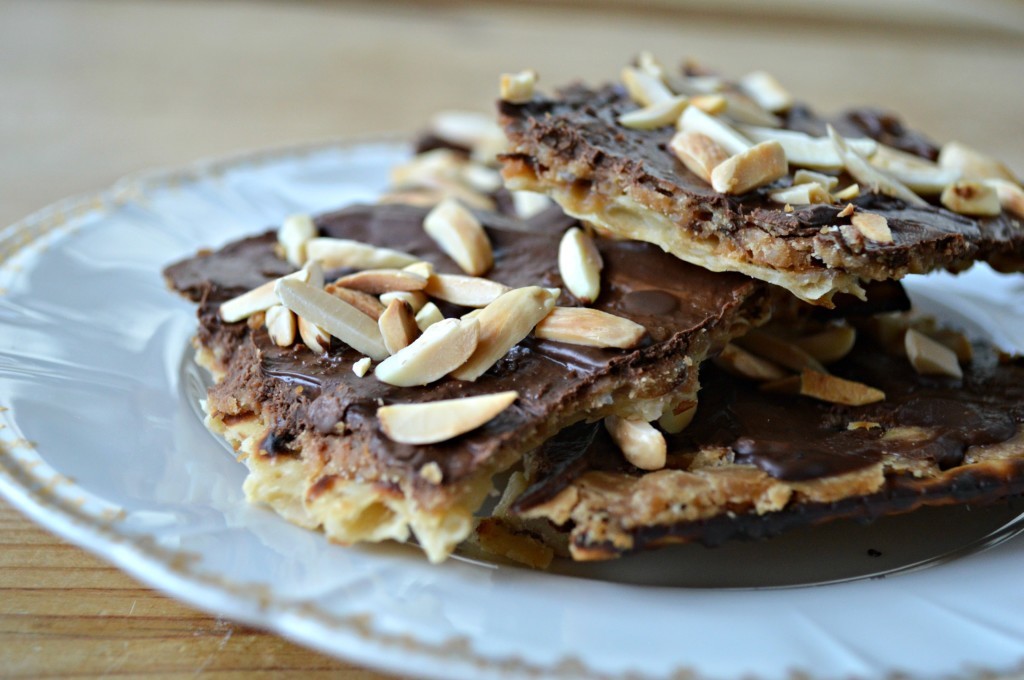 Chocolate-Covered Matzo Toffee
A perfect Passover dessert with crunchy matzo, toffee and chocolate
Ingredients
4 boards of unsalted matzo
1 cup Cabot Creamery unsalted butter
1 cup brown sugar, well-packed
12 oz. semi-sweet chocolate
1 cup chopped, toasted nuts such as walnuts or almonds (optional)
Instructions
Line two baking sheet with parchment paper and arrange two of the matzo boards on each sheet.
In a heavy-bottomed, three-quart saucepan, combine the butter and brown sugar and bring to a boil over medium heat stirring constantly to prevent scorching.
Boil the mixture for 3 minutes or until it reaches 240 degrees.
Carefully ladle the toffee over the matzo boards and spread it out with a spatula.
Transfer the baking sheets to the refrigerator and chill until the toffee is firm, at least ten minutes.
Meanwhile, melt the chocolate in a heavy-bottomed saucepan over extremely low heat or using a double-boiler.
Ladle the melted chocolate over the toffee-covered matzo and spread into an even layer with an offset spatula.
Sprinkle the chopped nuts or other toppings, if using, on top of the still-warm chocolate.
Transfer the baking sheets back to the refrigerator and chill until the chocolate is hardened.
To serve break into pieces.