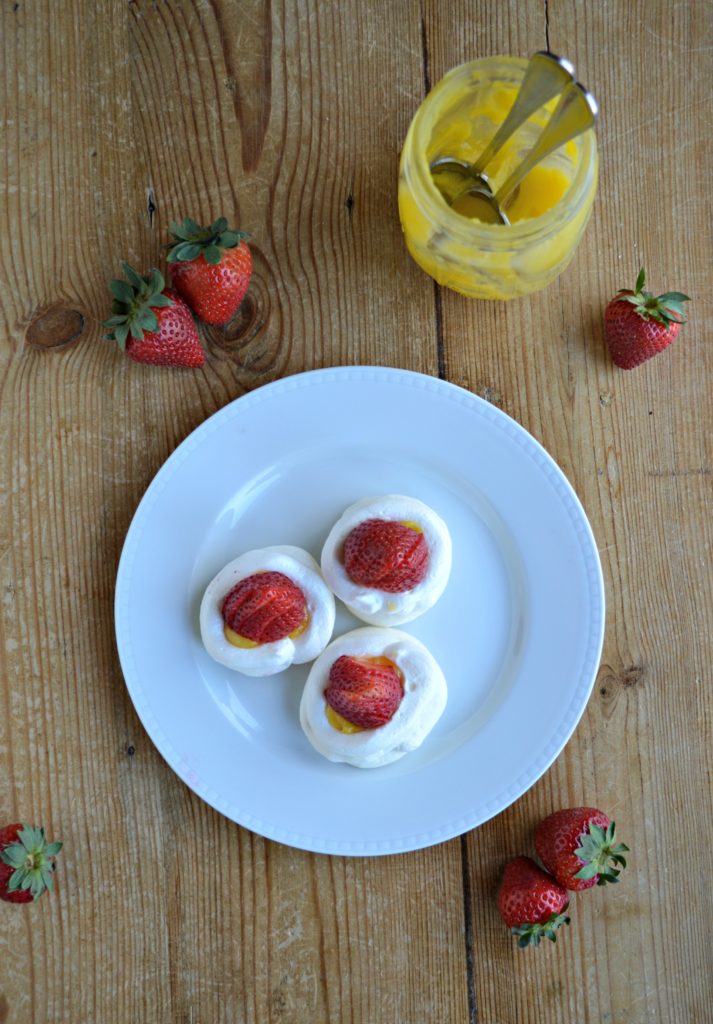 This is the dessert that I wish I had made for my Seder last year: bite-sized meringues shells filled with luscious lemon curd and topped with a juicy strawberry.  The dessert that I actually made was saucer-sized meringues filled with sliced, macerated strawberries and topped with a dollop of lemon curd. They looked great . . . but there was too much meringue and not enough filling.  The meringues were so large that it was hard to know how to eat them. The cookies shattered, spraying crumbs everywhere, as my guests tried to break them apart with their forks.
But I am giving this concept — meringue, lemon curd and strawberries — another try taking into account my husband's constructive feedback about the filling-to-meringue ratio. What I realized is that I needed to pipe out the meringues rather than using a spoon to drop them on the baking sheet. By piping out the meringues, I could make them bite-sized yet deep enough to hold the lemon curd.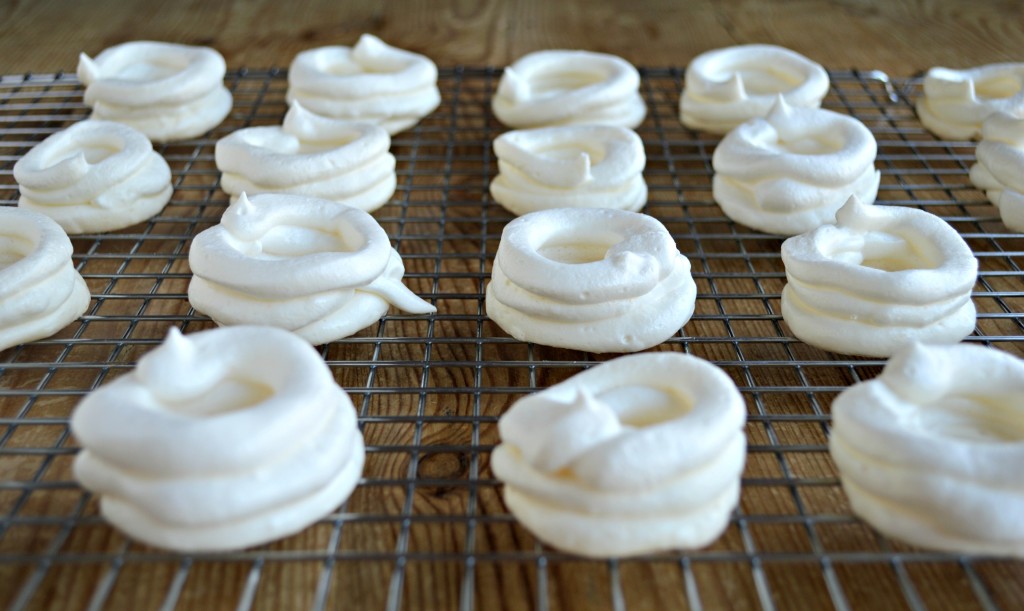 Meringues and lemon curd are a match made in heaven: one uses egg whites and the other uses egg yolks. If you want to make your own lemon curd, which I highly recommend doing, you can adapt this recipe for lime curd using lemon juice and zest. If not, feel free to buy jarred lemon curd.
Once you have the trick of piping out these little meringue shells, the possibilities are endless. My mom once suggested that I top them with dark chocolate. Mom is biased in favor of dark chocolate, but she may well be onto something. Don't have lemon curd? Fill your meringue shells with raspberry jam and top them with a morsel of bittersweet chocolate. Want to get really fancy? Fill your meringues with a tiny scoop of ice cream and top with chocolate sauce. Now that dessert would be sure to receive some compliments.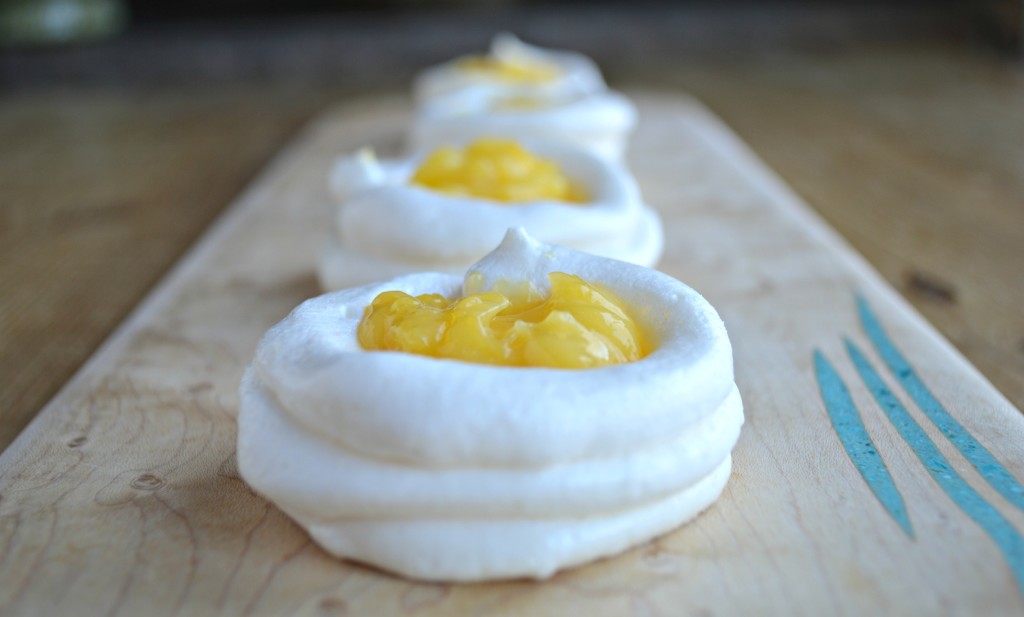 While meringue desserts are classic for Passover, they are useful far beyond the confines of the eight-day festival. Stumped about what to serve a gluten-free dinner guest? Meringues are perfect. And, as I have mentioned before, they are a great treat for dieters.
Have you planned your Passover menu yet?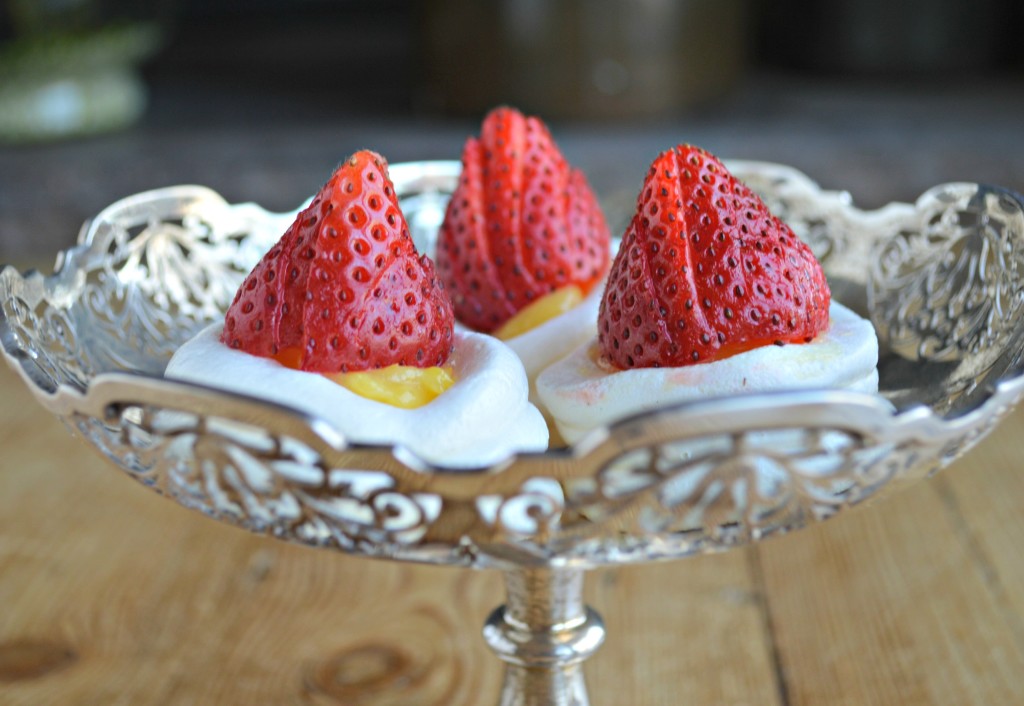 Mini Pavlovas with Lemon Curd
Prep time:
Cook time:
Total time:
A gluten-free, kosher-for-Passover dessert of meringue shells filled with lemon curd and topped with juicy strawberries.
Ingredients
4 large egg whites at room temperature
1 tsp. vanilla extract
¼ tsp. cream of tartar
1 cup superfine sugar
1 pint lemon curd
2 quarts fresh strawberries
Instructions
Preheat oven to 225. Line two baking sheets with parchment paper or a Silpat baking mat.
Place the egg whites in the scrupulously clean bowl of a standing mixer fitted with the whisk attachment. Add the cream of tartar and vanilla extract.
Turn the mixer to high and begin beating the egg whites.
Gradually add the sugar, a tablespoon at a time, and continue beating the egg whites until the meringues can hold stiff peaks.
Transfer the meringue to a pastry bag fitted with a large tip or a gallon-sized Ziploc bag. (If using a Ziploc bag, squeeze meringue into one corner and snip off the tip with scissors.)
Pipe out an Oreo-sized circle onto one of the baking sheets. Then pipe around the edge of the circle three times until you have made a small cup. (The meringue won't change shape in the oven so what you see is what you will get.)
Pipe out the remaining meringue -- this amount should make about three dozen cookies -- and bake for two hours.
Cool meringues on a wire rack. Meringues may be made in advance and stored for several days.
To make the dessert, fill each meringues with about ½ tsp of lemon curd. Top with a hulled, sliced strawberry.
Serve cookies shortly after filling.