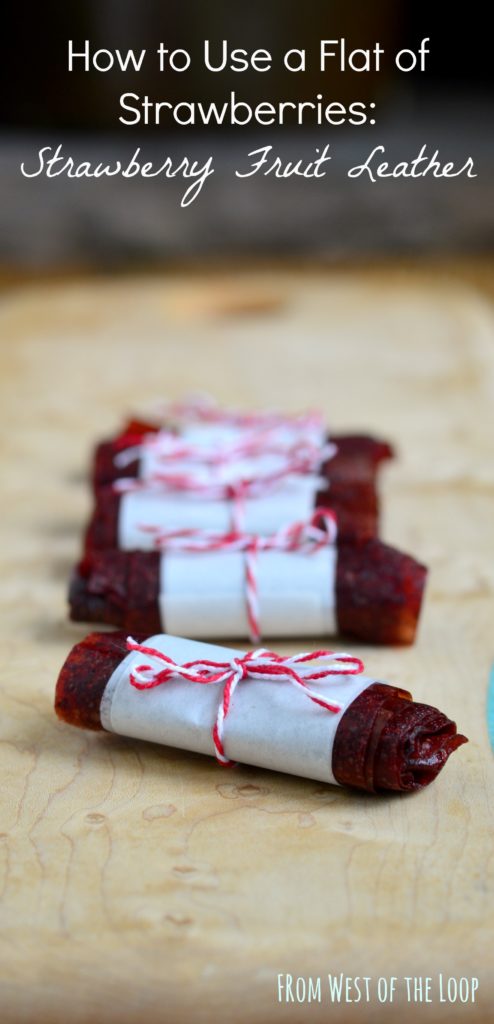 Another day, another strawberry post. I'm still working off that same flat of strawberries I bought at the farmers' market last week.  Today's project is homemade strawberry fruit leather. You may recall that I tried my hand at mango fruit leather a few months ago. That project was fun and easy and everyone enjoyed the results. So when faced with eight quarts of strawberries to use in a short period of time, I naturally thought again of fruit leather.
Strawberries are much more tart than sweet, tropical mangos. So while I was able to make mango fruit leather with almost no added sugar, I knew that I would not be able to get away with that here. Indeed, in an effort to sweeten my fruit leather without sugar, I combined my quart of strawberries with a nice, ripe mango that I happened to have sitting around. So this is really strawberry-mango fruit leather, which sounds even better.
To make the fruit leather, I pureed the fruit and sugar in a food processor or high-speed blender. I used one tablespoon of sugar but given how tart my final product is, I probably should have added more.  You want the puree to taste quite sweet because it will get more tart as it dries.
Next, I lined two half-sheet pans with parchment sprayed with a little nonstick cooking spray and preheated my oven to its lowest setting, 170 degrees. I spread the fruit puree on the sheets in a very thin, even layer. You want the puree, when spread out, to be no more than 1/8 inch thick or it will not dry all the way through. Also, make it as even as you can.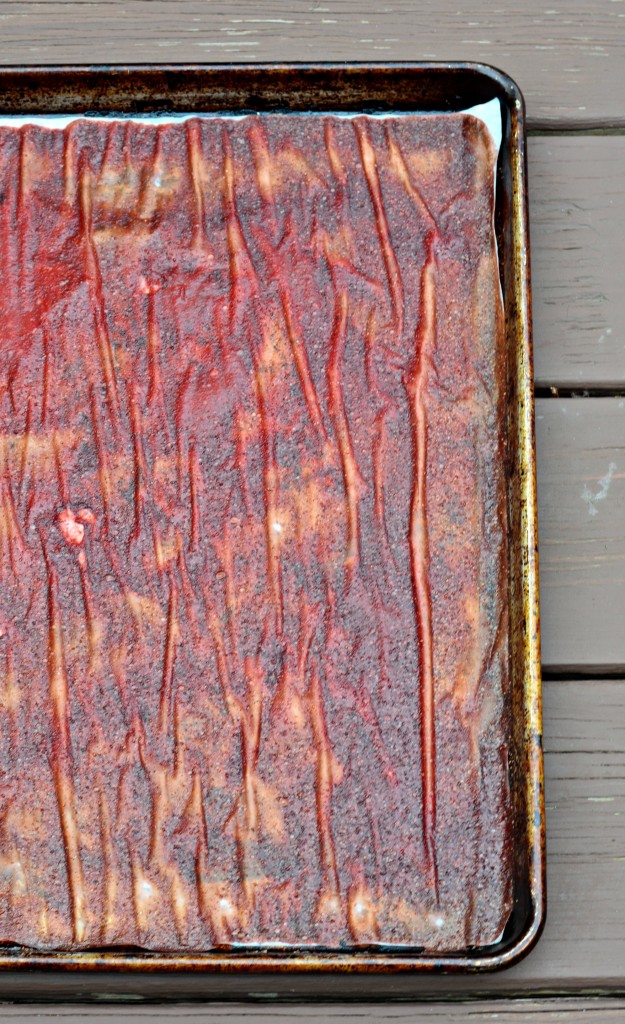 Dry the sheets in the oven for up to 6 hours. Yes, it really takes that long to get dry, pliable strips of fruit leather. Feel free to start checking after four hours or so. But expect it to take as long as six or even seven hours. You will know your fruit leather is ready because it will be dark, dry – if somewhat tacky – to the touch and will peel off without leaving behind residue. But it is possible to burn fruit leather, so don't forget about it! If you feel like it is almost done, turn off the oven but let the trays sit in the warm oven for a little while longer.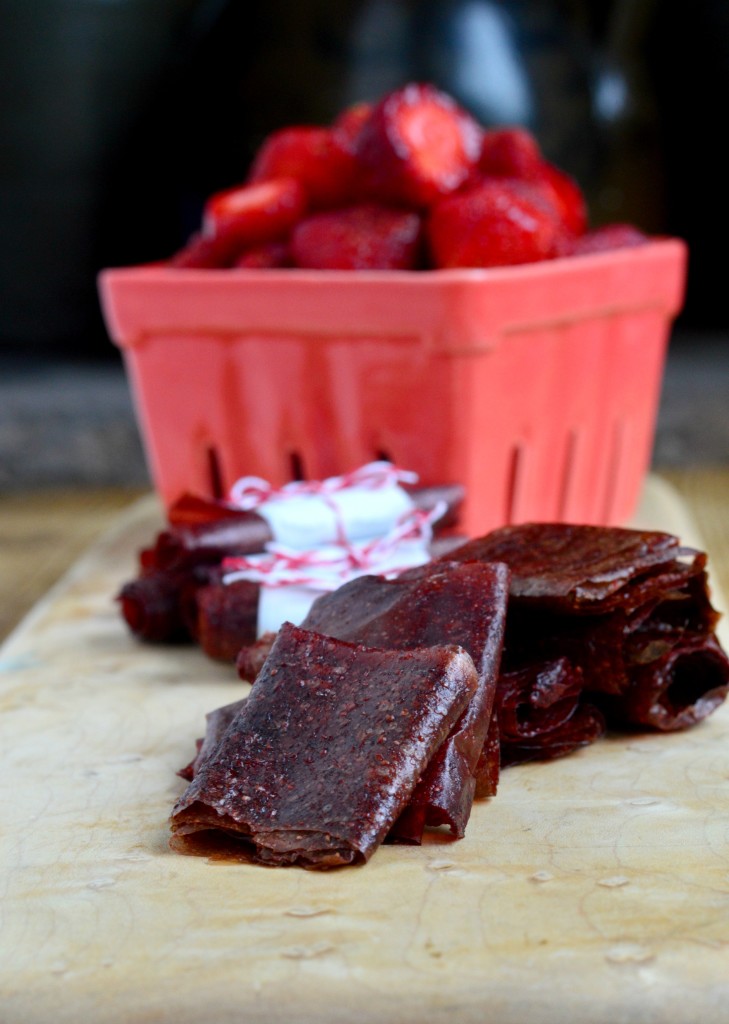 When done, peel the fruit leather off the parchment paper or Silpat and cut into strips using clean kitchen shears or a pizza cutter. If desired, you can roll your fruit leather up for storage purposes. It looks very professional that way, especially if wrapped in paper and tied off with some twine.
How many quarts is that? I've lost track.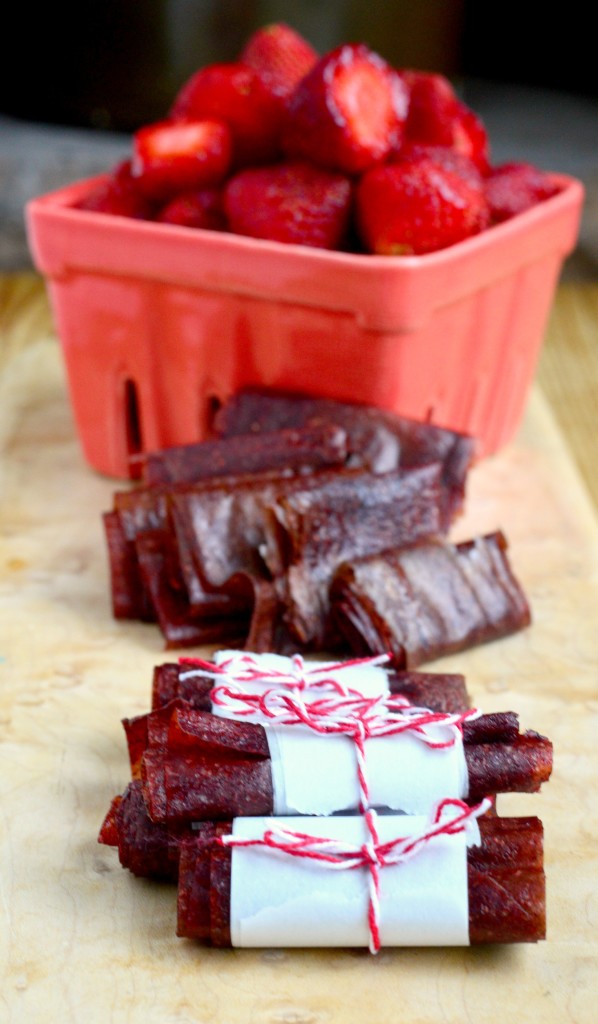 Strawberry Mango Fruit Leather
Prep time:
Cook time:
Total time:
Homemade strawberry-mango fruit leather with no special equipment needed! A fun, easy DIY project with delicious, healthy results.
Ingredients
1 quart strawberries, hulled
1 ripe mango, peeled and chopped
Sugar to taste
Instructions
Preheat oven to its lowest setting, somewhere around 150 to 170 degrees.
Line two half-sheet pans with parchment paper or a Silpat baking mat.
Puree the strawberries and mango in a food processor or high-speed blender.
Taste the puree and add sugar if needed. (Feel free to use more or less than the amount called for.)
Spread the fruit puree in a thin, even layer on the baking sheets. The puree should not be more than ⅛ thick. (To measure, stick a skewer in the puree and then measure how far up the skewer the puree comes.)
Dry the puree in the oven until darkened, dry to the touch and pliable, approximately six hours.
Peel the fruit leather off the Silpat or parchment paper and cut into strips.
Store in an airtight container.