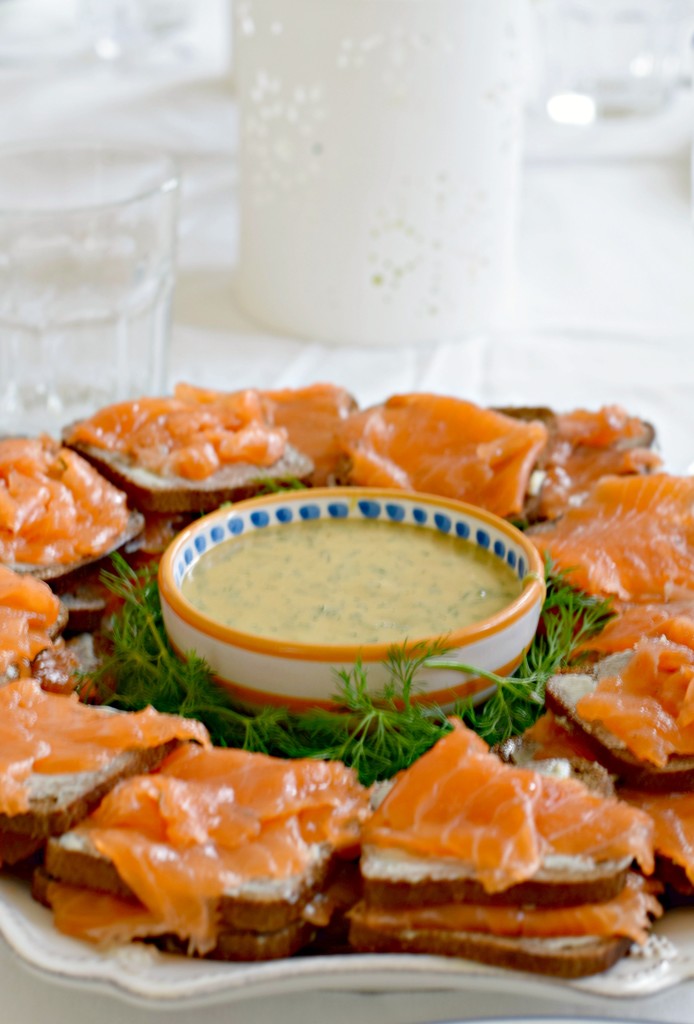 Are you looking for the perfect appetizer to wow your guests this New Year's? I have just the thing: gravlax. This Scandinavian cured salmon is part of my family's holiday celebration every year and every year we ask ourselves: why don't we make this more often? Goodness knows it is not hard. The catch? You have to plan in advance — three days in advance to be precise.
Gravlax is salmon that has been lightly cured in salt and sugar, not smoked like lox. Once cured, the gravlax are sliced paper-thin and topped with a dill mustard sauce. We serve the salmon on slices of buttered pumpernickel but boiled potatoes are also a traditional accompaniment.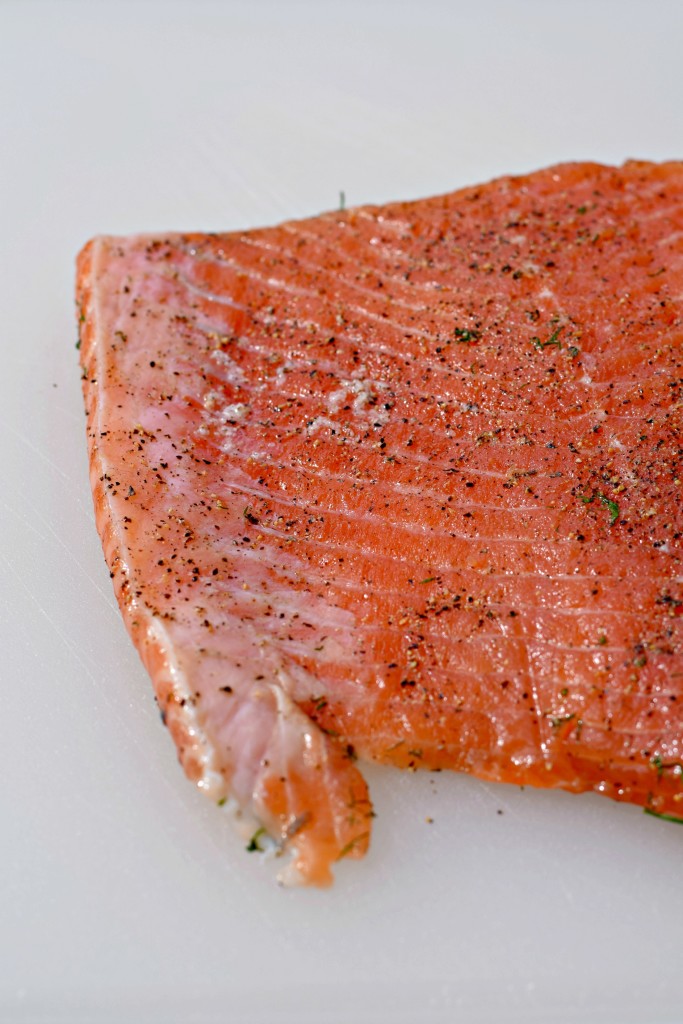 Because it is only lightly cured, the salmon retains a clean, bright flavor. It is not overwhelming salty or fishy. And the texture is pure silken luxury. Gravlax tastes like fancy party food, but because you can make it yourself, it is actually not as  expensive as it appears.
To make gravlax at home, you need to source three pounds of sushi-grade, center-cut salmon filets. Ideally, the two halves would come from the same fish — they just fit together better that way. But if the two sides are from different fish, it is not the end of the world.
Then you make a cure of salt, sugar and peppercorns and sprinkle it over the fish. Add dill and then cover and weight down the fish before refrigerating. Each day, check the fish once, turn it and baste it with the liquid that the fish has thrown off. Then cover and weigh down again. If your fish is not giving off liquid, you need to add more weights. After three days, the salmon is ready to serve.
Now the fun begins. For true gravlax, you have to slice the salmon paper-thin and although I hate to recommend special equipment just for one recipe, you really need a special knife to do this right. A salmon knife has a 10-12 inch, thin, flexible blade and a rounded tip. I gather that this kind of knife also comes in handy for slicing ham, turkey breast and roasts. I'm sure you can find an adequate salmon knife for around $50 but a really good one will set you back closer to $150. Wüsthof makes a particularly nice one.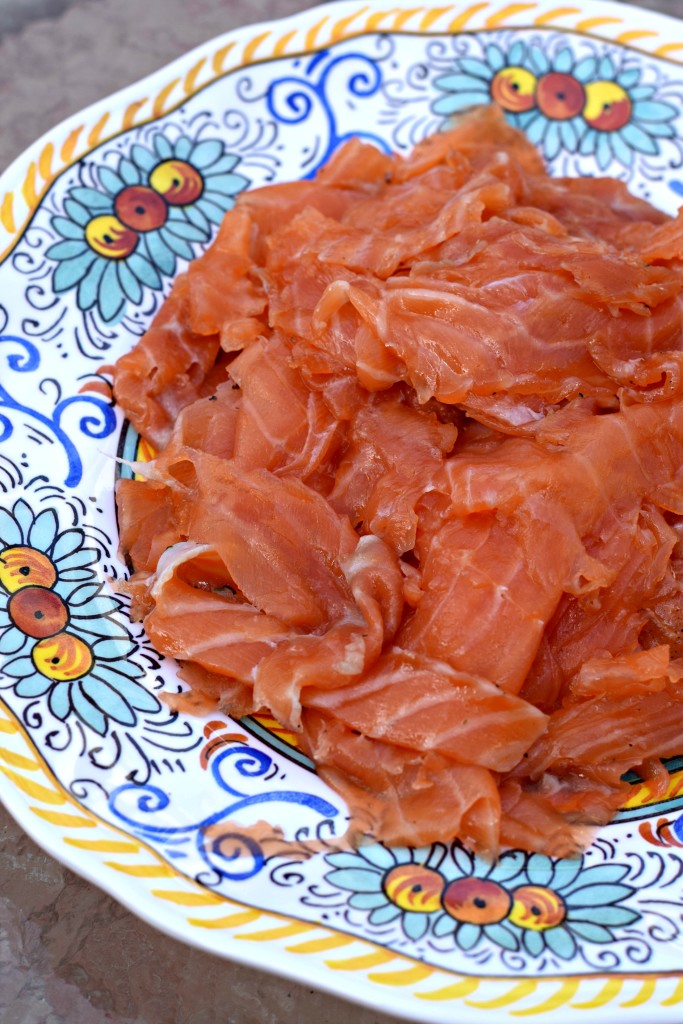 My father used to be the one to slice the gravlax in our family, and he made a bit of a production of it. I would stand next to him as he wielded his salmon knife ready to transfer the translucent slices of fish to the waiting pieces of buttered pumpernickel. I always looked forward to this little ritual which we would perform once on Christmas Eve, with the first salmon half, and again the next day, with the second half.
Now that my father is gone, I both slice the salmon – with my father's voice in my head cautioning me to slice even thinner — and assemble the canapés. I take pride in carrying on the tradition, although I mostly wish my father were still here to do it himself.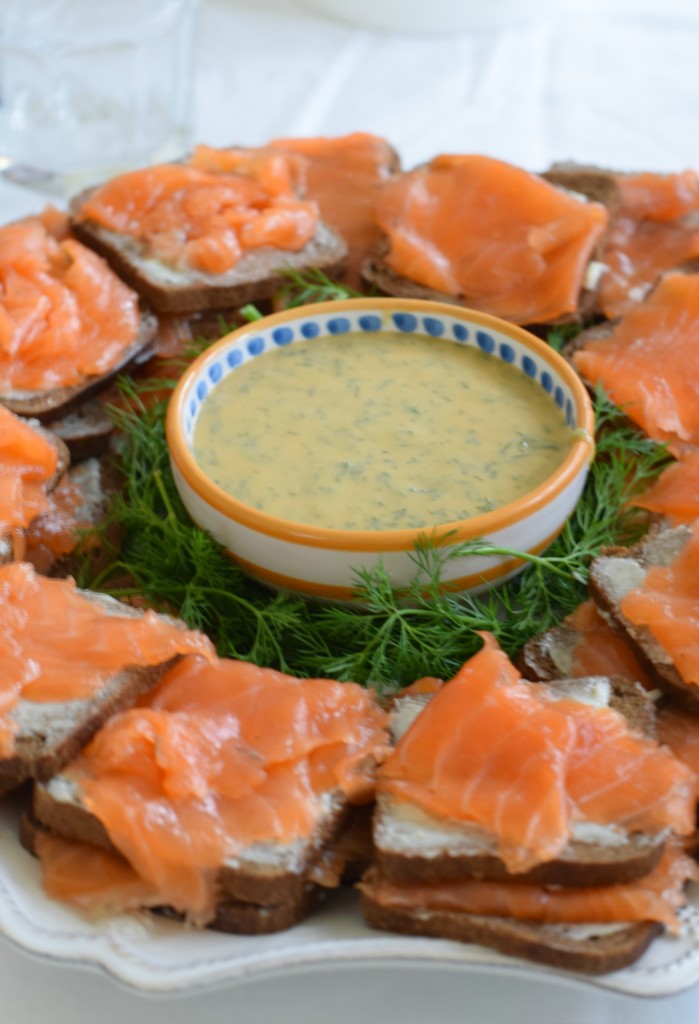 The traditional accompaniment to gravlax is a dill mustard sauce. You can often find jars of this sauce at the fish counter. We make our own using honey mustard, Dijon mustard, apple cider vinegar, a little oil, sugar and chopped fresh dill. I would give you a recipe, but we just do it to taste. The sauce should be sweet and sharp.
Although we serve gravlax as part of our Swedish-inspired Christmas Eve celebration, it would make an outstanding hors d'oeuvres for any party, especially a special occasion such as New Year's Eve. You still have enough time to get your gravlax made by the 31rst, so why not get started? I guarantee that you will have very impressed guests. And I won't tell them how easy it is to make the gravlax if you won't.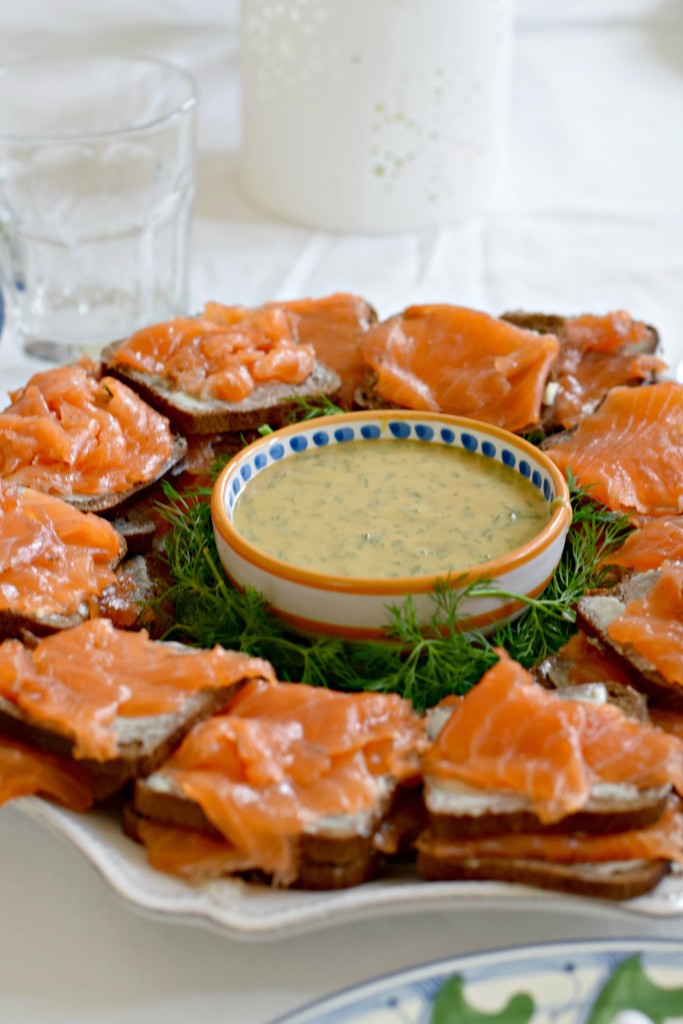 Ingredients
2 center-cut salmon filets, weighing 3 lbs, deboned
1 TB white peppercorns, crushed
1/4 cup each salt and sugar
1 bunch dill
1 stick butter, softened
1 loaf cocktail-sized pumpernickel
Dill mustard sauce
Instructions
Check the salmon carefully for bones.
Mix the crushed peppercorn, salt and sugar in a small bowl.
Sprinkle the mixture over the top of one of pieces of salmon. Roughly chop the dill and place it on top of the same piece.
Place the second piece of salmon on top of the first piece. The skin of both pieces should be on the outside.
Place the fish in a baking dish. Place heavy objects such as canned goods on top of the fish to press down on it. Cover with foil and refrigerate for 72 hours.
Once a day, uncover the fish, and turn it over. The fish should give off liquid, which you should use to baste it. Replace weights and cover and return to refrigerator.
On the third day, take the fish out and uncover it. Scrape the salt off the top of the two pieces.
Slice the salmon into thin slices. The best way to do this is to use a salmon knife and slice the salmon lengthwise using a slow, back and forth motion. You are aiming for translucent, paper-thin slices.
Continue slicing until you reach the skin.
To serve, butter slices of pumpernickel and top each with a piece of salmon. Serve with dill mustard sauce.
Once cured, the gravlax with last for several day in the refrigerator. But because the fish is only ghtly cured, it is fairly perishable.
http://www.westoftheloop.com/2015/12/25/gravlax-for-new-years-eve/