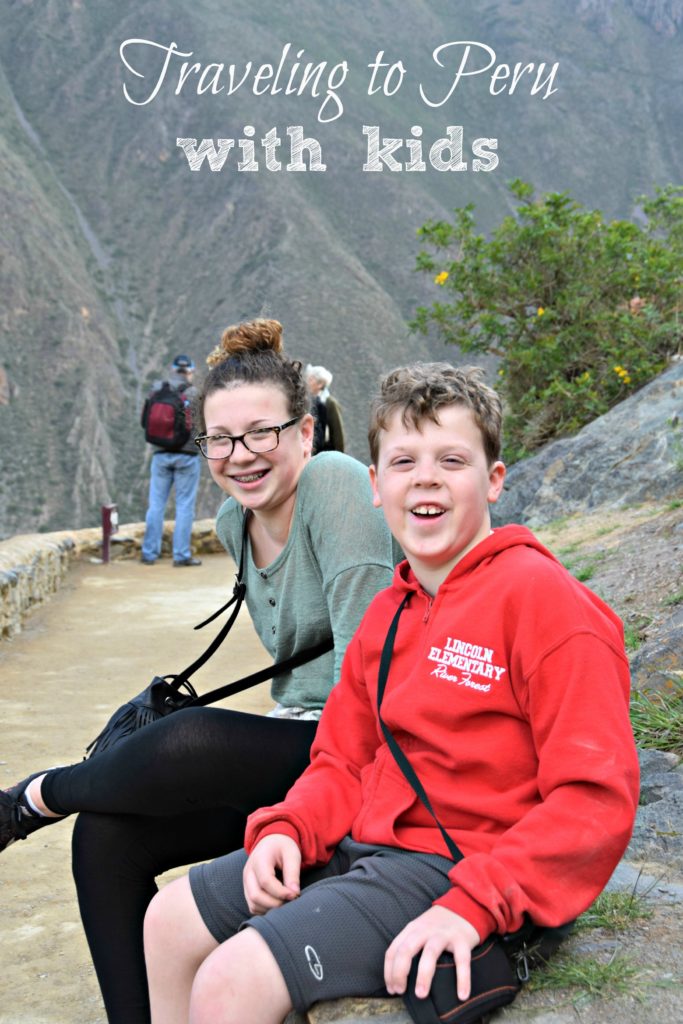 Ever since we returned, I have been raving about the family trip we took to Peru over the holidays. To everyone who inquires, especially other parents, I enthusiastically recommend visiting this fascinating and friendly country.
And so it occurred to me that I could use this forum to explain to a larger audience why I think Peru is such a worthwhile destination and with luck, help some families who are planning their own once-in-a-lifetime trip to Machu Picchu and beyond.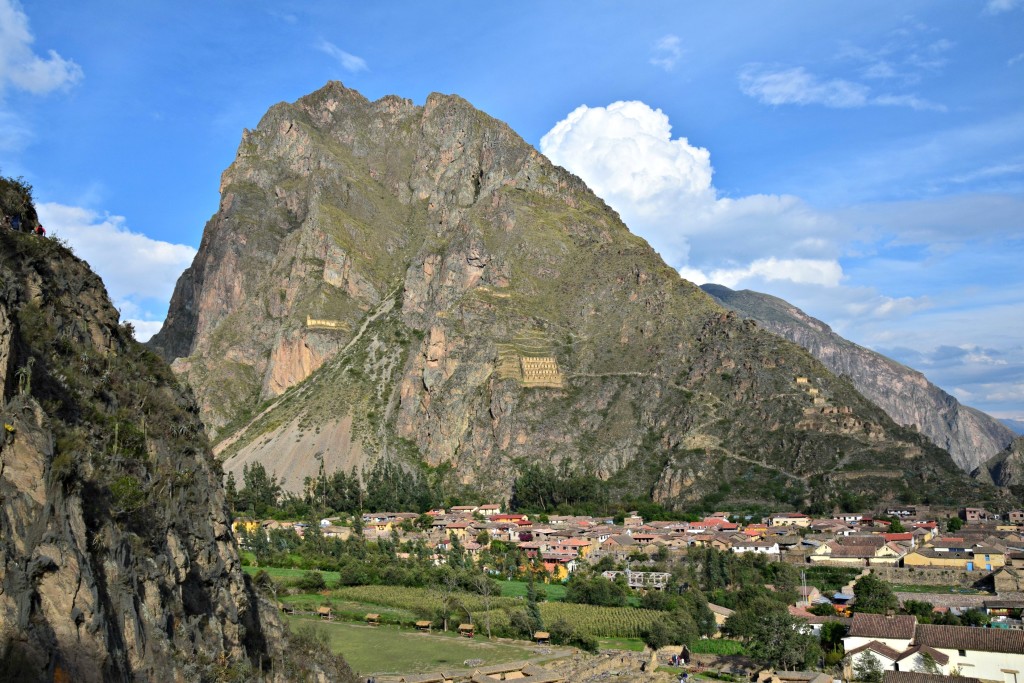 Why do I think Peru is such a perfect family destination? Because it is a country full of ancient history and fascinating pre-Colombian culture with a world-famous cuisine, astounding biodiversity, sophisticated tourist infrastructure and some of the warmest, friendliest people I have ever encountered. Oh, and you can fly there without experiencing any jet lag. Fly six hours from Miami and it's six hours later. You hit the ground running as soon as you land.
The impetus for our trip was my mother, who expressed a desire to see Machu Picchu while she was still fit and strong enough to handle the physical challenge that it presents, especially given the altitude. A year ago, she asked me if we would consider going with her.
My first reaction was to refuse. Peru with my kids? Too difficult! And the kids wouldn't appreciate it. But then I thought: I would be crazy to turn down a chance like this. My children, who at the time of the trip would be 8 and 12 years old, would remember for the rest of their lives that they visited Machu Picchu with their grandmother.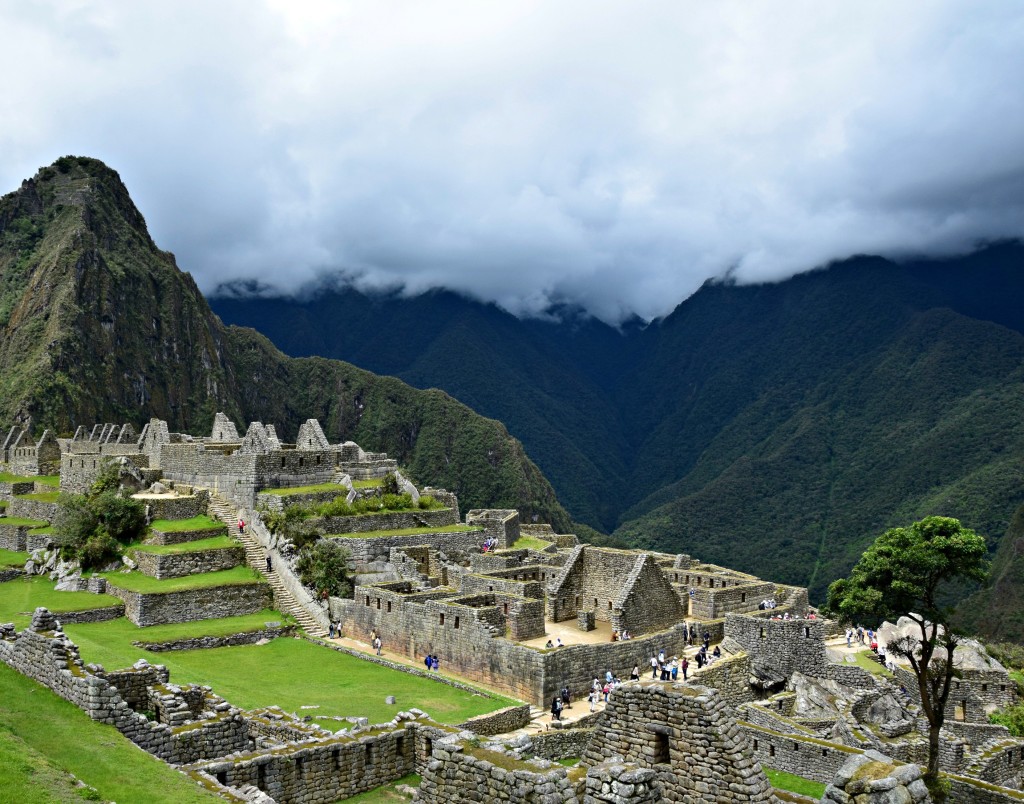 Tip 1: Don't be intimidated by the so-called developing world. And so, we began planning. I was pleasantly surprised to learn that although Peru may seem like an exotic destination, it is not a particularly hard place to travel to. You don't need a visa. You do not need any special shots, unless you plan to travel to the Amazon.
And yes, it is quite safe, so long as you exercise basic common sense. Machu Picchu and Cusco are popular tourist destinations and have excellent infrastructure. (Don't drink the water, but rely on bottled instead. It is provided in most hotels. None of us experienced anything more than minor tummy upset the whole time.)
Tip 2: Use a Travel Agent. Although my mother and I are both experienced travelers, for a destination like Machu Picchu, in an unfamiliar country such as Peru, we used a travel agent. It helped that my mother knew a family that had traveled to Machu Picchu with kids who were close in age to ours, which not only gave us the confidence to take the trip, but meant we did not have to look far for a travel agent.
The logistics of a trip like this one are difficult: there is a lot of internal travel, by plane, train and car, as well as many different kinds of tickets and reservations. A travel agent will put together an itinerary that actually makes sense as well as take care of the internal travel arrangements, reservations and other logistics that are hard to accomplish from the States. (You can still book your international flights by yourself if you enjoy that kind of thing, which my husband does.)
Tip 3: Hire a Guide. Our plans included a guide for the whole trip, which is obviously expensive. You can certainly use a guide only for selected days to cut costs. But I highly recommend securing a guide for Machu Picchu itself and possibly other parts of the Sacred Valley and nearby Cusco. Your travel agent can help find a reliable and trustworthy guide.
Not only did our wonderful guide, Edwin, who is a native of Cusco, make sure that all of our travel and other logistics went smoothly, but also he explained the history and culture of the region in a way that made the sights come alive — far more than any guide book could — especially for our children. In addition, the mere presence of another adult, not part of our family, ensured that our children behaved well and kept the complaining to a minimum.
As an example, on our second day in Machu Picchu, we hiked to the Sun Gate, which is a challenging, hour-long hike, especially given the altitude. My son is not known for his love of hiking. Indeed, he is apt to regard a short walk as a forced death march requiring humanitarian intervention. But when Edwin told JR that he was the youngest person he had ever guided to the Sun Gate, JR was so determined to prove he could make it, he barely complained. We were astonished.
At Machu Picchu, there in one hotel right outside the park, the Belmond Sactuary Lodge, but we opted to stay in the nearest town, Aguas Calientes. Sanctuary Lodge is very expensive because so many people are willing to pay a premium to be right outside the park and it was not worth it for us. You may feel differently.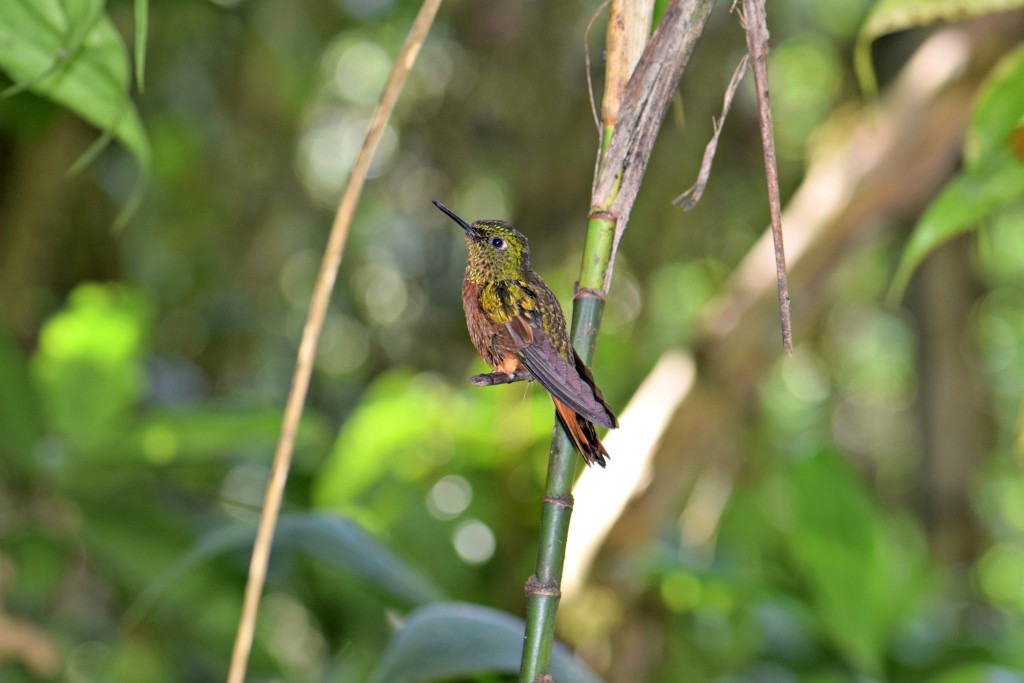 We really enjoyed our hotel, the Inkaterra Machu Picchu Pueblo, which is in the style of an eco-lodge. The grounds of the hotel have collections of orchids, butterflies and hummingbirds to showcase the cloud forest ecosystem. Whether or not you stay there, the gift shop at the Machu Picchu Pueblo hotel has a well-curated selection of handmade gifts and souvenirs that is worth checking out.
Not staying right outside Machu Picchu means a harrowing bus ride along the side of the mountain to get to and from ruins. Lines for the bus, especially coming down, can get very long, which is not fun for kids. If you visit the ruins in the afternoon and leave late, the lines are shorter. Our second day, we left the park right at lunchtime and the line for the bus was intimidating. We split up so I could take the kids to the snack bar while the other adults stood in line.
Tip 4: Consider the off-season. Late December is the rainy season in the Andes and not the high tourist season. That meant that Machu Picchu was less crowded than it is at high season — and I thought it was plenty crowded! We were very lucky and had terrific weather in Cusco and Machu Picchu despite it being the rainy season and were very glad to miss the crowds. Do not try to go in February, however. The park is closed.
Don't forget to get your passports stamped at the special passport station inside Machu Picchu! (And yes, you need to bring your passports with you.) Aguas Calientes is not a particularly nice town, so we mostly stayed at our hotel when not at Machu Picchu itself. We did enjoy our lunch at El Indio Feliz, a funky restaurant in Aguas Calientes with vaguely French cuisine.
Tip 5: Look beyond Machu Picchu. Although Machu Picchu was the inspiration for our trip, we made time to see other sights in the Sacred Valley, the nearby colonial city of Cusco and Peru's capital, Lima. We especially enjoyed the ruins of Ollantaytambo and our lunch at the Wayra Ranch in Urubamba. The Wayra Ranch is situated in a beautiful spot at the foot of the Andes and the delicious and copious lunch is served outside in the shade. After the meal, there is a demonstration of Peruvian paso horses. My kids even got to ride!
Cusco is a must-see, with Incan walls and structures everywhere you turn. The Spaniards used those walls to build their own buildings, so that, for example, what had once been the Incan temple of Koricancha became the Catholic convent of Santo Domingo. Cusco's cathedral boasts spectacular art by indigenous artists, many of whom incorporated the local flora and fauna into traditional Christian subjects. And just outside the city are the ruins of an enormous Incan fortification, Sacsayhuamán.
Cusco is accustomed to tourists and has many outstanding hotels, restaurants and shops. Peruvian cuisine is one of the world's best, but rest assured that you can also find pizza and pasta in Cusco, if you have children with limited diets, like mine. We especially enjoyed our meal at Incanto, a restaurant just off the main square that is built on the stone walls of an Incan palace.
In all places, I was able to communicate easily to restaurant and hotel staff that Zuzu had allergies to nuts and peanuts, both of which are fairly common ingredients in Peruvian food. Speaking of communicating, I brushed up my college Spanish before we left, and made an effort to use it, which was appreciated. But in tourist areas, most of the hotel and restaurant staff spoke English.
Tip 6: Don't Skip Lima. We spent a few days in Lima at the end of the trip. Initially I was sad to be leaving Cusco before we had explored it all and was skeptical that Lima would be worthwhile. But then I fell in love with this city on the Pacific.
As much as I enjoyed visiting the historic sights of Machu Picchu and Cusco, I was thrilled to be in bustling, modern, cosmopolitan Lima. My children enjoyed it too. It might have had something to do with the reliable Wifi and rooftop hotel pool.
Lima is a city of neighborhoods and it is incredibly large and sprawling. We stayed in the upscale quarter of Miraflores, right by the ocean and loved it. We also enjoyed visiting the bohemian neighborhood of Barranco. With beaches, world-class restaurants and beautiful buildings, I could picture myself living in Lima — except that I would be terrified to drive there!
You do need to exercise caution in Lima, as with any large city. Our hotel, which we loved, had a car and driver on staff that we could use to go out and return home at night, which was more comfortable than hailing a cab.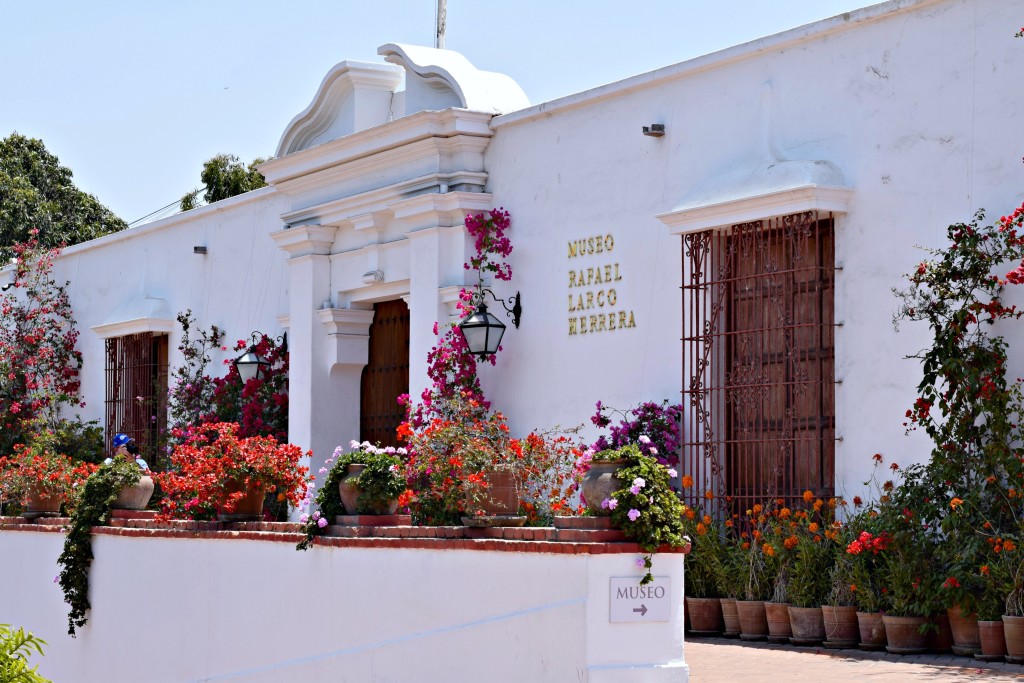 If you have time to do only one thing in Lima, visit the Museo Larco, a private museum with an outstanding collection of pre-colonial artifacts from textiles and pottery to jewelry and weapons. JR was utterly riveted by everything he saw in the museum — you can even visit the behind-the-scenes storage.
But this was the only moment of the trip when Zuzu seemed bored. We let her play games on her iPhone so that the rest of us could take out time poring over the exhibits. Luckily, we all enjoyed lunch at the restaurant in the beautiful museum gardens. I also think a visit to Lima's Surquillo Market is worthwhile.
Lima is home to some of the world's best restaurants, but with children, elaborate tasting menus are not realistic. For an interesting experience, make a reservation at the restaurant Huaca Pucllana, which overlooks ruins of a 5th century adobe temple.
I was determined to eat at one restaurant owned by Peru's celebrity chef Gaston Acurio, but his signature restaurant Astrid y Gastón was far too fancy. So we opted instead to eat at one of his more casual restaurants La Barra, the menu of which is built around shared plates. The atmosphere was perfectly appropriate for families, but we struggled to find dishes to order that accommodated Zuzu's allergies and JR's and my husband's limitations. A less difficult family would do fine. I will say that the service was lovely and my college Spanish got quite a workout!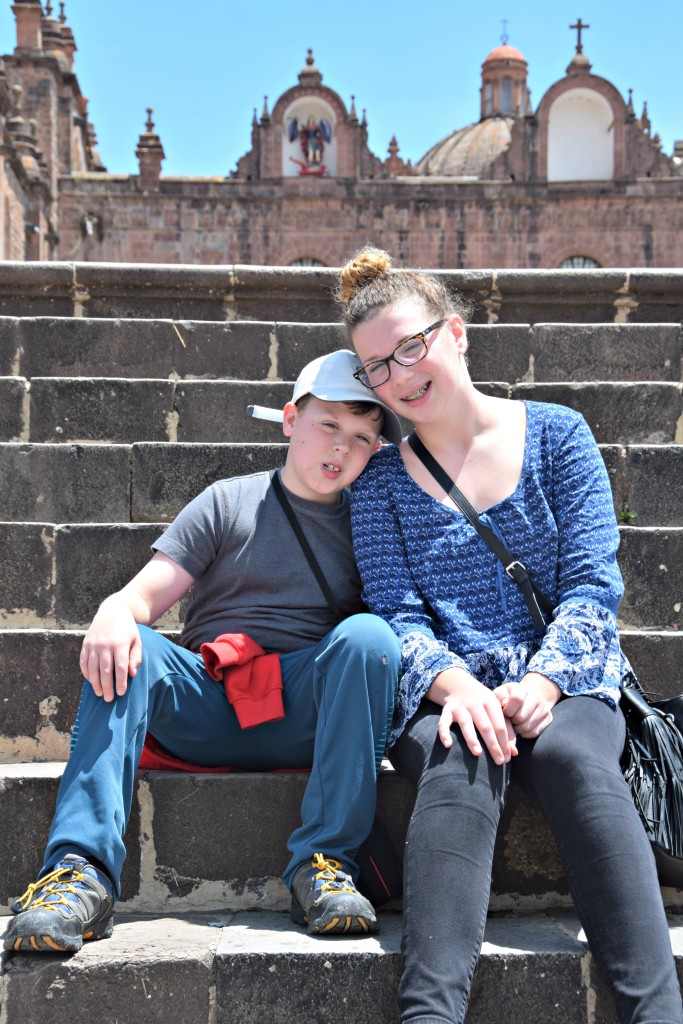 In all, our trip was ambitious and challenging. But it was one of the best trips of our lives. Although taking the children to Peru was in some ways more difficult than taking them to Europe, in many ways, it was actually easier. The children seemed to appreciate ruins and mountains more than the churches and museums of a European city. The Peruvian people were unfailingly warm and open, especially to the children whereas Europeans can be more reserved. And did I mention no jet lag?
We were so charmed by the Peruvian people and surprised at the ease of the travel, my whole family wants to visit other destinations in South America as soon as we can. Patagonia? The Galapagos? We are talking about them all. I cannot wait to return to Peru and explore more of South America.
Feel free to email me with specific questions about traveling to Peru with children.