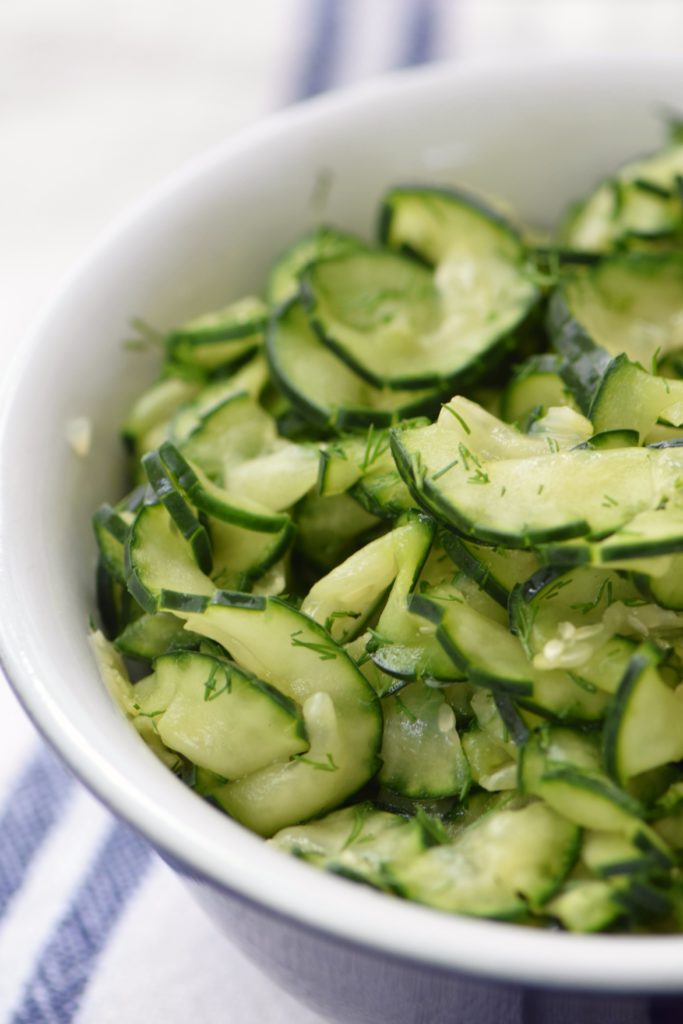 I write a lot about my Jewish heritage and how it has shaped me as a cook, but I have another set of culinary influences on my mother's side of the family and those influences are Swedish. I had one Jewish grandmother and one Swedish grandmother. So I get to claim both culinary traditions.
My Swedish half's time to shine is Christmas, which makes sense. Christmas was certainly not going to be a culinary highlight for my Jewish side. My mother makes a traditional Swedish smorgasbord for Christmas Eve — although I must confess that it has gotten less traditional since my husband, who doesn't eat pork, joined the family — with such delicacies as homemade gravlax, pickled beets, Swedish meatballs and more.
One of the highlights, for me and just about everyone else, of Meme's Swedish Christmas Eve is her pickled cucumbers. Sliced paper-thin, salted, drained and then covered in a sweet vinegar brine, these quick-pickled cucumber are light and incredibly refreshing amidst a heavy Scandinavian meal of meat, cheese and potatoes.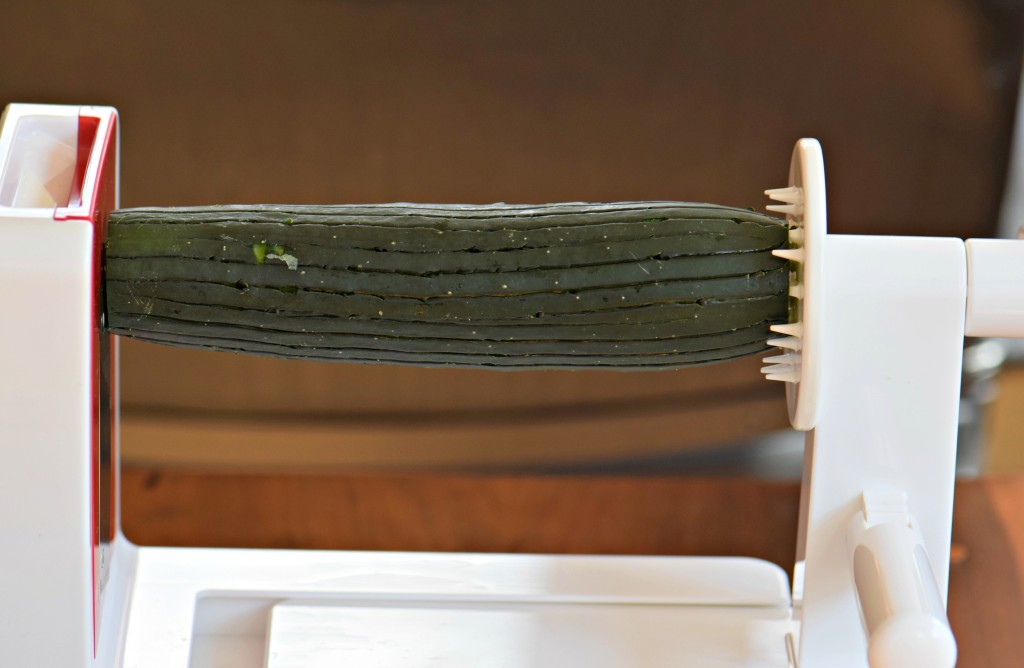 So when I was offered an opportunity to try OXO Good Grips new Spiralizer, my first thought was to use the ribbon blade to make Meme's pickled cucumbers because, honestly, slicing all those cucumbers paper-thin is a pain. And a dish as beloved as this one should not be reserved for Christmas. To the contrary, I want to make these quick-pickled cucumbers in summer when cucumbers are at their peak and cold, refreshing dishes so welcome.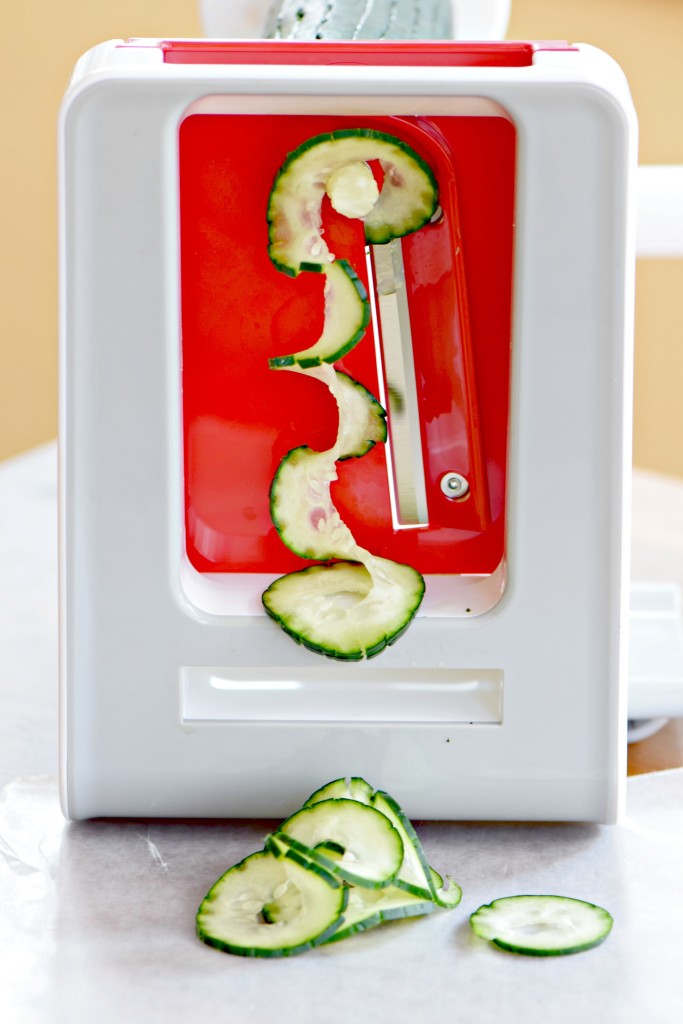 Of course, cucumbers are only one of many vegetables, and fruits, that work in the OXO Good Grips Spiralizer. Zucchini are the classic veggie to spiralize, but you can also use potatoes, sweet potatoes, beets, carrots (thick ones), daikon radish, and even apples.
With three stainless steel blades, the OXO Good Grips Spiralizer can make create spaghetti cuts (1/8th inch), fettuccine cuts (1/4th inch), or ribbon cuts, and the removable box keeps blades clean, safe and organized when not in use.
I'm new to spiralizing, but the OXO Good Grips Spiralizer makes it easy to jump right in and get started! The very same night I opened the Spiralizer box, I made zucchini noodles in tomato sauce.  Zuzu had been begging me to get on the spiralizing bandwagon for some time, so she was thrilled. She even helped me spiralize the zucchini, although I did supervise her because the blades are quite sharp.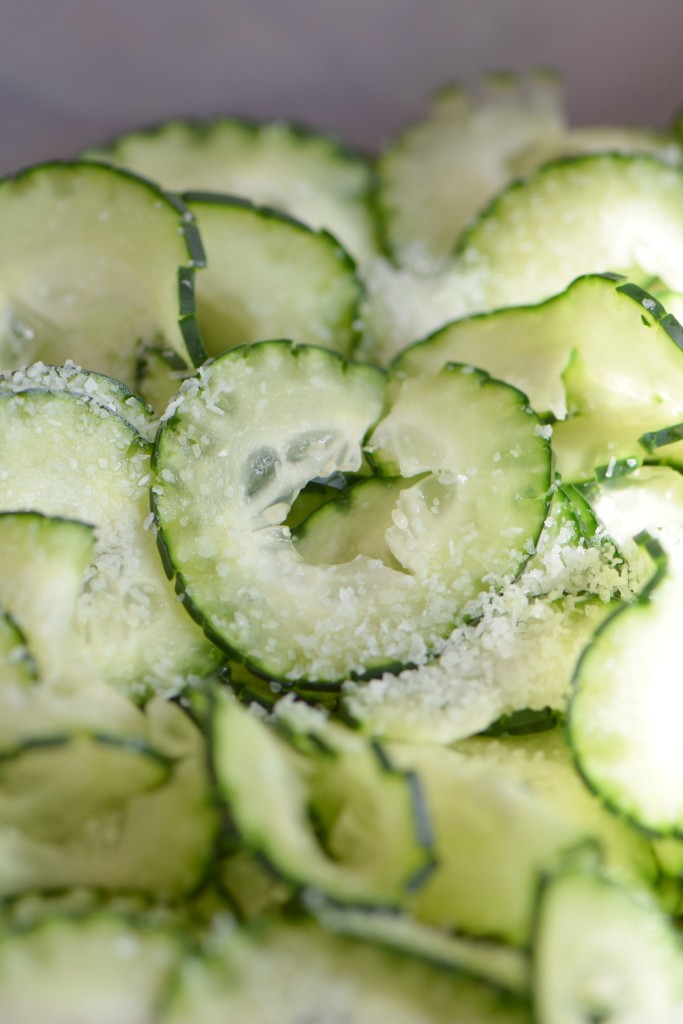 But back to my pickled cucumbers. As I predicted, the ribbon-cut blade made perfectly thin, even ribbons of cucumber that looked gorgeous and were ideal for pickling with almost no work. Like my mother does, I scored the outside of the cucumbers with a fork to create the ridges. It's purely aesthetic but worth the extra effort.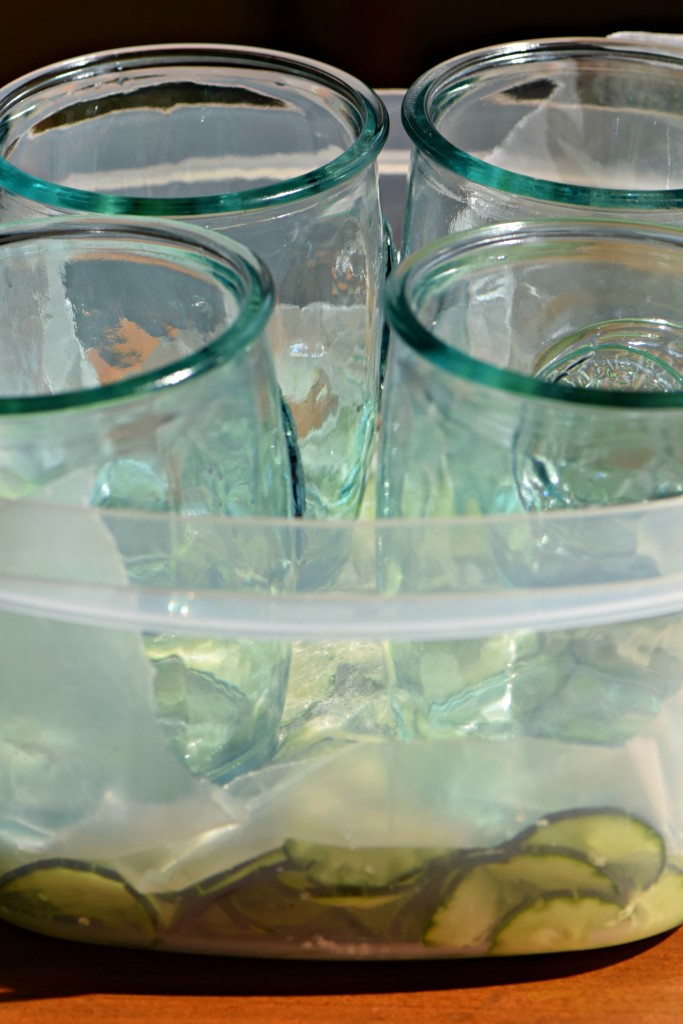 This recipe requires very little work, but you do have to plan ahead because the cucumbers need several hours in the refrigerator. First, you have to salt them and cover with something heavy to press out the water. Then, once you combine the cucumbers with the pickling liquid, they need another few hours in the fridge to chill. But that's it! So simple yet so delicious.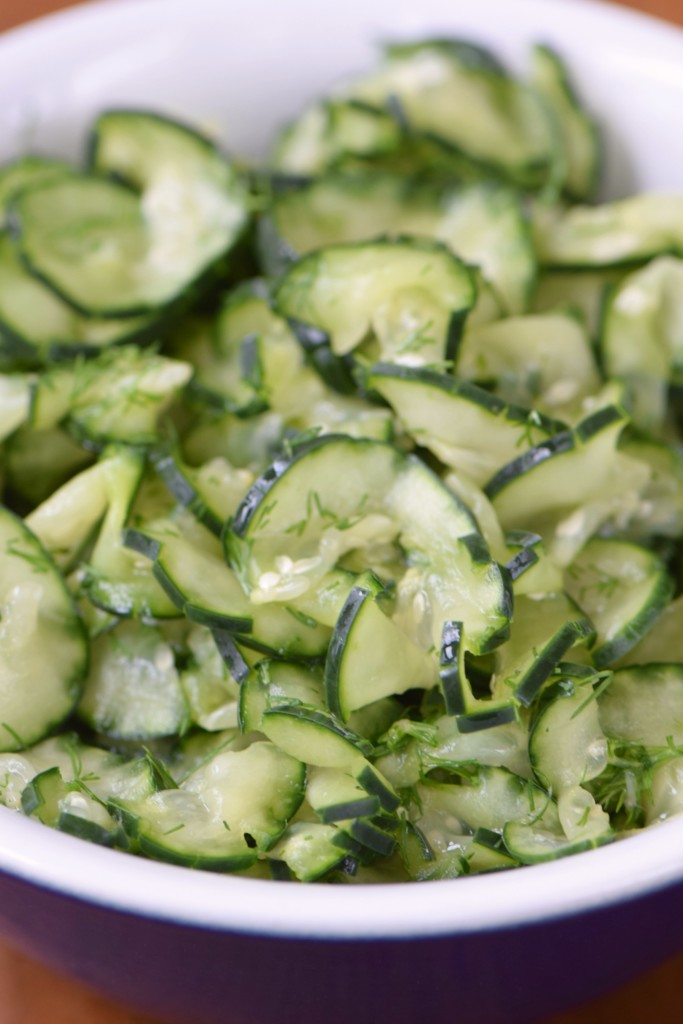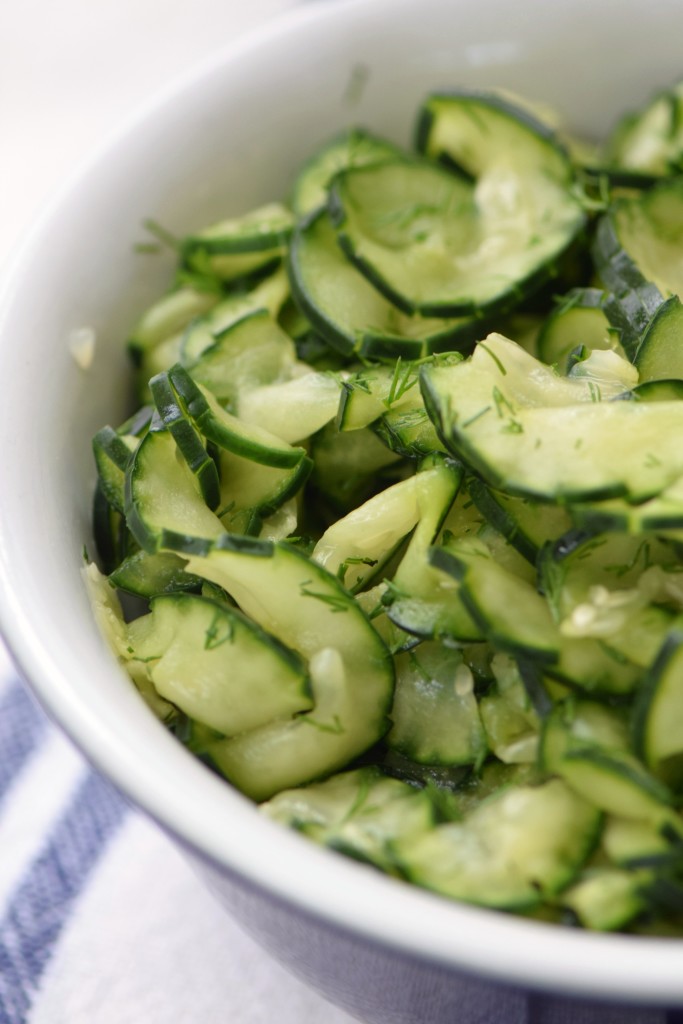 Have you started spiralizing? What's your favorite fruit or vegetable to spiralize?
Ingredients
3 cucumbers (not English or hothouse)
1/4 cup kosher salt
2 TB sugar
1/2 cup white wine vinegar
1 TB chopped dill
Instructions
Trim the ends off the cucumbers and, if desired, score the exterior with a fork to create ridges
Slice the cucumbers paper-thin OR cut into ribbons using a spiralizer.
Place a single layer of cucumbers in the bottom of a dish and cover with 1 TB salt. Repeat wth remaining cucumbers and salt.
Cover with wax paper and place something heavy, such as a plate or glasses, on top of the paper.
Refrigerate two hours.
Meanwhile, combine the sugar with two TB of hot water and stir to dissolve the sugar.
Combine the sugar syrup with the vinegar.
Drain the cucumbers, which will have given off lot of liquid, and rinse well. Dry.
Pour the brine over the cucumbers and chill an additional hour or two until cold.
Prior to serving, add the chopped dill.
http://www.westoftheloop.com/2016/03/19/memes-pickled-cucumbers/